Back in January 2018, the AGGV opened a new exhibition, Form As Meaning: First Nations Prints from the Pacific Northwest. When the idea of the exhibition was first explored, Chief Curator Michelle Jacques was surprised at the depth and breadth of the First Nations prints collection held in the AGGV, and it became clear that Indigenous knowledge was necessary to appropriately represent these works. Acting on this revelation, the works in the exhibition were selected by a panel of Indigenous guest curators, each sharing their knowledge of the works and thereby allowing the Gallery to move forward with a deeper understanding of the prints in the collection and the artists who made them.
In the same spirit, Matriarchs: Prints by First Nations Women is an exhibition that aims to build relationships with First Nations artists and is guest-curated by Margaret August, a Two-Spirited, Coast Salish artist from Shíshálh Nation. As before, preparing for the exhibition revealed a discovery – the AGGV's First Nations print collection held very few works by women. So, Margaret was invited to select works that could be added to the AGGV collection and at the same time, do a show.
Apart from works by herself, Margaret selected works by artists who have inspired her and helped her evolve as a young artist. This intergenerational exhibition features Kelly Cannell, Francis Dick, Lou-ann Neel, Sage Paul, Susan Point, Marika Echachis Swan and Carrielynn Victor.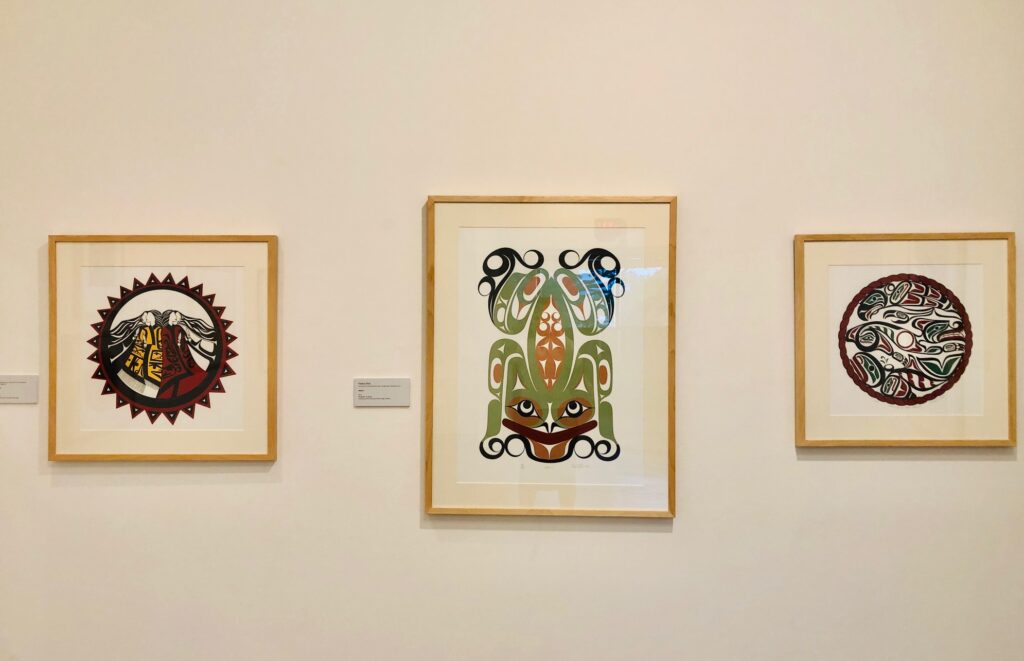 The title of the show is important as to how the injustices of Canada's colonialist past is being reconciled. A didactic panel in the gallery entitled "Re-Centering – Reclaiming: Creating Sacred Space for Matriarchs" explains Margaret August's standpoint:
Prior to contact, many Indigenous nations followed matrilinear governance systems. Wherein nation members descended from their mothers' clams, not their fathers' and Indigeous women conductesd decision-making processes. The men were allowed to articulate, enforce and deliver these teachings, but it was the women wo monitored and allowed them to speak…

With the onslaught of settler colonialism, patrilinear band systems replaced sacred spaces held for the voices of Indigenous matriarchs. Simultaneously, Indigenous women were silenced through gender discriination within the Indian Act, which purposefully marginalized Indigenous women from their communities. Thus Indigenous women have been described as facing a "double-burden" – that for being discriminated against as a woman and being Indigenous. So, as we examine Canada's colonial history on gender relations, we come to see why Indigenous matriarchs deserve their own careful consideration within this art print collection.

Presently, honouring our matriarchs in the arts is like a door that is to be unlocked, An open door that dismantles the harmful exclusivity of Indigenous matriarchs everywhere, honouring them is the natural earth cycle across Turtle Island that must be maintained.

– Margaret August, 2019
Feature image: Margaret August | Rejuvenation | silkscreen on paper | 2017 | Courtesy of the Artist
Matriarchs: Print By First Nations Women | June 8 – October 6, 2019 | Curated by Guest Curator Margaret August | The Lab Gallery