By Audrey Wang, AGGV Volunteer
Enter the darkened Centennial Gallery at the AGGV and vicariously experience what it would be like to travel as a virtual camera moving around the sculptural looping installation that has been constructed out of tubular steel in the centre of the room. Film Path/Camera Path with under-titles is a conceptual multi-media artwork that combines the moving images of film with a sculptural expansion of a 35mm projector. Add to that, under-titles that appear, line by line, on an LED screen, encoding the overall work with poetry and text written specifically for the piece by artists, poets and theorists inspired by the work.
Watching the film is mesmerizing and hypnotic as the digital film rendering barrels rapidly through the rollercoaster-like sculpture, twisting and turning until the viewer feels like swayed to follow the movements. Transposed onto the screen by a vintage projector installed in the centre of the structure, the frenetic looping motion of the film juxtaposes with the otherwise unmoving installation.
Film Path/Camera Path with under-titles was conceptualized by the artistic duo of Daniel Young and Christian Giroux, but the production of the artwork as an entirety relied on the contribution of a long casting list, or as they state in their brochure, "stacked multiple intelligences of people and software". To achieve their vision for the work, they needed the expertise of solid modeling and fabrication consultants, geometrists, structural engineers, a digital animator, and projector and installation technicians.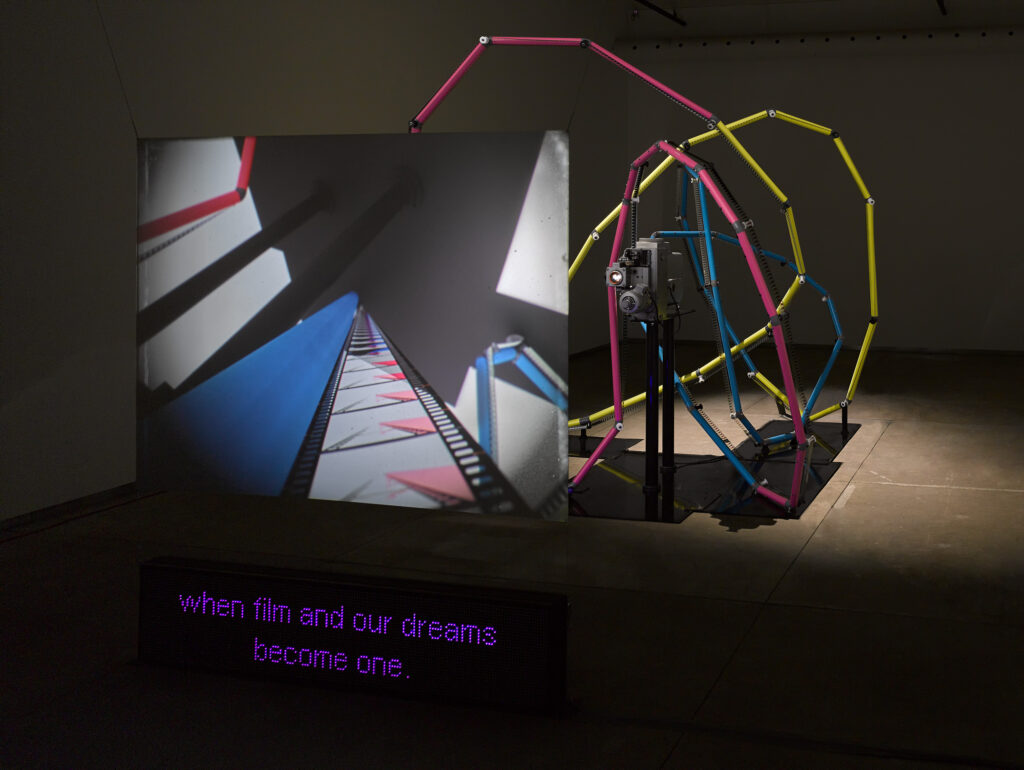 In addition to the technical aspect of the artwork, text inspired by the artwork was produced by John Barlow, Ina Blom, Eric Cazdyn, Geoffrey Farmer, Agnieszka Gratza, Daniel Hambleton, Erin Moure, Bridget Moser, Judy Radul, Patricia Reed, Reza Negarestani, Mohammed Salemy and Michael Snow.
This knot is not the unknot. It is a not trivial knot that has undergone a honeomorphism. Along the knot, a constrained frame traces out a segmented surface. This is the surface that film travels on. It is not orientable.

– Daniel Hambleton
Daniel Young and Christian Giroux have been making art together since 2002. Their work takes the form of exhibitions, sculpture, cinema installations, publications and public artworks. They recently completed the public artwork Three Points Where Two Lines Meet for the City of Toronto, and the artist book Berlin 2013/1983 from Arch+ that was shortlisted for the Best German Architecture publication. They have exhibited throughout Canada and were awarded the Sobey Art Award in 2011. Daniel Young divides his time between Toronto and Berlin, and Christian Giroux teaches at the School of Fine Art and Music at the University of Guelph, Ontario. Film Path/Camera Path with under-titles was commission by and first presented at InterAccess (Toronto) with the support of the Canada Council for the Arts' Media Initiatives Grant.
Daniel Young & Christian Giroux: Film Path/Camera Path with under-titles | June 8 – October 6, 2019 | Curated by Michelle Jacques | Centennial Gallery