By Audrey Wang, AGGV Volunteer
The first exhibition tour of Form As Meaning: First Nations Prints from the Pacific Northwest was led by AGGV's Michelle Jacques, Chief Curator and Nicole Stanbridge, Curator of Engagement. While Michelle and Nicole facilitated the tour and the organization of the exhibition, the works on display were selected by a panel of Indigenous guest co-curators: Marcia Crosby (Tsimshian-Haida), Lou-ann Neel (Kwakwaka'wakw), lessLIE (Coast Salish) and Alana Sayers (Nuu-chah-nulth).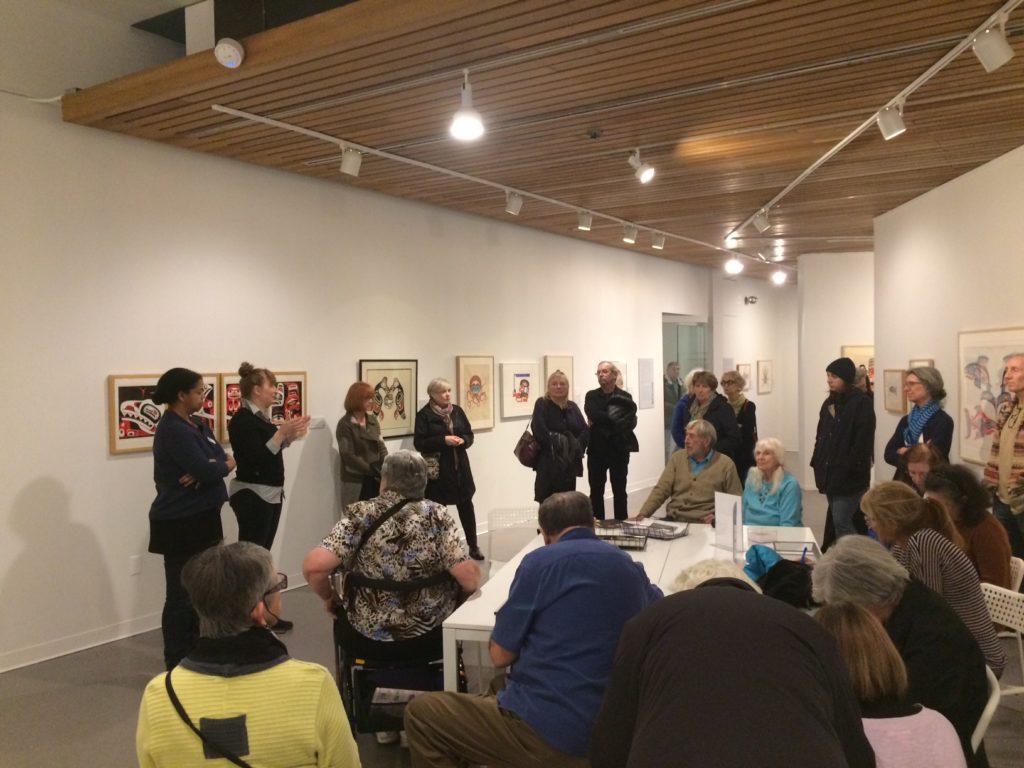 When the idea of the exhibition was first explored, Jacques was surprised at the depth and breadth of the First Nations prints collection held in the AGGV. As the collection was built primarily through the generosity of donors, many of the artists themselves were not even aware that their artworks were among the holdings of the Gallery. It was thus understood that Indigenous knowledge – defined as the local knowledge that is unique to a given culture or society and which is usually passed down from generation to generation, by word of mouth – was vital to appropriate representation of these works. With that in mind, the four co-curators were invited to participate in the exhibition and to share their knowledge of these works so that we can move forward with a deeper understanding of the prints in the AGGV collection and the artists who made them.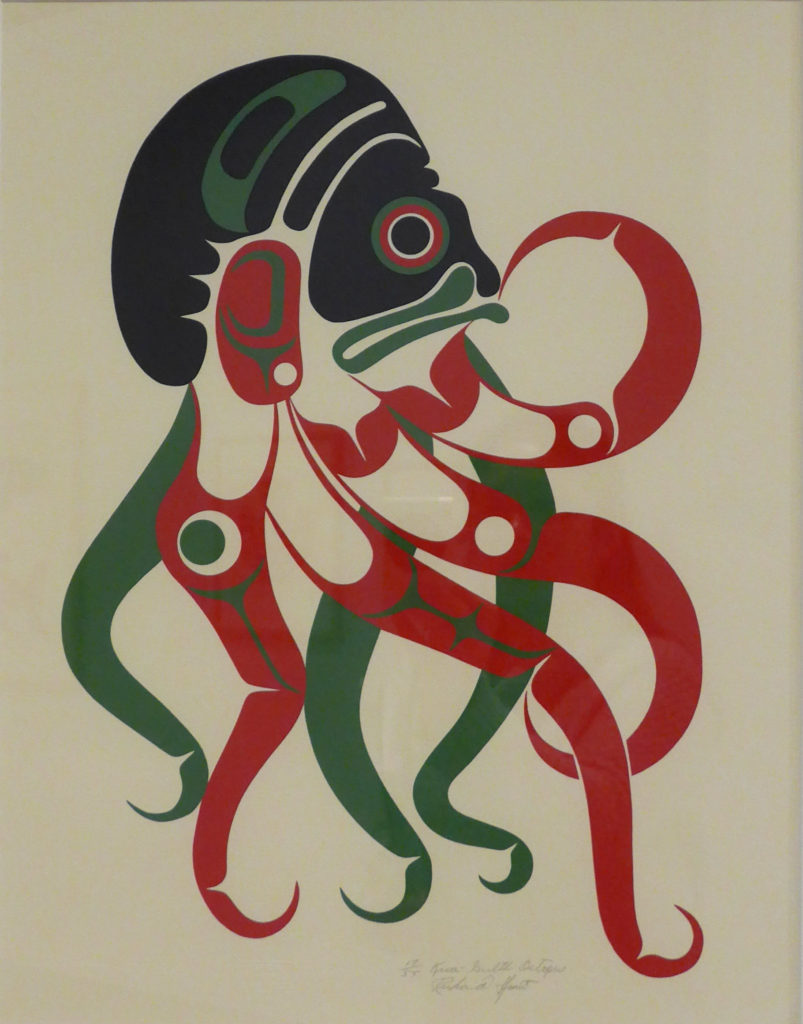 All four of the guest curators come from different communities in the Pacific Northwest. In choosing the works for the exhibition, they looked for connections, drawing from their art historical knowledge, personal encounters and professional experiences. Lou-ann Neel, for example, approached her section from a historical point of view, resulting in a chronological display of works; while lessLIE looked for works which influenced his own artistic practice. Marcia Crosby's main interest centered on inter-First Nation community exchanges between artists and their communities. A major component of Ph.D. student of Literature Alana Sayers' section is writing where she draws inspiration from her personal experiences and those of her family, as seen by the poetic quotes scattered throughout her section.
Open your heart

Lay your head next to mine

And teach me truths

In every language you know

(Alana Sayers)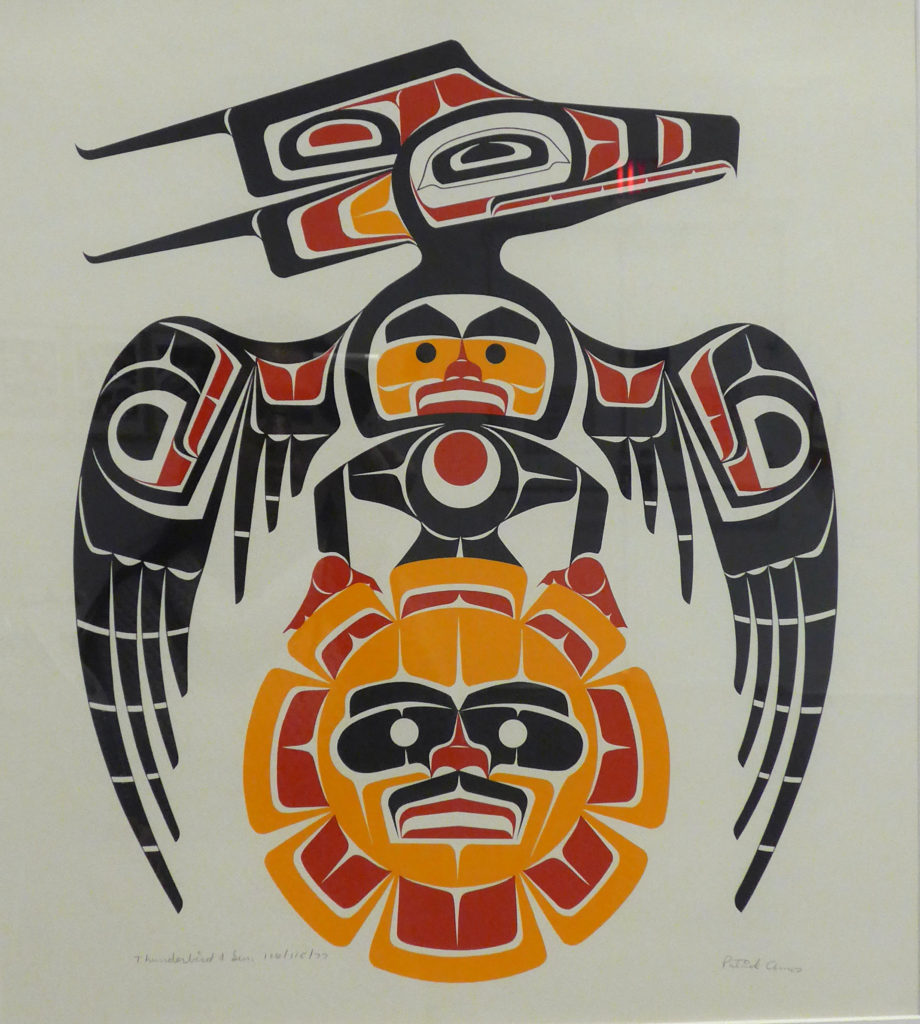 With this background knowledge about the exhibition, the large group of participants at the Curator's Tour was given the assignment to find works to make their own connections. During the conclusion of the tour, participants shared their findings. These ranged from aesthetic observations about the abundance of marine wildlife as subject-matter, to topical social questions such as the limited representation of female artists. The range of connections, observations and impressions made by the viewers present is a pertinent part of the process in helping the AGGV's curators learn more about the collection. This includes finding weaknesses in the collection, working on filling in the gaps and carrying out work where needed going forward.
Featured above: Susan Point | Full Circle | 1994 | Serigraph | Gift of Rosita Tovell
Form as Meaning: First Nations Prints from the Pacific Northwest | January 20 – June 17, 2018 | Co-curated by Marcia Crosby, lessLIE, Lou-ann Neel and Alana Sayers | Graham Gallery