We're excited to welcome Estraven Lupino-Smith who joined the Family Sunday family back in May. We've taken our usual summer hiatus, but we're back for more fun and creativity in October!
Originally from Toronto, Estraven is an artist-researcher and educator whose practice involves sound, print, video and installation work. Their education work includes teaching residences in Halifax, Philadelphia and Toronto, and have created collaborative art work with youth and community groups. Estraven also has under their belt the role of Bat Stewardship Coordinator with the Habitat Acquisition Trust (HAT) in Victoria, where, as part of the HAT Bat project in 2018, they produced sculptural work, sound art pieces and video investigating the ramifications of the shifting urban, suburban and rural environments for bats.
Estraven draws inspiration from their interdisciplinary practice to develop the programming for Family Sunday.
I'm excited to be programming this multi-generational event and to be part of the AGGV Education Department. The Family Sunday program brings a variety of people into the Gallery to engage with the exhibitions in accessible ways, providing opportunities for experimentation and creativity.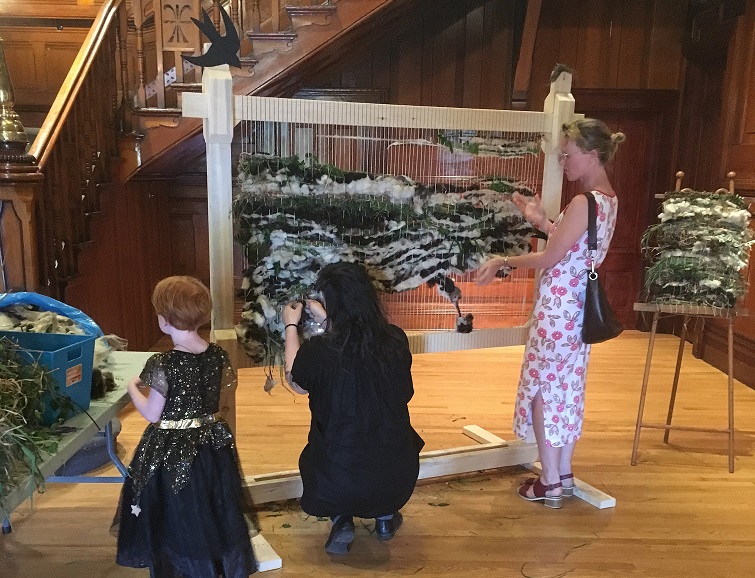 Following on their interest in the interactions of humans and animals, Estraven's first Family Sunday outing in May saw the collaborative production of a Nesting Material Weaving. The weft is made up of unprocessed sheep fleece (wool), grasses, twigs, moss, lichen and other natural materials. Together, these materials were used by birds to construct their nests and to line tree cavities. The weaving was placed in the Gallery's courtyard and was well patronized by a flurry of spring nest builders!
We look forward to seeing what else Estraven has lined up for our next season of Family Sunday, and welcome you to join us every third Sunday of the month, October to June. Family Sunday is an afternoon of exploring hands-on art-making and ideas for all ages, and often features special guests like storytellers, artists, performers or musicians. Save the date for our first Family Sunday of the season – October 20th, 2-4pm!
Feature image: Estraven Lupino-Smith | Photo: Estraven Lupino-Smith