By Audrey Wang, AGGV Volunteer
The AGGV's latest exhibition Close To Home evokes many reactions, as the viewer moves from one room to another. The exhibition is hung, more or less, in chronology. However, the works have been purposefully positioned such that the viewer sees connections between works. Some of these links are obvious, and others less so. This is where the didactic panels placed throughout the room are essential in providing the background to how the exhibition was curated. A curatorial desk mid-way through the exhibition allows viewers to play the role of curator themselves, offering the chance to re-write the stories told.
Based on the current presentation of artworks, the viewer is drawn first to the prominence of artists working in the region in the mid 20th century, many of whom were instrumental in creating the vibrant arts community that Victoria is today. The next generation of artists is represented in the next room, with some playful inclusions, such as John G. Boehme's installation, Artist Working/Working Artist, 1998 (pictured above).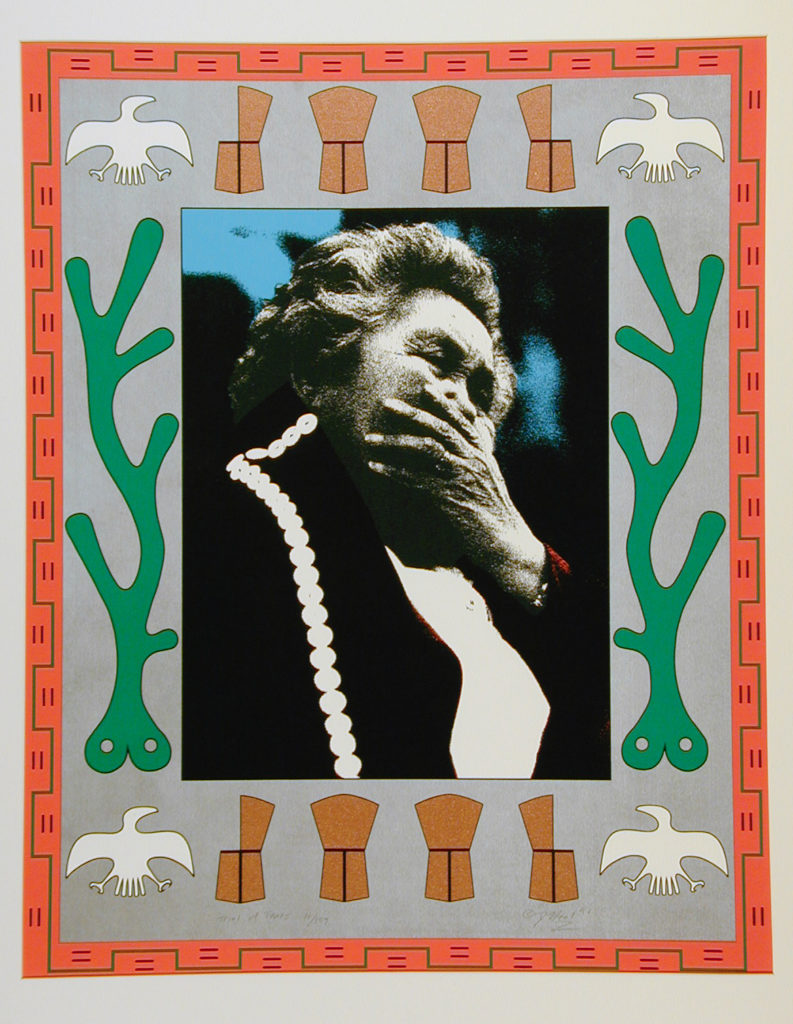 David Neel's Trial of Tears is hung on its own, on a wall that leads the viewer into the final room. Trial of Tears draws strong sensibilities, not only from the image of the woman overcome with emotion, but also from the explanation of Neel's work. The central figure is elder Mary Johnson, upon hearing the outcome of the Delgamuukw court action. Filed in 1984, the case entailed the Gitxsan and Wet'suwet'en First Nations fighting for recognition of their ownership and right to self-government of their traditional territories. In the photograph, Johnson is reacting to the judge's 1991 ruling in which most of the First Nations' claims were dismissed (the Gitxsan and Wet'suwet'en communities appealed the 1991 ruling and finally, in 1997, the Supreme Court ruled that "Aboriginal title constituted an ancestral right"). 
According to Neel, Johnson is surrounded by imagery that symbolically conveys the event. The tree of life represents the territory under dispute. The coppers are a traditional symbol of wealth, so that the whole coppers represent the abundance of the lands, while the broken ones, the dispute over them. The white ravens are tricksters, and represent the Canadian legal system.

Trial of Tears sets the viewer up for the powerful stories that the artworks in the final room tell. Among them is Susan Point's Missing Pieces which depicts the repetition of animal imagery. Whales, salmon and birds link together to form a natural rhythm. The work refers to the impact of global warming and the damage to the natural environment. As a descendant of the Musqueam people, Point has used the aesthetic style of her roots to tell stories that are current and close to her heart.
Close to Home: Local and Regional Artists in the AGGV Collection | April 22 – September 4 2017 | Curated by Michelle Jacques | Centennial & Ker Galleries