Montreal-based artist, Karen Tam, spent the month of May in Victoria in preparation for her exhibition at the AGGV, With wings like clouds hung from the sky 大鵬就振翼 (Seal Chop of Lee Nam installation – view pictured – above), which opens on June 3.  Based on the friendship between Victoria's iconic artist, Emily Carr, and unknown Chinese migrant artist, Lee Nam, this inspiring show explores the friendship and artistic exchange between different cultures, and the anonymity of Chinese immigrants in turn-of-the-century Canada. Karen worked tirelessly researching the existence of Lee Nam and his neighbourhood of Chinatown, documenting her finds and her prep work on Instagram. With her permission, we have highlighted a few of Karen's posts to chronicle her journey!
May 4: "Studio visit with painter, Andy Lou, today…"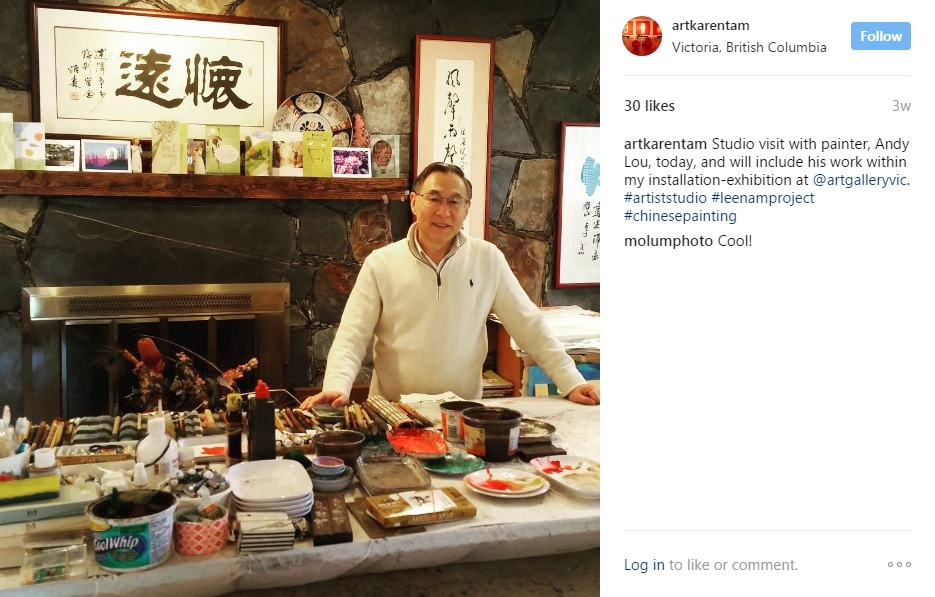 One of Karen's first stops was to the studio of Victoria-based artist, Andy Lou, whose paintings are inspired by his Chinese heritage and his surroundings in the West. He states: "I combine Eastern and Western materials, techniques and concepts to create visual statements of the West Coast. My Chinese aesthetic sensibility infuses Western ideas in my original artworks." This interaction between Eastern and Western cultures is akin to the friendship and artistic exchange between Lee Nam and Emily Carr, a concept that Karen explores in her installation.
May 11: "Prep-work for my exhibition…"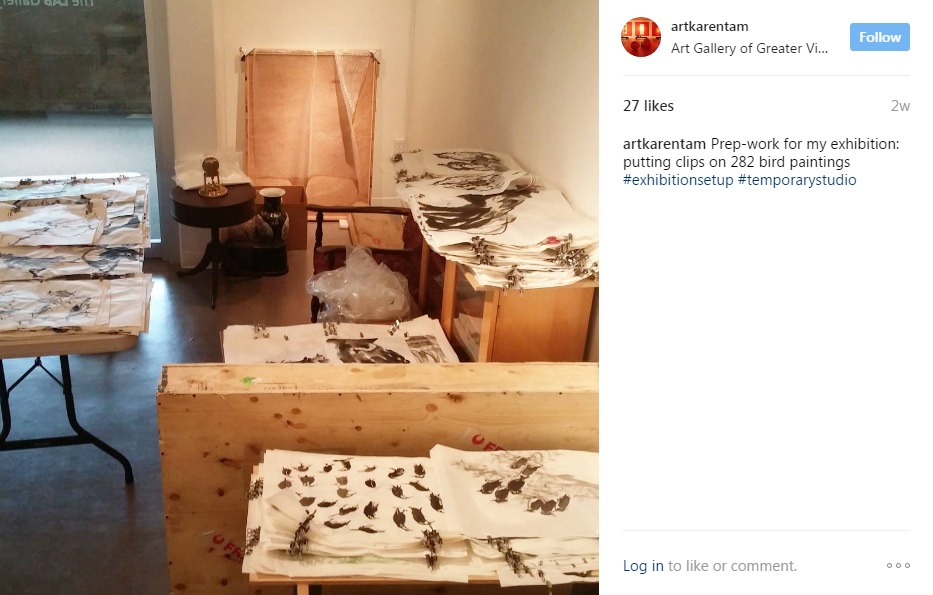 Did Lee Nam take advantage of height in his studio space? In re-imagining what Lee Nam's studio may have looked like, Karen adds clips to each delicate piece of rice paper before she hangs some of the work from the ceiling.
May 22: "Some Emily Carr's, a Lou Shibai eagle, and a few blue-and-whites…"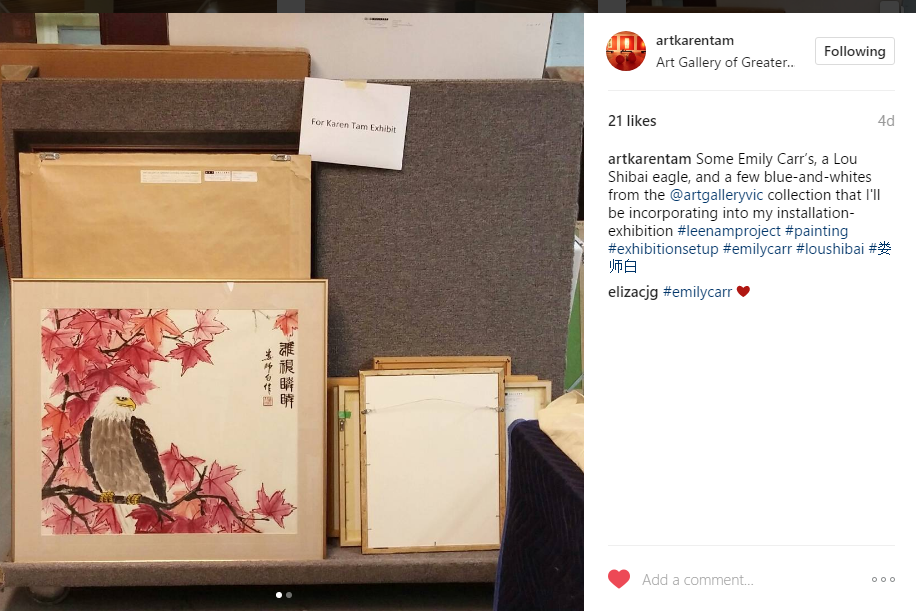 Lou Shibai was a Chinese visual artist who was born in 1918 in Beijing. Lou had several gallery and museum exhibitions, including at the Himalayas Art Museum. He was a member of the Chinese Artists Association and a national artist of the Beijing Art Academy. Did Lee Nam know him?
May 25: "Day 4 of installing my exhibition…"


Setting up an exhibition is no easy task, but Karen had the assistance of AGGV Curator, Haema Sivanesan, and Gallery Preparator, Matthew Brummitt (pictured above).
Follow the artist here for the full effect on Instagram!
Karen Tam: With wings like clouds hung from the sky 大鵬就振翼 | June 3 – September 4, 2017 | Curated by Haema Sivanesan | Graham Gallery