Over three days in June, three of Canada's most influential performance artists came together in Making the Invisible Visible: Embodied Explorations of Site and Situation. Margaret Dragu (Vancouver), Johanna Householder (Toronto), and Judith Price (Victoria), in collaboration with each other and a group of dancers and guests, each took on a municipality in the capital region to explore the relationships between performance art, dance, intervention, public space, and location.

In "Tweed Curtain", Margaret Dragu took on the municipality of Oak Bay with guests, Fran Benton and Rev. Michelle Slater, Minister of Oak Bay United Church. As many locals know, Oak Bay is said to exist "behind the tweed curtain". Some say it is more British than Britain itself. With that in mind, the performance of "Tweed Curtain" began with participants at the Oak Bay Municipal Hall receiving passports and weaving through a seemingly endless queue, occasionally stopping to receive a visa chop in their passports. The officiousness of the immigration officers-cum-dancers and the background music of "I Walk The Line" by Johnny Cash, poked fun at the idea of entering the foreign country that is Oak Bay.

The inimitable Fran Benton was the tour guide to Oak Bay. A consummate storyteller, Fran described herself as a native in the exotic country of Oak Bay. Participants young and old lived vicariously through Fran's animated stories of growing up here, as she led everyone on a walking tour that included the old Oak Bay Theatre, the Community Clinic (now the Municipal Hall), a rocky cul-de-sac on Brighton Avenue and a "Gothic" house on Roslyn Street. At each location, Fran handed out little treats that formed part of her memory of that place. Participants were treated to little lace bundles of bridge mix, home-baked sugar cookies imprinted with an acorn to symbolize Oak Bay and liquorice all-sorts.
The final destination of the Tweed Curtain tour was the Oak Bay United Church (pictured above), where the dancers twirled and danced with colourful scarves along the twin staircases leading up to the church entrance. Participants gathered on the front lawn, and together with Rev. Michelle, Margaret Dragu led everyone in singing the Sunday School favourite "Jesus Loves The Little Children" sixteen times. Each rendition was sung to the name of a Christian fascist world leader with anti-migrant/refugee platforms, as a reminder that they themselves likely sang this song as children.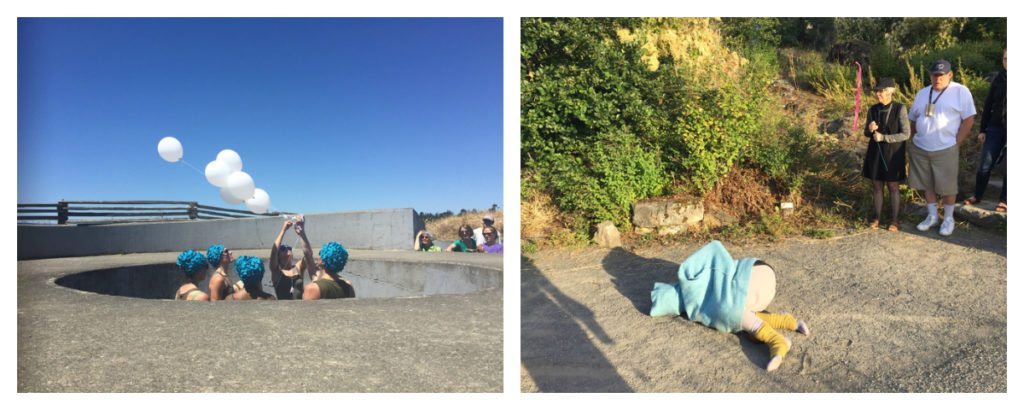 The mapping project continued over the following days with Judith Price at Macaulay Point and Joanna Householder at Swan Lake Christmas Hill Bird Sanctuary.