Following on "The Gallery As Authority: Place", Part 3 of the Communities + Collections series, entitled "Re-search" explored the complexity of how knowledge is shared, collected, and used to empower and/or disenfranchise. The event in early February drew a crowd from all walks of life and was graced by our two Indigenous keynote speakers, Eli Hirtle and Hjalmer Wenstob.
Eli is a Cree/Scottish/British/German multidisciplinary artist interested in documenting Indigenous cultural resurgence and revitalization, through photography and film-making. Hjalmer is a Nuu-chah-nulth contemporary artist whose Longhouse installation is one of the highlights of the ongoing exhibition Point of Contact and is featured in our previous issue of the emagazine.
In discussing the need for museums, galleries and other institutions to steer away from the traditionally Eurocentric and usually authoritarian approach to art history, what emerged was the overarching sentiment of the afternoon's discussion, that of respect. From an art administrator's point of view, Michelle Jacques, Chief Curator at the AGGV, felt that institutions needed to "acknowledge the diversity of voice" and to "think of different ways of thinking about art". This de-colonizing may be seen as a tool to empower, but always with a showing of mutual respect and with reciprocity. As Hjalmer pointed out, the event had two keynote speakers of Indigenous backgrounds, but it was important to have non-Indigenous speakers as well, to make it a dialogue about the issues surrounding decolonization and cultural appropriation. The collaborative effort was echoed by Eli who spoke about his work. As a filmmaker, his goal is to amplify his Indigenous subjects' voices, but not shape them, allowing them to tell their own story.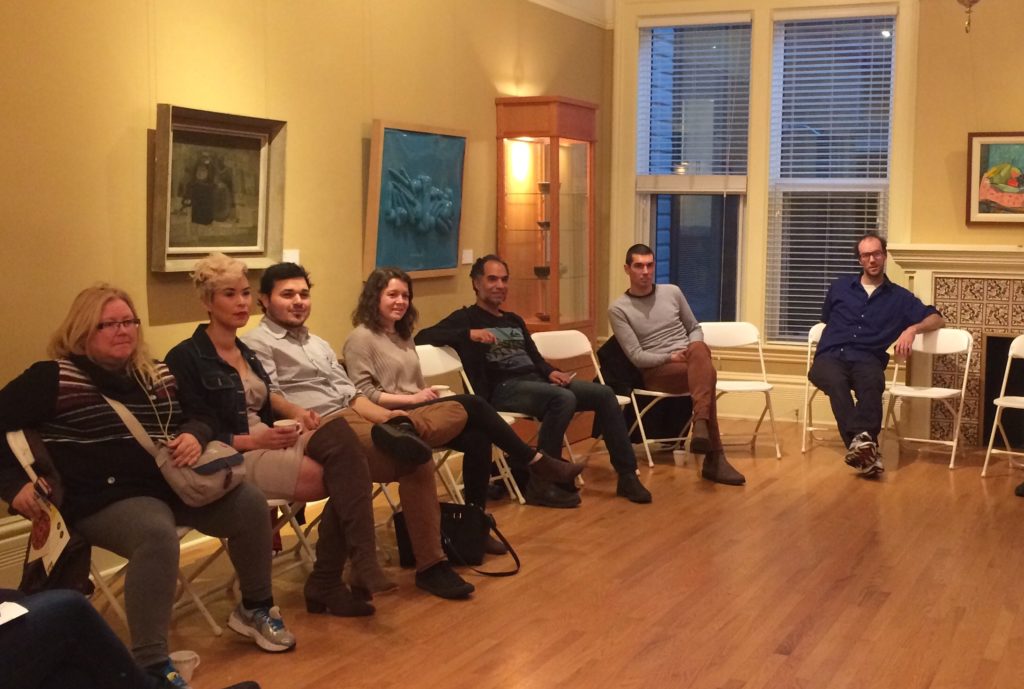 Hjalmer spoke animatedly about his experience in putting on an exhibition of masks at an art gallery that was aimed at being the antithesis of what a conventional art exhibition was meant to be, much to the chagrin of the curators involved. Through the tribulations of that exhibition, he made the point of showing that the masks and other Indigenous objects so often displayed as art and cultural artifacts were really not art at all, and were not meant for collectors to collect and showcase as art. In the Nuu-chah-nulth language, Hjalmer said there was no word for "art". Hence, the return to the subject of respect and reciprocity, especially with the celebration of Canada 150 and its theme of reconciliation. With reconciliation, he pointed out the need for there to be a relationship first, before the two sides could reconcile.
There was much food for thought as the circle of participants gradually dispersed. But what was clear was the commitment on the part of the artists, educators, art administrators, students and others in attendance, to take different cultures into context.
On March 3, we will host "Geometry Workshop: Straight to the Point" with Victoria-based artist Matt Trahan, inspired by Beyond the Edges: Art and Geometry, an exhibition which aims to examine alternate narratives in the histories of geometric abstraction. Wrapping up this series of The Gallery As Authority?, artists and curators from the exhibition Form as Meaning: First Nations Prints From the Pacific Northwest will take part in a panel discussion exploring the visual language of prints, on March 24.