Each year, the AGGV rotates through about 14 exhibitions in its seven galleries.  This keeps our Collections team very busy throughout the year.  As each exhibition is staged and others are removed, the team goes through the artworks, checking for condition and helping to arrange them for display. The Gallery spaces are modified for the specific show, and walls are painted fresh. Custom-made stands, platforms, and display cases are made in-house by the AGGV's preparators. Special lighting and sound are installed. The tasks are endless!
For the exhibition Point of Contact: On Place and the West Coast Imaginary, much effort was expended to bring the traditional territories of the Nuu-chah-nulth peoples on the Pacific coast of Vancouver Island, right into the Gallery.
For Stan Douglas's video installation, Nut.ka (1996), a special audio-visual room was custom built to screen the 7-minute long video.
"We've created a projection space using the Drury Gallery by drywalling over the previous entryways, creating a passage with a vaulted ceiling. Above the ceiling is a 'loft' space housing the projector and A/V equipment. The room is now fully insulated (safe and sound insulation) including 2 soundproofing baffles, 26×10 ft. stretched grey muslin over custom-made in-house birch framing which creates 2 large sound panels lining the walls. The screen has a framework so that it is floating off the wall almost 2 feet deep using 2×6's. The screen surface itself is made of 3 sheets of 1/2″ birch ply G2S, which now looks seamless after the finishing work was done. The screen was also custom-made in-house." – Corey Bryson, AGGV Preparator/Technician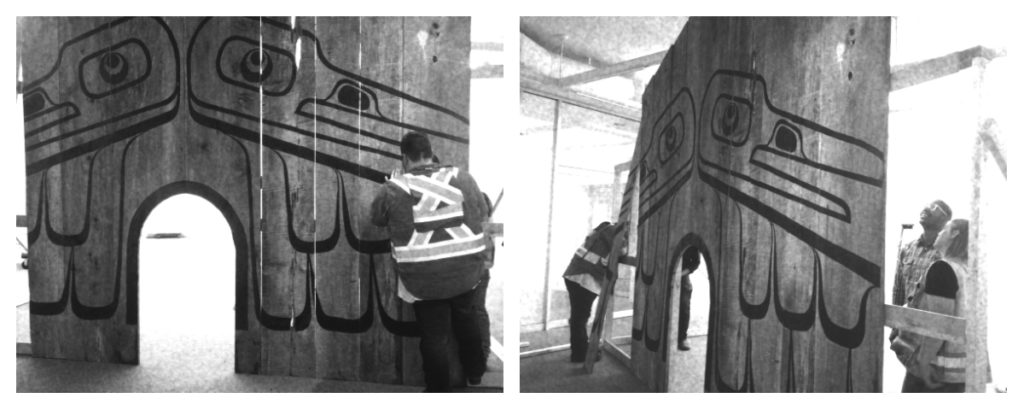 One of the highlights of the exhibition is Hjalmer Wenstob's homage to the Yuquot Whaler's Shrine, a longhouse structure. Setting up the life-size structure took an entire day and a special collaboration between the AGGV team and the Wenstob family, which included Hjalmer, his mother Jessie and wife Jessie. Witnessing the process was their little baby daughter Huumiis. It was very much a family effort!
Find out what the longhouse means to Hjalmer, in this video clip…
Feature image: Hjalmer Wenstob, Longhouse, 2017, installation view, photo credit Andrea Walker Collins.
Point of Contact: On Place and the West Coast Imaginary | Opens October 28, 2017 | Curated by Haema Sivanesan | Founders and Drury Galleries