Since June 2016, the Communities + Collections series has been hosting a community conversation called "The Gallery as Authority?". The question mark in the title is significant. It challenges both the institution and its audience to think about the Gallery's role in today's ever-changing social and political landscape.
This season's installment takes on the theme of Land, Water and Place, as inspired by the exhibitions Picturing the Giants: The Changing Landscapes of Emily Carr, Point of Contact: On Place and the West Coast Imaginary and Water Work Space. In November, we hosted the second part of the series, "Place", focussing on the work we do in arts and culture on the traditional territory of the Lekwungen Peoples. What work needs to be done and how do we do it?
Facilitated by Nicole Stanbridge, the AGGV's Curator of Engagement, the evening began with the large circle of participants introducing themselves and stating the length of time they had been in the lands of the Lekwungen Peoples, if they were uninvited guests, and what brought them here. Among the guests were artists, students, and art administrators.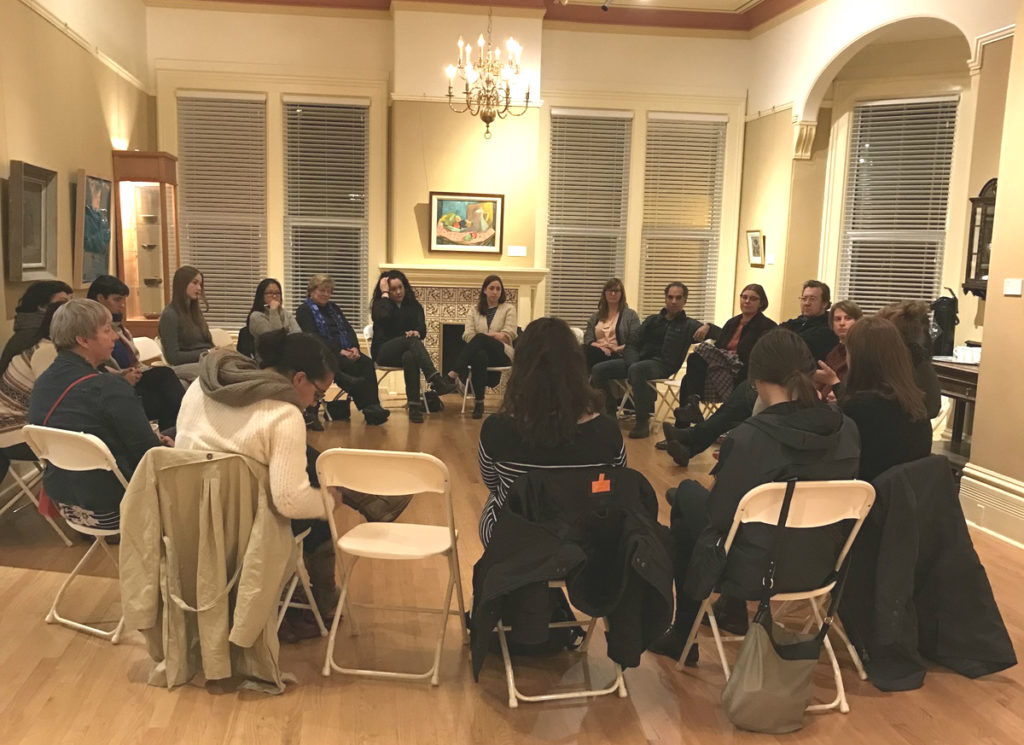 A major theme in the evening's event centered on the need to tear down the elitist, colonialist authority that has traditionally been endowed to museums and institutions such as the AGGV. And in so doing, a space for other voices may be heard. The irony of the setting of the conversation was also acknowledged. We were in the Spencer Mansion, a grand gesture to Victoria's colonial past. While the curators of the AGGV work hard to acknowledge its history, there is also a distinct effort to make shifts away from that history, creating a convoluted situation that is to be at once embraced and challenged.
In questioning the legitimacy of authority held by museums and galleries, participants also brought up issues of social justice and the need for taking risks to enact changes, even if those changes are not well received. They discussed ways to de-mystify the elitism of such institutions, so as to make them more accessible and engaging to the public. The barriers that exist between the institution and the general public are sometimes unknown to the administrators working in those institutions. As such, many felt the importance to build relationships and discuss different experiences, creating a two-way dialogue. This was precisely the aim of the Communities + Collections series, and the way in which the AGGV has opened itself up for discussion and critique, thereby exposing its vulnerabilities, was recognized by the participants.
Another part of the conversation looked at examples of work being done in the Gallery and elsewhere that emphatically moved away from traditional art history and focussed on First Nations cultures and history.
This series "The Gallery As Authority?" will continue in February with another community conversation on the theme of "Re-search".  It will explore the complexity of how knowledge is shared, collected, and used to empower and/or disenfranchise.
Communities and Collections | Gallery as Authority? Part 3: Re-search | February 3, 2018 | 2-4 pm | Admission by Donation