We live in a technological age where identity theft is easier than ever. The fear that someone could be stealing your personal information makes for diligent protective measures and the tightening of security on personal devices and social media accounts.
Social sharing can be very beneficial and it's often instrumental in building dynamic online communities who actively participate, discuss and critique art. However, just like corporations invest in trademarks and registrations to protect their intellectual property, artists must also take precautions to protect their work.
There's been an increased effort to protect intellectual property from recent amendments to the Canadian Copyright Act (2012), which now recognizes freelance photographers work as their own, to terms of use on social media platforms and reporting systems built in.  Yet, there's been ample controversy over the failure to acknowledge the profound and lasting adverse impact of cultural appropriation of First Nations art.
It's been over a decade since the United Nations Declaration on the Rights of Indigenous Peoples (UNDRIP) was adopted by the General Assembly which protects Indigenous art forms as Intellectual Property today. Yet, cultural appropriation of First Nations art is still a growing concern.
Although borrowing ideas from other cultures has been happening since the beginning of time as a way of survival, there seems to be confusion among non-Indigenous artists, designers and other commercial entities as to what constitutes cultural appropriation today. At the periphery of these conversations, non-Indigenous artists claim to be inspired by Indigenous culture – appreciating its creativity, art form, and lifestyle – while others are only beginning to understand the implications of copying and exploiting Indigenous forms.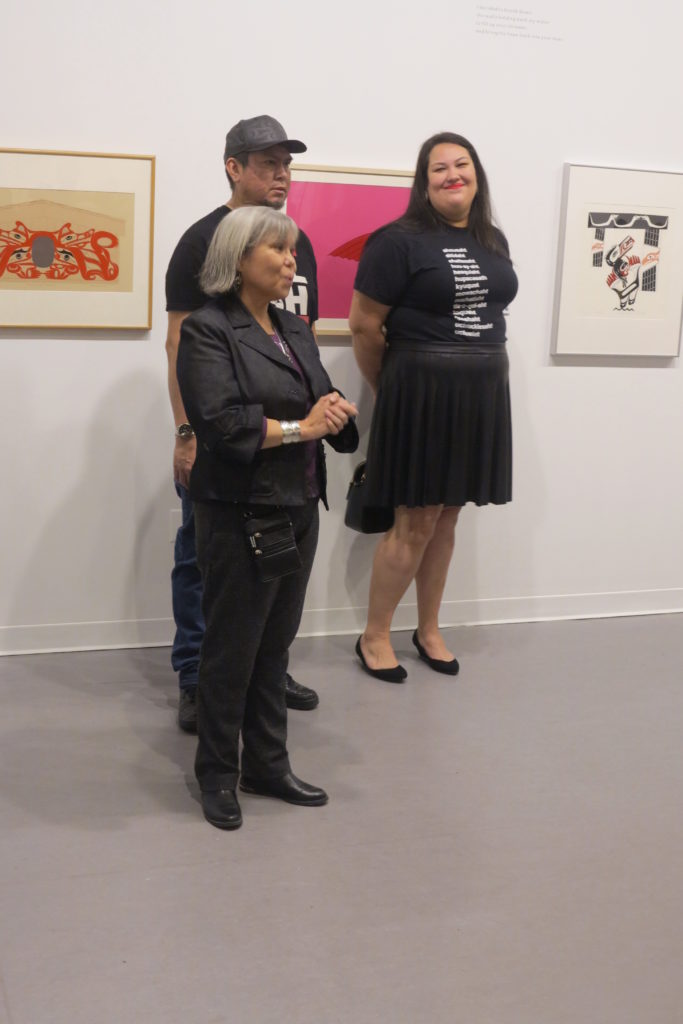 Pictured above left to right: Lou-ann Neel, lessLIE and Alana Sayers. 
Kwakwaka'wakw artist, Lou-ann Neel (co-curator of Form as Meaning: First Nations Prints from the PNW) speaks from the heart as she addresses the issue of cultural appropriation. In her blog titled My thoughts about appropriation (Dec 2017)  she states:
"As I've said in response to some of the recent news articles where non-Indigenous artists claim to be simply 'inspired by' Indigenous art, or 'reconciling' by copying, or 'honoring our native people', or 'keeping it alive on our behalf'…you've got it all wrong and need to dig a LOT deeper and seek out opportunities to educate yourself."
Neel adds, "In Canada, original artworks (i.e., visual art) created by all artists are supposed to be protected under the Canadian Copyright Act and under the Status of the Artist Act. However, most citizens – and many artists – are not aware of these pieces of legislation, so there needs to be more information shared with the public about them.
There also needs to be support for artists who encounter instances of appropriation. Currently, if an artist's work is copied in full or in part, it is the artist's responsibility to address the situation directly, and if legal remedies are required, the artist has to cover the cost of hiring a lawyer and any legal action. I don't personally know any artists who can afford to cover the cost of a lawyer or the costs associated with lengthy court proceedings.
In addition, there still needs to be a close examination and re-working of the scope and intent of these Canadian laws, as they do not currently offer protections for communally held intellectual property rights – for example, the rights that all members of a clan or extended family group may have to communally shared crest symbols.
Adding to the complexity of these legal frameworks is the longstanding practice of cultural and artistic dispossession, usurping and erasure – processes that emerged in the early 1800's alongside massive land-grabs, which then fuelled the ill-conceived notion of 'saving the final remnants of a dying race.' This propagandized narrative continues today, cloaked in ideas around 'appreciating, inspiring, and honouring the ancient artistic practices of First Nations peoples.
I have had people say to me 'why haven't Natives said anything up to now' – the fact is, First Nations artists and communities have been speaking out on these practices since they began.  To date, however, our voices have been ignored or silenced, and there have been very few genuine efforts made by citizens and successive governments to put a stop to it."
On a personal level, I want people to know that I come from a long line of artists; we have many artists in our family, and this can be traced through the artworks they created prior to contact with travelers from other lands. The artistic traditions of our people are transferred from one generation to the next — they are our intellectual properties, our history, our heritage, and our inheritance. Taking my property, history, heritage and inheritance is a form of theft; copying it is a form of plagiarism, and representing it as genuine or authentic is a form of misrepresentation.
My family's artistic traditions were transferred to me and other artists in our family. Our ancient laws dictate that it is our responsibility to continue to practice these artistic traditions, and we are obligated to protect what is ours so we can transfer them to our children and grandchildren. In exercising our responsibilities and obligations, we acquire the privilege and prerogative to show these artworks to others, but in all instances, we continue to retain all copyrights and intellectual property rights to them."
Our Chief Curator, Michelle Jacques, confirms that our holdings of First Nations prints have been built primarily through the generosity of donors:
"As an institution, we are working to forge stronger relationships with the artists and communities that these works come from in order to better understand how to care for and present these works."
The connections created in Form as Meaning: First Nations Prints from the PNW was made possible through the generous participation of co-curators Marcia Crosby, lessLIE, Lou-ann Neel and Alana Sayers – who chose works and responded to them with insight from an Indigenous perspective. It is this depth of knowledge that is vital to the appropriate representation of the AGGV's collection of First Nations prints.
In September 2017, the Canada Council for the Arts announced that it will be implementing a new system for assessing projects that include elements of Indigenous culture but there is so much work to be done in the art arena. In the meanwhile, building respectful relationships and collaborating with Indigenous knowledge holders to understand the nuances and consequences of cultural appropriation are key.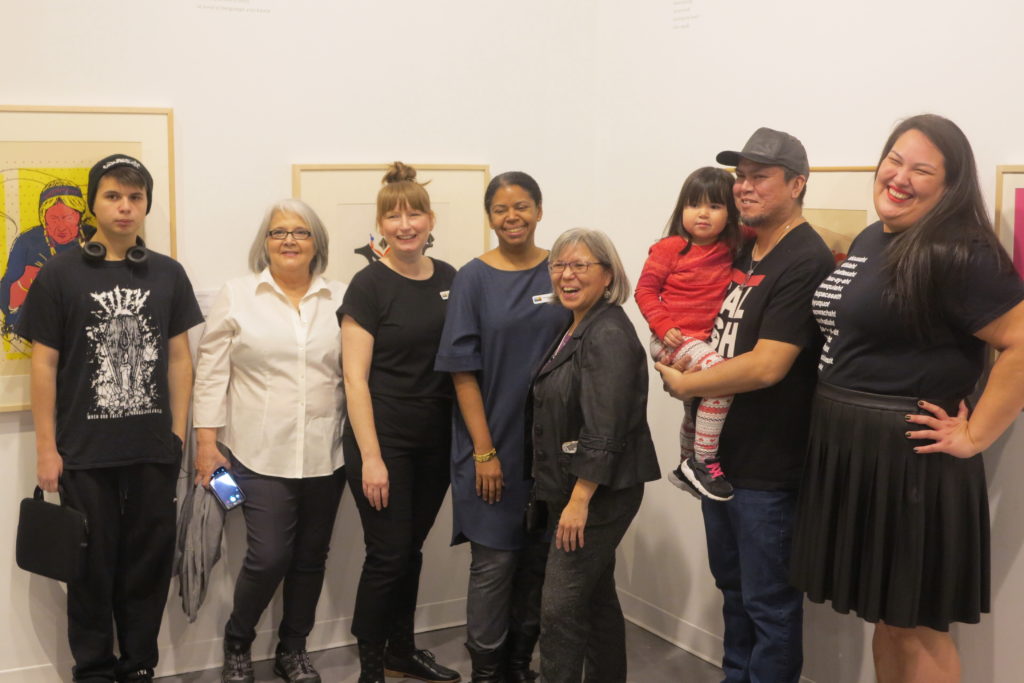 Pictured above left to right: Marcia Crosby with her grandson, Nicole Stanbridge, Michelle Jacques, Lou Ann Neel, lessLIE with his daughter, and Alana Sayers.