The strong verticals of Tim Paul's cedar totem carving resonate next to Sybil Andrew's print of Western Red Cedar. This was the reason behind Curator Michelle Jacques's placement of the two artworks side-by-side in the exhibition, Close To Home. The visual impact and the difference in colour tonality draw the eye from one to the other. Yet, the two works complement each other. She explains:
"Andrews and Paul have such different histories with this region. Paul is an Indigenous artist with deep ancestral ties to Vancouver Island; Andrews was a new Canadian who immigrated from England. Despite their different backgrounds, I thought that there was an interesting link between the vertical form of Andrew's 2-dimensional depiction of a cedar, and Paul's carving of figures in cedar, and between their adept use of representational firm to convey the spiritual."
Born in Suffolk, England, in 1898, Sybil Andrews immigrated to Canada in 1947 with her husband, Walter Morgan. They settled in Campbell River on Vancouver Island, where Andrews taught art and became internationally renowned for her linocut printmaking. The Glenbow Museum in Calgary holds the collection of record of her work with over 1000 examples that include linocuts, linoleum blocks, oil and watercolour paintings, drawings, etchings and sketches. The AGGV also has a respectable collection of thirty-three works, the majority of which were gifts of the artist during the last decade of her life.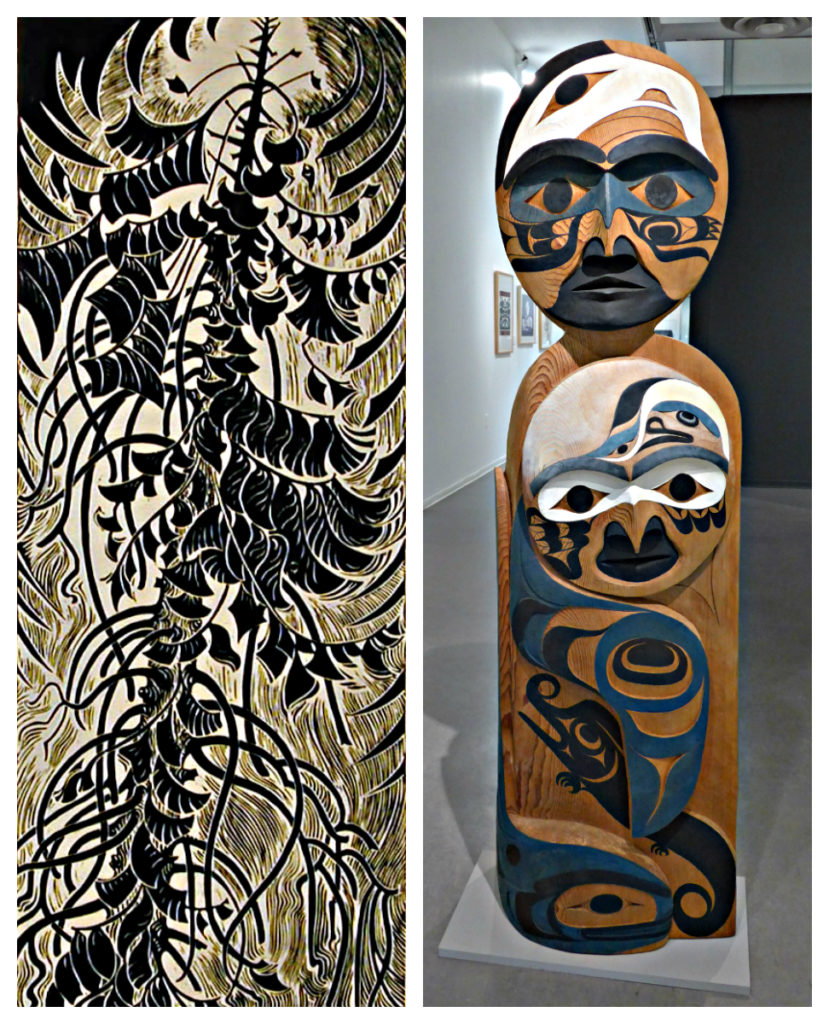 Tim Paul is a Nuu-chah-nulth artist from Esperanza Inlet on the west coast of Vancouver Island. He joined the Department of Anthropology at the Royal British Columbia Museum in 1974, and in 1977, transferred to the museum's carving programme. There, he worked as an assistant to Richard Hunt, taking over his teacher's role as Master Carver in 1986. He has overseen major international totem pole commissions in Canada, England and New Zealand. Today, he is focused on producing and exhibiting his work, and contributing in the field of Indigenous education.
While Sybil Andrews and Tim Paul are vastly different in their backgrounds and areas of artistic pursuits, their strong connection to place on Vancouver Island is undeniably represented in their works. This spiritual bond is a theme that permeates through this exhibition, which aims to connect stories related to Victoria and the region.
Close to Home: Local and Regional Artists in the AGGV Collection | April 22 – September 4 2017 | Curated by Michelle Jacques | Centennial & Ker Galleries