While all of us waited patiently for the cherry blossoms on Moss Street to come into bloom, the March session of Family Sunday at the Gallery was an array of pink flowers and Japanese calligraphy to celebrate Sakura season. All this was made possible by Michael Abe and his family.
We met Michael back in February when he conducted our Communities + Collections workshop and we were delighted to have him back. Michael, a Nikkei Sansei, has been involved with the Japanese Canadian community in both Ontario and Victoria.
Among the art activities at this month's Family Sunday, was the chance to learn how to write the character for "sakura" 桜 using traditional materials of rice paper, brush and India ink. When a satisfactory rendition of calligraphy was made by each child, Michael then translated his or her name into Japanese and wrote it in Hiragana form on the sheet. The kids also busied themselves in folding elaborate origami flowers and making collages of cherry trees.

The highlight of the afternoon, however, was the story-telling session. Michael was the consummate storyteller and improv performer, constantly interacting with his audience and telling amusing jokes. The play centered on a Japanese man named Jeff (he'd asked for a more traditional Japanese-sounding name, but Jeff was the best he got). Jeff accidentally swallowed a cherry seed and overnight, grew a cherry tree on his head and followed his adventures as a cherry tree. Throughout the play, much to their delight, children volunteered to play the parts of villagers and various other roles.
April's Family Sunday fell on the Easter weekend and the main activity for this monthly installment was a treasure hunt! Inspired by the Gallery's exhibition, Moving Forward By Looking Back, participants were encouraged to carefully scrutinize the artworks on show, while ticking off the items on their scavenger hunt list.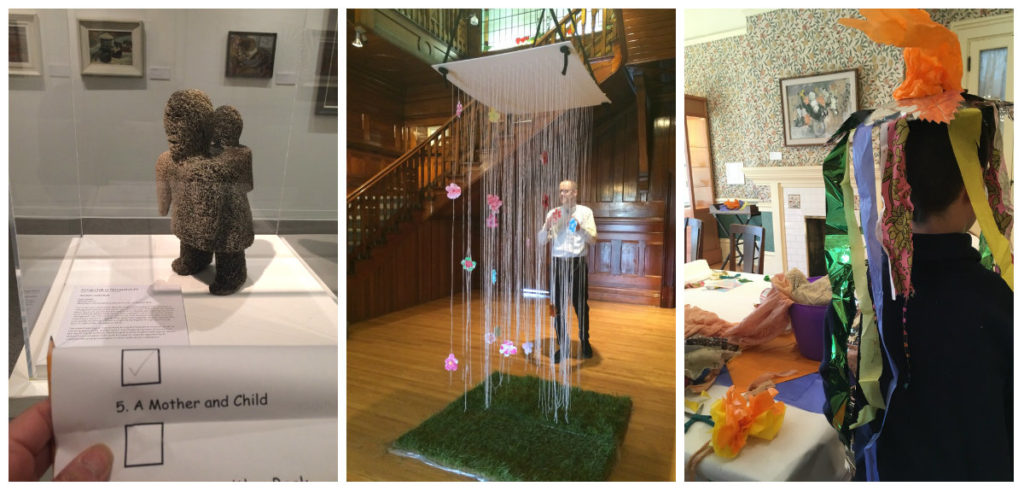 One of the artworks on the scavenger hunt list, Bruno Bobak's oil painting, A Walk on Hampstead Heath, depicting a mother and child strolling through a flower-filled Hampstead Heath while the city of London looms in the distance was also the inspiration for another Family Sunday activity – a cascading flower installation. Our young artists designed paper blooms and attached them to the long strings of the installation, creating a beautiful sculpture of raining flowers.
Family Sunday takes place the 3rd Sunday of the month from October to June, and often features a special guest artist or facilitator. The hands-on activities are based on current exhibitions at the Gallery. The final Family Sunday of the season takes place on June 18, and is inspired by Emily Carr and her love for the environment.