Image above: Arbutus Global Middle School – young artists who created the Gallery's new "Honouring" mural with local artist Jesse Campbell, as part of the New Extreme program.
From January to April 2017, young artists from Arbutus Global Middle School, the Pacific School of Innovation and Inquiry (PSII) and Victoria's Home Learning Community worked with local artists Jesse Campbell, Kemi Craig and Alexis Hogan respectively, through the AGGV's New Extreme mentorship program.
The groups experimented with various approaches to art-making and explored inquiry-based questions. In creating their mural with Jesse Campbell, students from Arbutus Middle School queried: How can we honour Indigenous women and our women ancestors in the creation of a mural? In a similar tone, the Home Learning Group students asked, "How can we honour both environmental and Indigenous rights in public art"? Meanwhile, PSII explored movement, dance and film-making with the help of their mentor artist.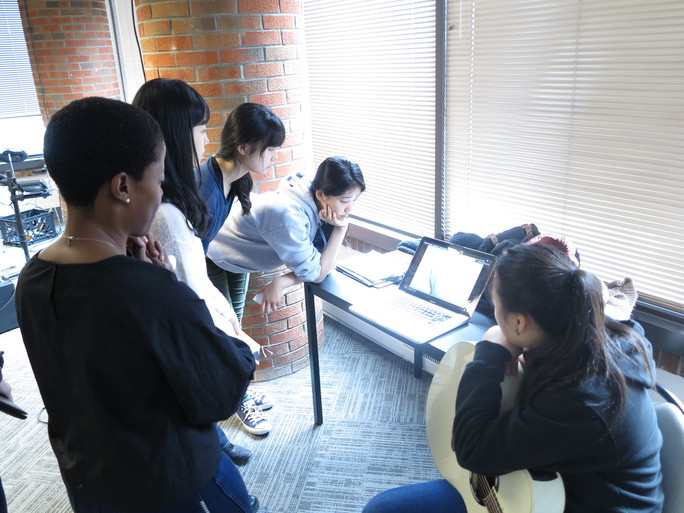 One of the collaborative artworks is the mural "Honouring", installed on the Moss Street side of the Gallery. This piece was designed and created by Jesse Campbell and the Grade 7 and 8 students of Arbutus Middle School.
"The mural was inspired by the generations of women who have brought us here today. The mural was designed to honor them and their respective cultures. Each of these women carries a thread passed down from their grandmothers, and their generations before. This thread is woven into the fabric that protects and nurtures us from when we are young to when we are old. This is the fabric of culture and the teachings that make us who we are." – Artists' group statement.
The mural depicts a woman swaddled by a quilt covered with a multitude of symbols. These symbols were designed and painted on by the students, and represent the young artists' respective cultures and the women in their lives. Throughout their weeks together, the youth learned about many different Indigenous artists (Canadian-based and beyond), and learned more about women from their ancestries. The family stories that these youths have depicted in the mural will now be carried on for another generation, in this artwork.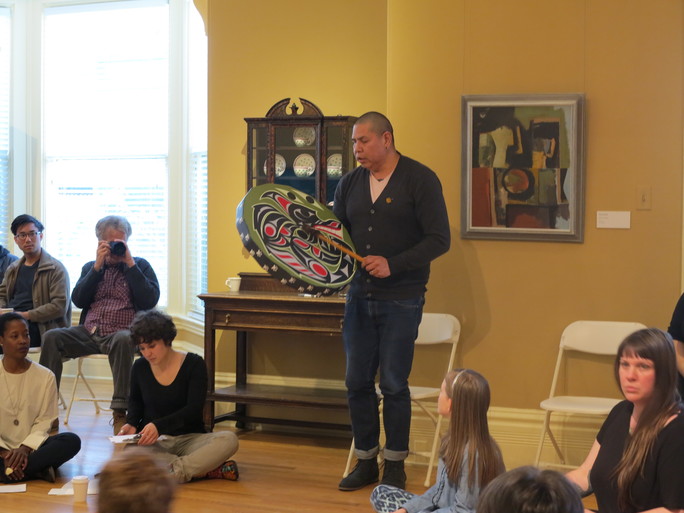 To celebrate the learning and art projects of this year's New Extreme program, the youth, mentor artists, and friends and families were invited to the AGGV to share their experiences on April 13. Aligned with the program's values of family, community, and sharing, the youth and artists were gathered in a circle, with their families seated in another circle enveloping them. Special guest Bradley Dick, artist and teacher of Lkwungen, Mamalilikulla and Ditidaht ancestry, shared a traditional Lkuwungen welcome, ensuring that the gathering began in a good, heart-centered way. He generously shared song, stories, drumming and much laughter!
After an introduction by the AGGV's Jennifer van de Pol, the mentor artists, together with the youth, described and shared thoughts about their learning and art projects. Projects included printmaking, public performance, dance, film, and installation. The students also read their own artist manifestoes aloud and conversed about the experience of working collaboratively. Alexis and the Home Learning Group, "Collective Seep", displayed their installation and shared why they chose the Bowker Creek watershed as the site to temporarily display the artwork and to explore intersections of environmental and Indigenous rights.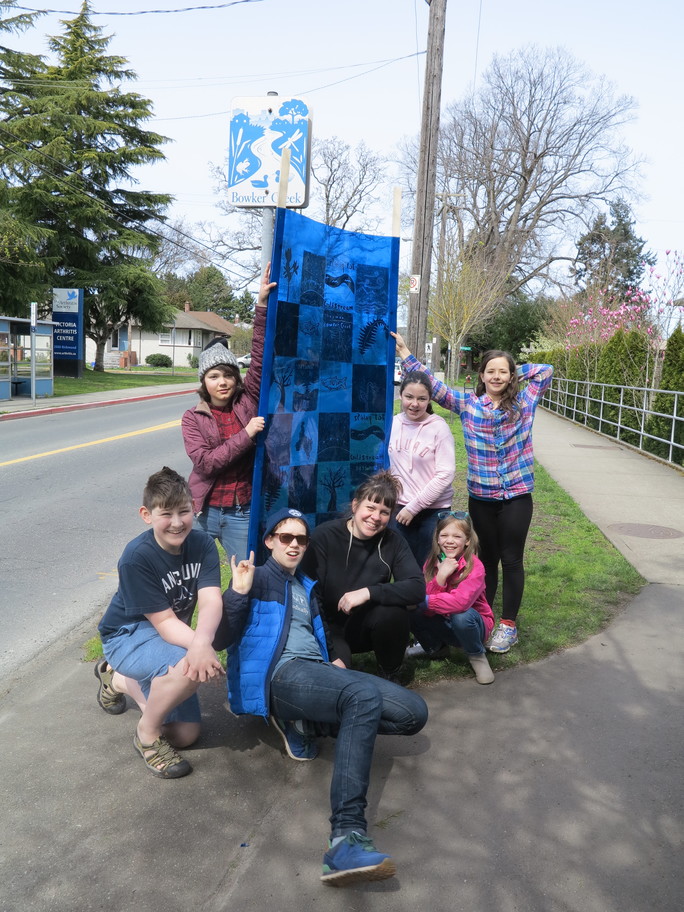 Those who attended the event were moved by the willingness of these youth to explore big questions through art, with curiosity, experimentation, and courage. It was clear that the mentor artists inspired learning environments rooted in respect, encouragement, integrity, and a sense of belonging. All of the groups took the time to consider what it means to make community and art on these lands of the Lkwungen people, the Songhees and Esquimalt Nations.
Thank you to all the of youth who participated, supervising teachers; Maddy Elia, Jennifer Hill, Gillian Petrini and Skye Ladell, mentor artists; Jesse Campbell, Kemi Craig and Alexis Hogan, and special guest Bradley Dick. May this learning continue to grow, in heart and mind-opening ways!