As summer comes to an end and the warmth of the season lingers, we once again transition into a new season teeming with roused artists, fresh works and unique ideas.  These moments of embracing the comforts of fall bring a sensation we can best describe as Inspired.
This fall, join us for Inspired: Show and Sale, a group show featuring seven Art Rental and Sales artists at varying points in their careers, from emerging to established.  You will see exciting new works by Karen Kaiser, Marshall Hugh Kaiser, Adam Noonan, Richelle Osborne, Lisa Riehl, David Smith, and Candis Zimmerman.  This eclectic Show & Sale is not to be missed!
To offer some additional inspiration, take a peek below to learn more about each artist and the work that they create: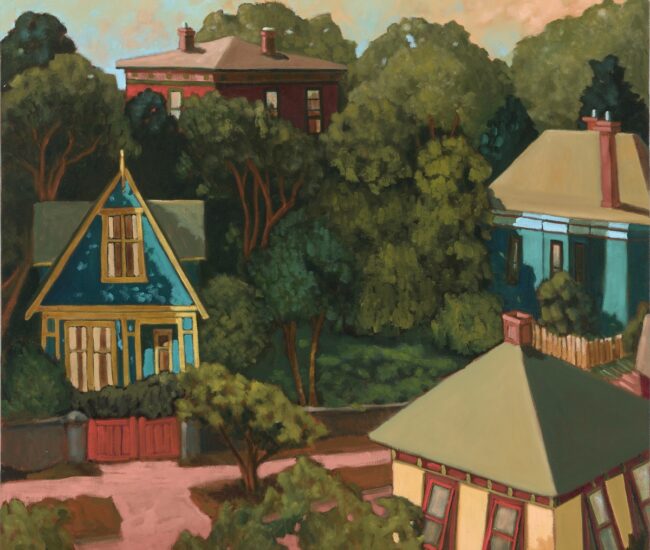 Working in oils, Karen Kaiser creates colourful urban landscapes with an emphasis on atmosphere and light. Her urban landscape paintings portray our many neighbourhoods here in Victoria, and our more rural areas in BC. "Form and light inspire me. I mostly compose a painting from the memory of what I saw and felt, blending sensations and visuals from within the same general area. I love the idea of capturing a moment in time of some of our most recognizable places."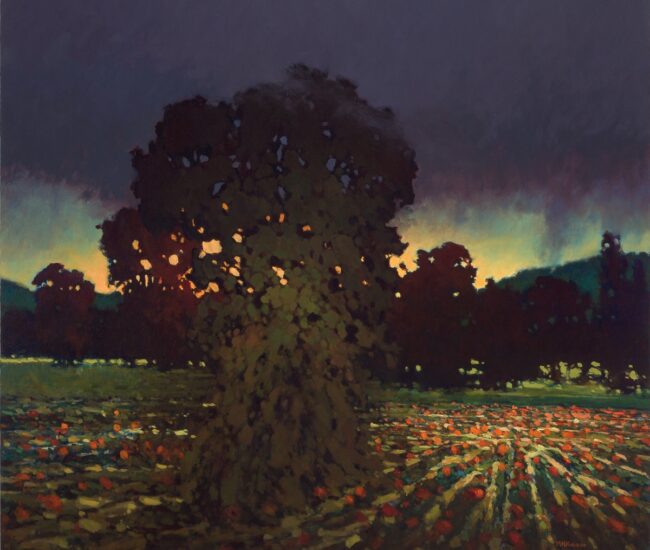 For Marshall Hugh Kaiser, painting is the experience of seeing translated to the canvas by way of the heart. As a figurative artist, the process is about the subversion of realistic elements in order to achieve an 'otherness'. Often in his work, a feeling of impending darkness or the elimination of any human presence provides the viewer with the sense of experiencing the place long after others have left.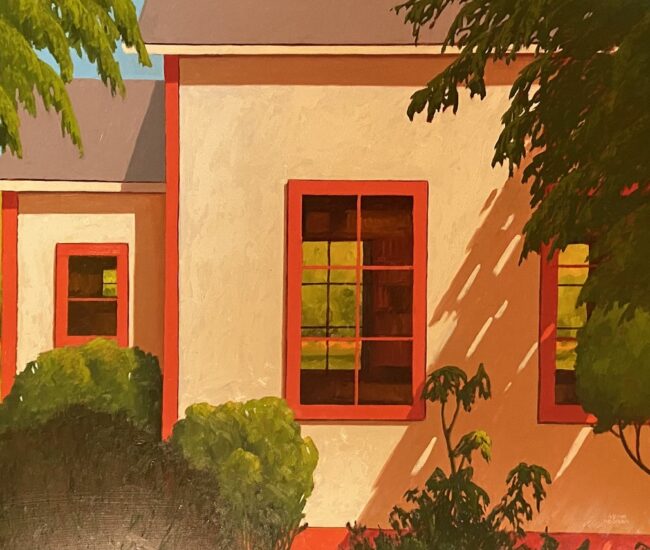 Adam Noonan has been painting landscapes and buildings in and around Victoria, BC for twenty five years and has had over twenty shows in Victoria/Vancouver. As a reason for painting, he is inspired by American painter Maxfield Parrish (1870 – 1966):
"The endeavor is to present a painting which will give pleasure without tiring the intellect."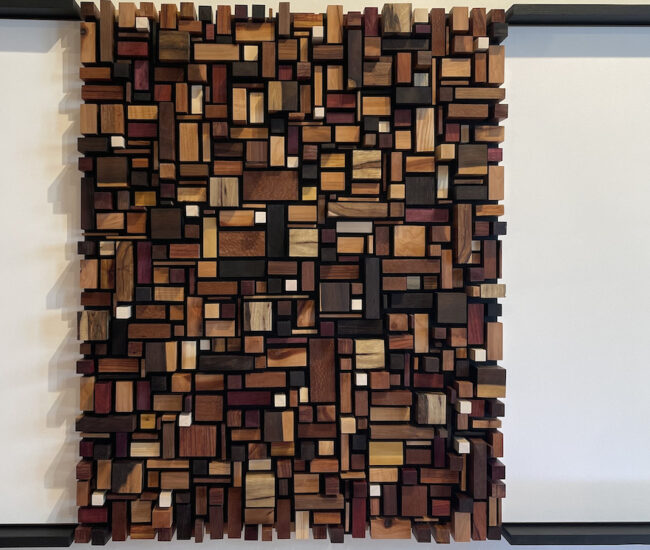 At once graphic and sculptural, Richelle Osborne's work plays with shape, colour, texture, light and shadow to create engaging, one-of-a-kind art pieces. Inspired by colour-blocking and geometric design, she thrives on the use of everyday materials, from hardwoods and copper rings to rubber and plastic tubing.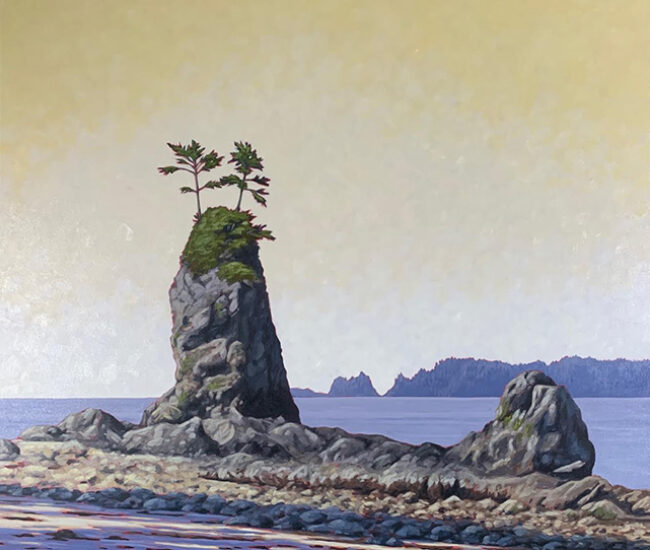 Lisa Riehl finds no shortage of inspiration for her West Coast style landscapes – her vibrant paintings reflect her love of the beautiful scenes that surround her. She is always out with her camera and sketchbook, gathering ideas for paintings at the beach, in the forest or the mountains. She then uses these references for her brightly coloured landscapes.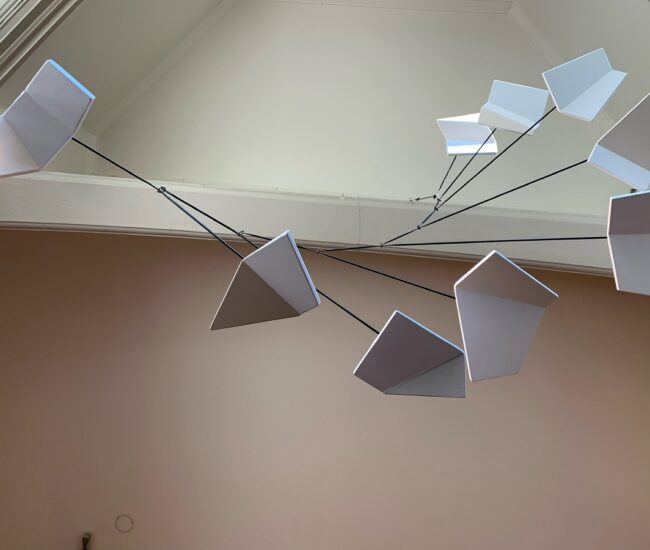 David Smith describes his practice as a leap, shelving the canvases and laying the brushes down in order to explore the limitlessness of three-dimensional art. "There was a calling to move away from the static, explore 3 dimensions, enable movement yet maintain the tranquility and ease I have achieved in my Horizon paintings."
Candis Zimmerman's work (see feature image above) is full of inspiration and life:
"All of my art is about people. Their families, their struggles, their relationships, their stories, the joy and the space between each other. People are what I am most fascinated with. Thirty years as a hairstylist and salon owner has allowed me the privilege of getting to know people on a very deep level, which has been an incredible gift. Now, through my art I can tell some of their stories as well as my own."
Each of these artists are excited to share new pieces in this upcoming collection. If you'd like to hear more about their work, check out our online gallery on the Art Rental and Sales webpage.
Inspired: Show and Sale runs from October 5 to November 9, 2023.
To learn more, visit our website.
Feature Image: Candis Zimmerman, Things to Say (detail), 40 x 60", mixed media on canvas, $1,200