By Audrey Wang, AGGV Volunteer
To Talk With Others responds to the minutes of a meeting in August of 1977 between Prime Minister Pierre Elliot Trudeau and five Yukon First Nations leaders regarding the then-approved Mackenzie Pipeline. Held in the Tr'ondëk Hwëch'in archives, this document illustrates the ongoing dichotomy of two opposing cultures and ways of understanding economic, social and cultural development with the land and its inhabitants. Through a diverse range of media, Yukon artists Ken Anderson (Tlingit/Scandinavian), Lianne Marie Leda Charlie (Tagé Cho Hudän | Big River People), Valerie Salez (1st Generation Canadian), Doug Smarch Jr. (Tlingit), and Joseph Tisiga (Kaska Dene) activate this archival document and ultimately continue the conversation surrounding self-determination in the face of federal and corporate agendas.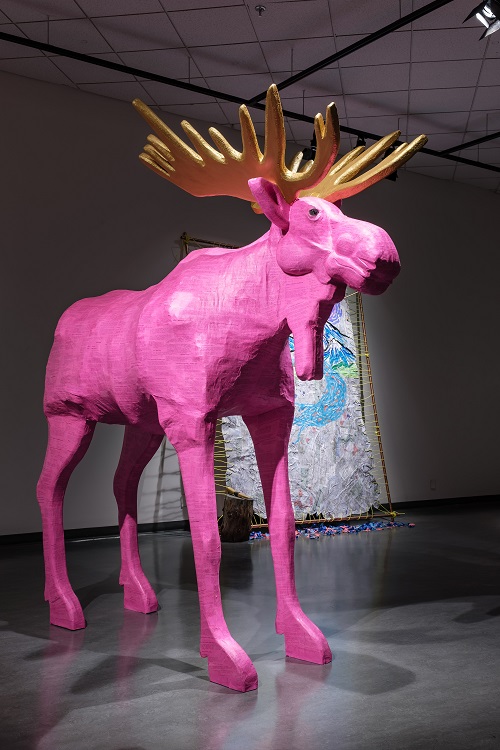 The background story reaches even further in the past than the MacKenzie Pipeline. From the late 1800s well into the 1970s, mass in-migration of foreign gold seekers, military, proprietors, labourers and religious sects, altered the Indigenous land and culture of the Yukon Territory completely. Many Yukon First Nations refer to this period as "The Dark Age". The people of the Yukon First Nations suffered from the loss of their people, languages, traditional lands and cultural practices, thereby also affecting mind, body and spirit. It was around this time in the late 60s that the pipelines were proposed without First Nations consultation. Ironically, the threat of this major resource development and further colonization of Yukon First Nations compelled action in the face of adversity. Change-makers throughout the Nations began to talk about a plan for a self-determined future, in spite of past oppression and abuse.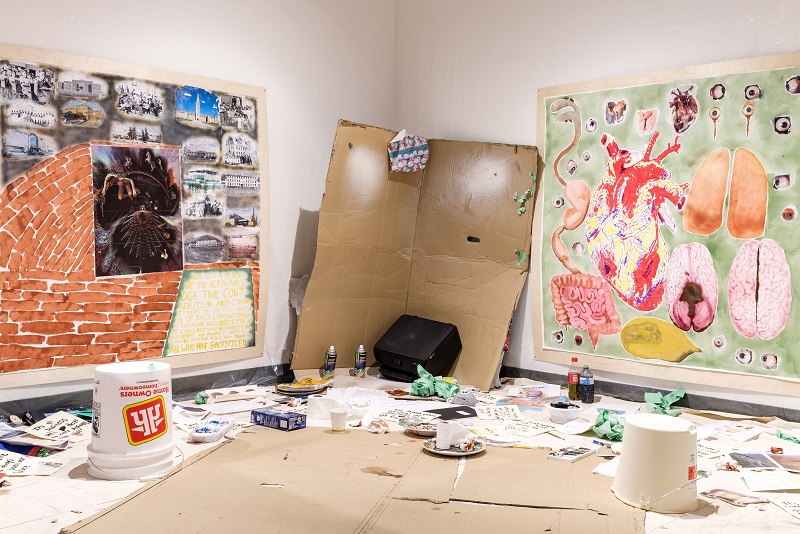 Organized by the Yukon Arts Centre, To Talk With Others documents the Yukon First Nations' call to action to be heard by their oppressors. In 2018, Tr'ondëk Hwëch'in Elder Percy Henry described this pivotal moment:
Fire was dim. Almost out. We throw a stone in and little spark happen. And that's how we got the fire going again.
Little by little, with conversations, talking became the key to a self-determined future.
TALKING Nation to Nation.

TALKING grassroots leaders to federal politicians.

TALKING hunter to lawyer.

TALKING elders to youth.

TALKING community members to bureaucrats.

TALKING to others.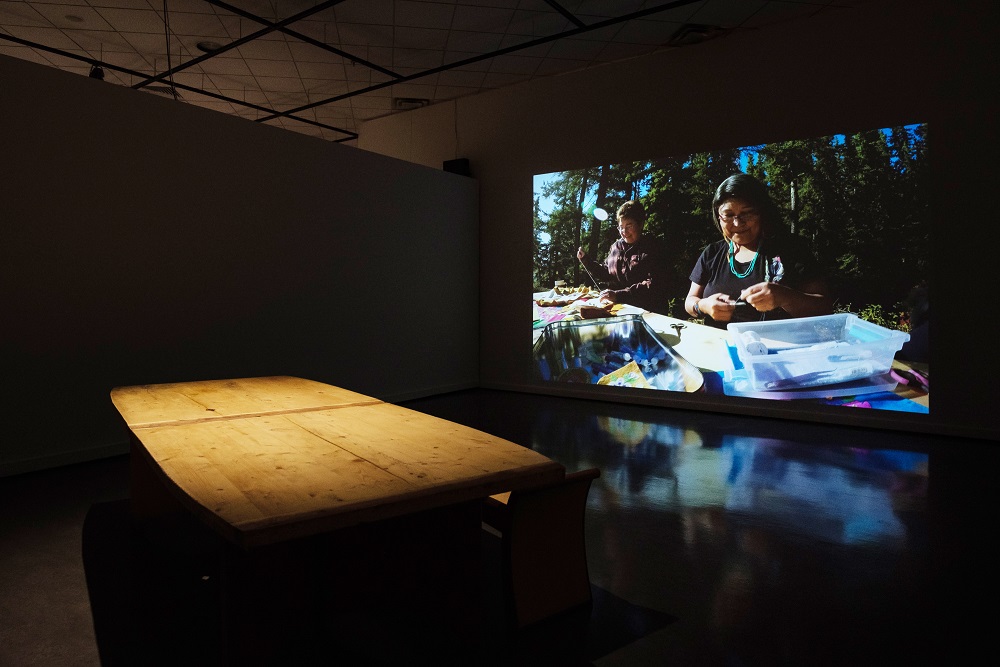 The meeting between Prime Minister Trudeau and the five Yukon First Nations leaders is available for all to read in the exhibition. What started out as a discussion about the MacKenzie Pipeline, evolved ultimately to become a full-blown conversation about First Nations way of life and a declaration or autonomous self-determination.
The artists in this exhibition have activated this archival document to continue the conversation surrounding self-determination in the face of federal and corporate agendas.
To Talk With Others | November 2, 2019 – February 23, 2020 | Project Coordinated by Mary Bradshaw and Valerie Salez | Ker and Centennial Galleries
Feature Image: Ken Anderson | The mosquito becomes me | 2018 | Wood (birch) and steel | Photo by Alistair Maitland Photography