By Audrey Wang, AGGV Volunteer
The physicality of forming clay into ceramic vessels and sculpture is wonderfully evoked in the title of the exhibition Throw, Slip, Spin: Studio Ceramics from the AGGV Collection. The tactility of the material and the attractive qualities of glaze allow ceramics to be completely accessible to all viewers. Not only do we use ceramics in our daily lives, but the origin of the unformed material is so basic. Clay is, after all, earth and water.
This elemental nature of ceramics forms the backbone of the exhibition, celebrating the relationship between the artists and their materials. This show also recalls an earlier exhibition at the AGGV called Back to the Land: Ceramics from Vancouver Island and the Gulf Islands 1970-1985. Curated by Diane Carr, the exhibition looked at how the "back to the land" movement of the early 1970s – which was stimulated by a desire to escape the ills of the city and live a simpler, more rural, lifestyle – was connected to the emergence of significant ceramics activity in British Columbia's island communities. Back to the Land highlighted the importance and vitality of ceramic art and artists to the cultural history of this region. It was also an indication of the connection between the AGGV's visitors and the ceramic artworks, marking a seminal moment in the Gallery's history.
While the ceramicists featured in Throw, Slip, Spin all work in Canada, many learned their craft either outside the country or were influenced by art movements from Europe or Asia.
Gordon Hutchens is represented in the exhibition by an imposing bulbous jar with a small mouth. The depth of glaze and the choice of colours and shape also point to a Japanese influence, in particular, Raku ware.
Byron Johnstad was born and raised in Chicago. The city's vibrant tradition of creative architecture and design is ingrained in his work, as seen in the carved stoneware bowl below which lends itself to an Art Deco styling.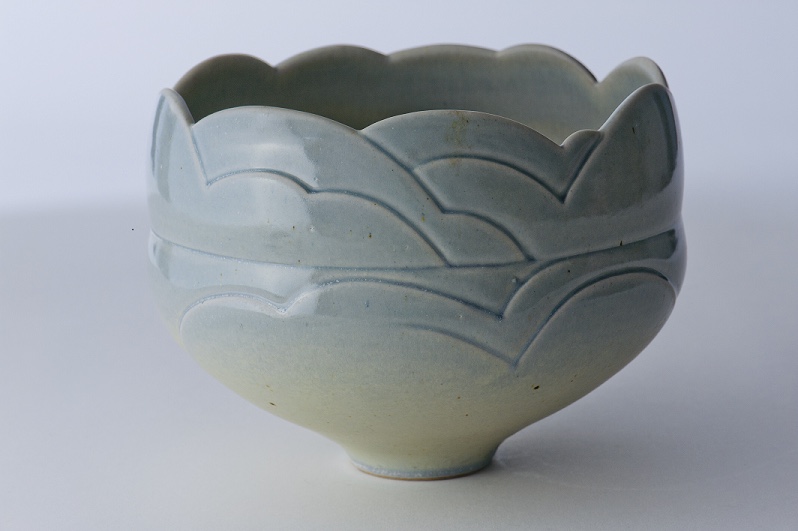 Jan Grove (1930-2018) and his wife Helga Grove (1927-2018) emigrated to Canada from their native Germany, via Turkey, in 1960. Their works span decades and are imbued with a European aesthetic that recalls Bauhaus traditions. Helga had trained at the School for Textile Design in Krefeld, Germany, under the tutelage of Bauhaus teacher Georg Muche. For more about the Groves, refer to an earlier interview we conducted at the Groves' home in 2016 here.
Featured image: Judi Dyelle | Trillium form bowl | 2010 | Porcelain, glaze, microcrystalline | 5.3 x 25 cm. | Purchased with funds from Ann Gibson
Throw, Slip, Spin: Studio Ceramics from the AGGV Collection | February 2 – October 20, 2019 | Curated by Michelle Jacques | Pollard Gallery