We are honoured to present a retrospective of pottery and clay sculpture by Victoria artists Jan and Helga Grove. This extensive exhibition is comprised of approximately one hundred pieces of pottery and sculpture made between 1953 and 2005.
We are honoured to present a retrospective of pottery and clay sculpture by Victoria artists Jan and Helga Grove. This extensive exhibition is comprised of approximately one hundred pieces of pottery and sculpture made between 1953 and 2005. 
Pictured above: Jan and Helga Grove in the garden at Sooke Road studio
Born in Germany, both Jan and Helga Grove trained as apprentices in the studio of Jan's parents in the late 1940s and continued their practice there in the 1950s, before moving to Istanbul, Turkey, where Jan taught ceramic design. They came to Canada in 1965, setting up a studio in Colwood and later, in Metchosin, where they worked continuously until their retirement in 2009. The Groves' works were widely exhibited and sold across Canada, and the works in the Gallery show highlight Jan's modernist forms and signature glazes, and Helga's unique geometric and fable animal decorations.
In an interview at their home in Victoria, the Groves reveal the human relationships that inspire their work together.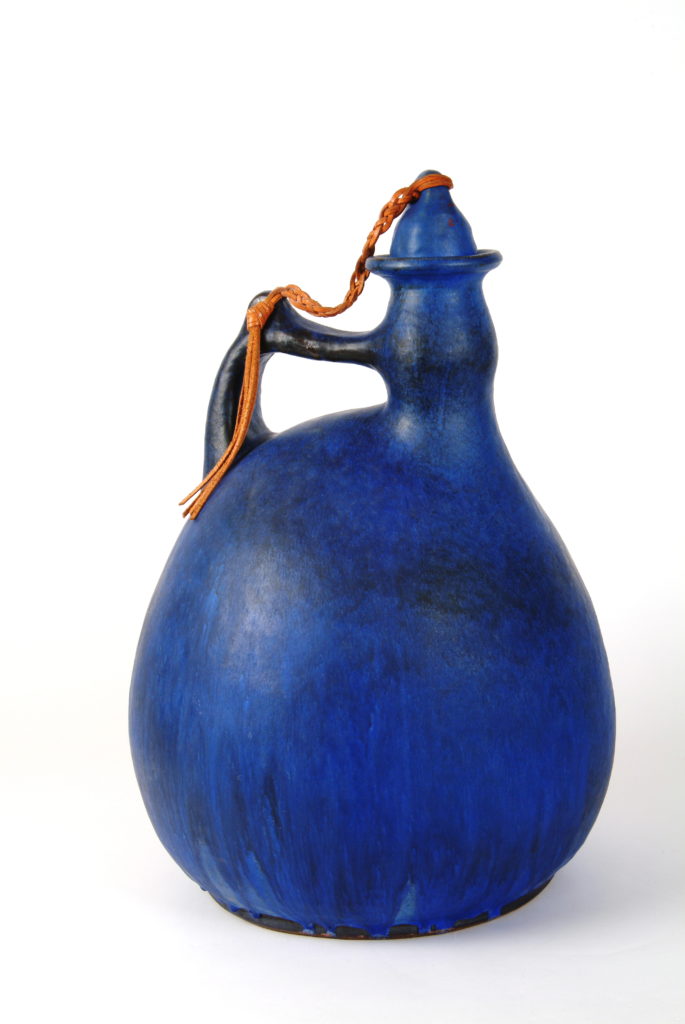 Q: Helga & Jan, how did you get started and why do you do what you do?
Helga: It was the only thing we knew how to do!
Jan: We both started at the studio of my parents. My father was a sculptor and my mother was a master potter. Helga was finishing her schooling in my hometown, after she had to flee from Stettin after the war. So one day, she popped up at our studio…
Helga: I was looking for time in one of the studios. Because of the war, it was not possible to have a scholarship before having a year of practice. And that's how it started. It was meant for one year, but I decided, after working there for a few weeks, that I would like an apprenticeship, and that's how I met him.
Jan: After she finished high school, she made a contract with my parents. I'm three years younger than her. It shows, ya? Helga was the apprentice of my mother. When I finished high school, I joined the team there, and also made a contract for three years of apprenticeship.
Q: Are the works a collaboration between the two of you?
Helga: Yes, it is always both our work.
Jan: Helga did a lot of decoration on the pots that I made. Let's say, I made a bowl and she would decorate it. So, we always worked in collaboration together.
Q: What were your inspirations?
Helga: I had a piece of pottery that was shaped like a horse, which somebody gave to me. I loved riding horses and so this started it for me. I couldn't take it with me when we had to flee. It was not possible.
Jan: For me, the inspiration is the human relationship. That was always what I liked. I did quite a few couples, like this one… (pictured below), or the sumo wrestlers. Two people are interacting. Sometimes it's a love story. Sometimes it's a confrontation.
Q: How has your practice evolved over time?
Jan: Sculpture work was always on the outside (ie. not the main focus), only when I had some time or when I had an idea. Most of the time, I made pots and pans, stuff that sold fast. We sold all over Canada, from Victoria to Halifax and everywhere in between… at any good gallery or craft shop… So, pieces like these (sculptural works) were extra.
Helga: It was a luxury.
Jan: If a show was coming up – that gave us a push to work on some of the ideas we had on our minds for quite a while but never realized. But only when we had a show, like the potter's guild in Toronto, that's when we started to make those pieces. But not for this show! Our studio is closed. In 2009, we closed our studio in Metchosin, which we had from 1990 to 2009, and from 1965 to 1990, we had our studio at Sooke Road in Colwood, for 25 years.
Helga: We bought that five days after we arrived in Victoria.
Jan: It was hard work in the beginning. And not only in the beginning. It was hard work all the way. But it's always the first three years that are very important. You make it or you don't. And… we made it… Barely!
Q: It's amazing that for your whole life, you've had your career and worked and practiced as artists. Do you think that's rare these days?
Jan: Most people teach or have another job on the side.
Helga: I think we are among the few, in that we both work in the same field.
Jan: And have no other job, except for teaching at the university. I like the interaction with students.
Helga: I worked on my sculptures in the kitchen in the evenings after I put the children to bed, so I wasn't interrupted too much.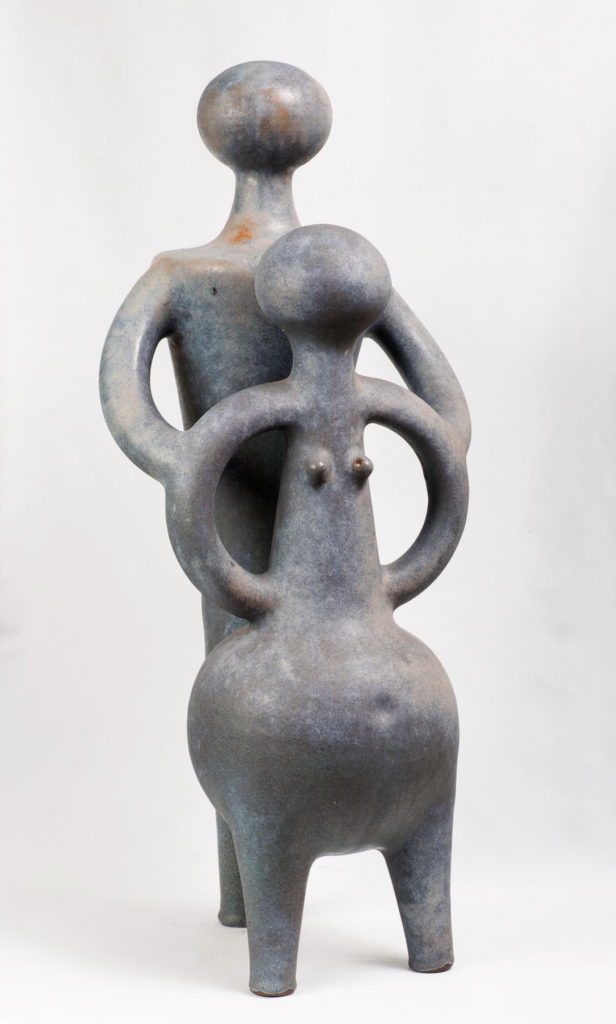 Q: Do you have any favourite pieces in the exhibition?
Jan: My favourite piece is Couple (featured above). Actually, I made it for Helga. It is Jan and Helga. Everybody wanted to buy it, but I said, "Not for sale!". It's one of my favourite pieces, but this is a fairly late one. Before it, I made other pieces and I had favourites there, because this one didn't exist yet. But those fade into the background after I made this one. This is us. I made it in the '90s.
Helga: For me, it is this one (Mitz and Mautz, featured above). This was my last piece. I broke my hand the day before. I slipped. That was in 2005. And after that, I couldn't really work anymore. I also kept the first piece I did in Victoria.
Q: What do you admire most in each other as pottery artists?
Jan: She is a better artist than I am! I'm more of a technician.
Helga: Jan is a fantastic thrower on the wheel.
Jan: Both of us work well together. I did all the technical parts, like glazing.
Helga: And we didn't work against each other.
Jan: That's the wonderful thing. I admire Helga because she has fantastic ideas.
Helga: And I admire him too!
Thank you, Jan and Helga, for a brief insight into your life together as artists and collaborators!
Life with Clay: Pottery and Sculpture by Jan and Helga Grove | January 21 – May 28 2017 | Curated by Allan Collier | Pollard Gallery