By Hilary Potosnak, AGGV Tours & Studio Coordinator
The signs of spring are in full force in Victoria and our little studio at the Art Gallery of Greater Victoria is also showing signs of regrowth. After a very successful winter season, the AGGV Studio team is pleased to present a whole new slate of classes for learners of all ages. There is something for everyone at the AGGV Studio. No previous art making experience is necessary.
Our very popular kids classes are back. Register early to ensure the little ones in your life get to explore hands-on art making activities. Creative Journey returns for ages 6-12 after selling out during our winter season. Kerianne Taves will be back to teach engaging, process-driven art exploration. If you are or know of someone who cares for a toddler the experiences offered in our toddler class, Adventures in Art, is a wonderful way to spend a Friday morning. Little ones will get to explore different processes and materials in a small, supportive environment alongside their caregivers.
Kerianne will also be teaching some of our adult classes at the Studio this Spring. For Fiber Art enthusiasts, Kerianne will be leading teen and adult learners in exploring how to create dynamic fiber art. There will also be opportunities for folks inspired by the immersive world of fungi, to connect with Symbiosis through our Mushroom Making class — try your hand at creating your own mushroom figures! Or check out our newest Creative Journaling class and draw inspiration from your own travels, life, and experiences to create imaginative memory based art. Later in the spring be sure to return to the Studio for the Watercolour Embroidery class, where instructors will teach techniques and practices for making stunning pieces that combine the expressive art of watercolour and the beauty of embroidery.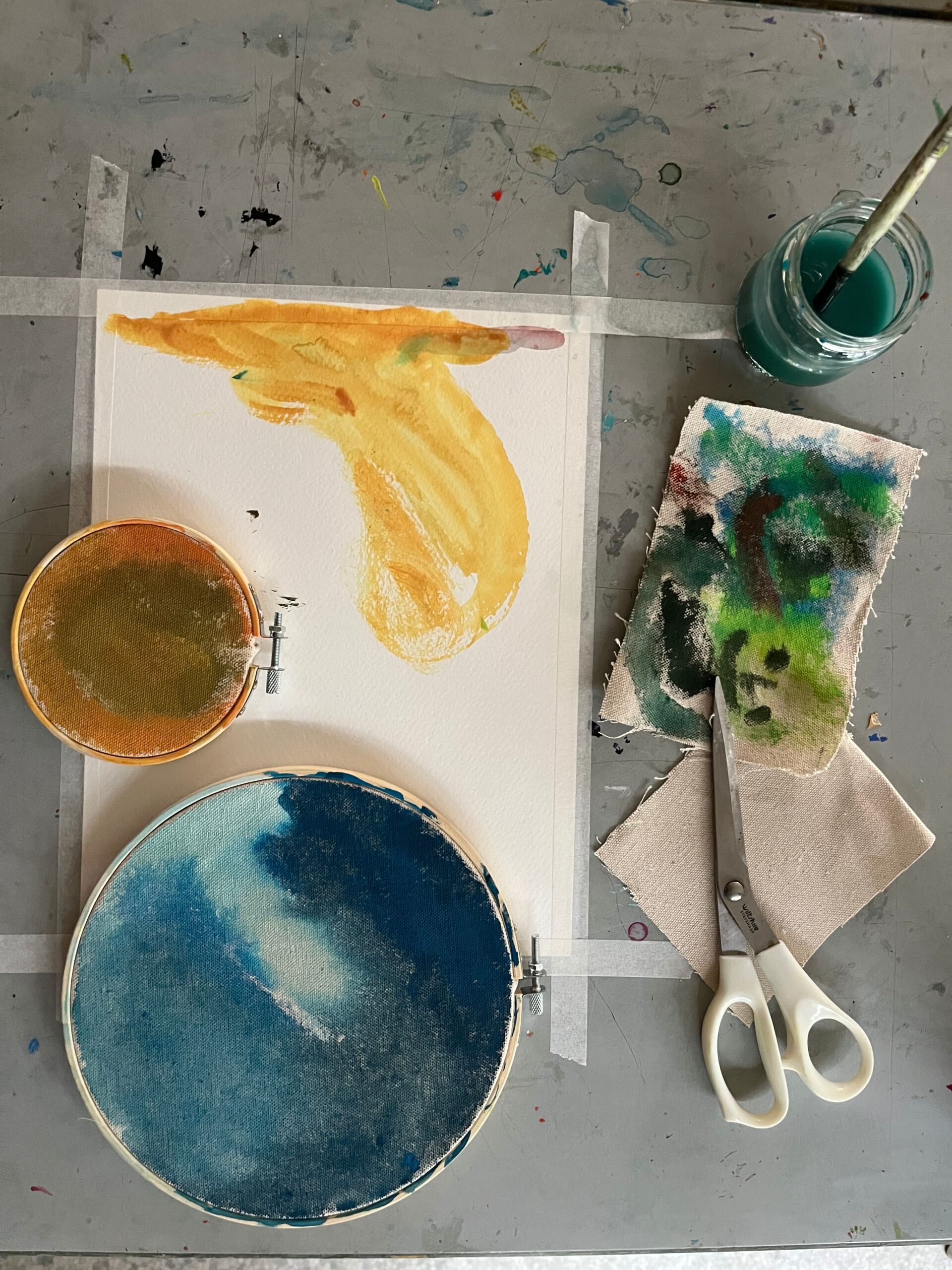 If you stopped by our 55+ Art Social in the Studio this winter you already know what a wonderful experience that was. Our Studio is converted to a social hub, complete with refreshments. Bring along your own work and partake in a social morning of art making. April Caverhill will join you in the studio to lend advice and support. Registrants even have free use of our studio materials, and it's free with admission (or free for members). We happy to announce three sessions of 55+ Art Social this spring, so mark your calendars for April 19, May 10 and May 24. Pre-registration is required.
Community is everything at the AGGV, so we are also pleased to announce a new program in the Studio this spring — an ongoing "Guest Artist Series". Local artists in our community will be joining you in the Studio to teach a class relating to their practice. If you are curious about screen printing this is your chance to have local artist Selina Jorgensen guide you through two afternoons of printmaking in June. (Register early, because this one is sure to sell out!)
And finally, if our regular scheduled classes don't fit into your schedule, we also offer private classes. Please contact our Studio Coordinator Hilary Potosnak at studio@aggv.ca. Registration opens for spring 2023 in mid March so stay tuned. And, keep your eyes on our website to register for summer camps!