By Audrey Wang, AGGV Volunteer
Every year, the AGGV's New Extreme Program pairs local artists with groups of youth at schools in a unique art mentoring program. This year, with invaluable support from the RBC Emerging Artists Project, Lydia Beauregard, Raphael Divi, Kerri Flanagan and Cameron Kidd took on the challenge with amazing results that inspired both themselves and the groups of teens with whom they collaborated.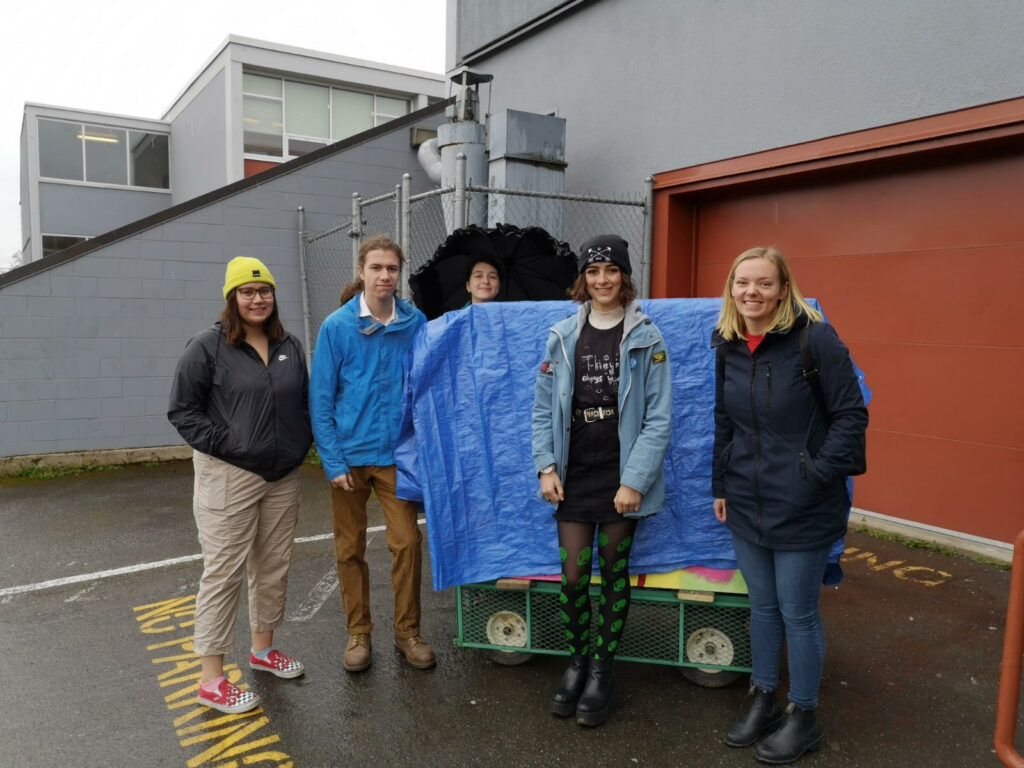 The several weeks of artistic collaboration culminated in a celebration in early April at the Art Gallery where the artworks were finally revealed to families and friends. The day started out wet, but a bit of rain didn't deter the passionate group of young artists from Esquimalt High School who walked their tarp-covered zine mobile project from the school, over the Johnson Street Bridge and across downtown Victoria to the Art Gallery. What is a "zine mobile"? you may ask. Zines (pronounced "zeen") are self-made, self-published, small-circulation publications, and a zine mobile is a small library of zines that can be moved from place to place. Spearheaded by interdisciplinary artist and two-time winner at the Expozine Awards, Kerri Flanagan, the project saw the Esquimalt High teens create small publications, postcards and T-shirts with designs that were meaningful to each individual but spoke of the collective. The theme was "transformation", with the idea of growing into the person one is happy to become. One could also interpret the act of walking the mobile zine 5 kilometres a transformative process as well!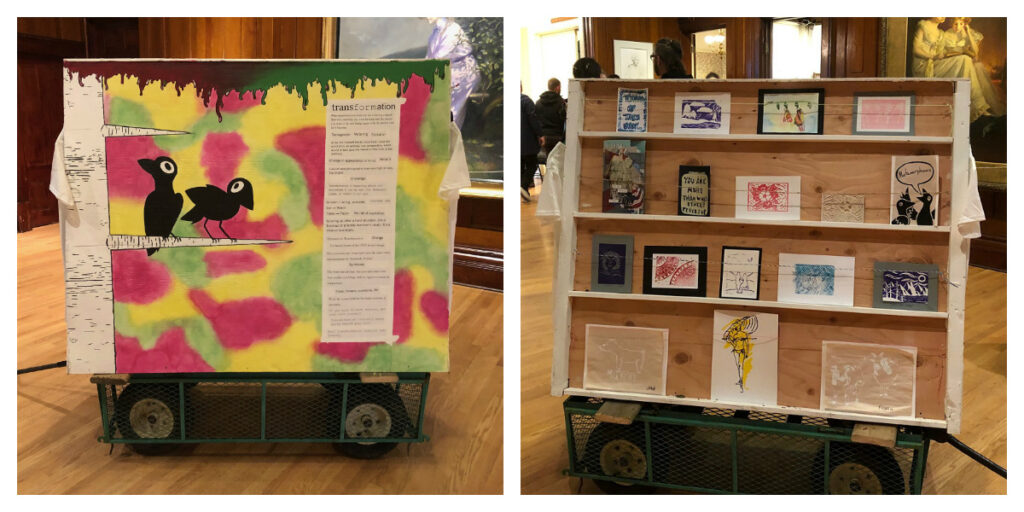 For visual artist Cameron Kidd who specializes in mural painting, working on community-based art projects and large-scale art is his passion. He shared his ideas with the Grade 8 students of Central Middle School, facilitating a mosaic-type artwork inspired by art installations throughout their school, public murals in the city, and installations at the AGGV and Open Space Arts Society. Students painted individual panels with specific colour themes and the eventual arrangement of panels recalled the investigations into tessellations and colour which were the big-picture ideas introduced at the start of the project. The work will later find a permanent spot in the School.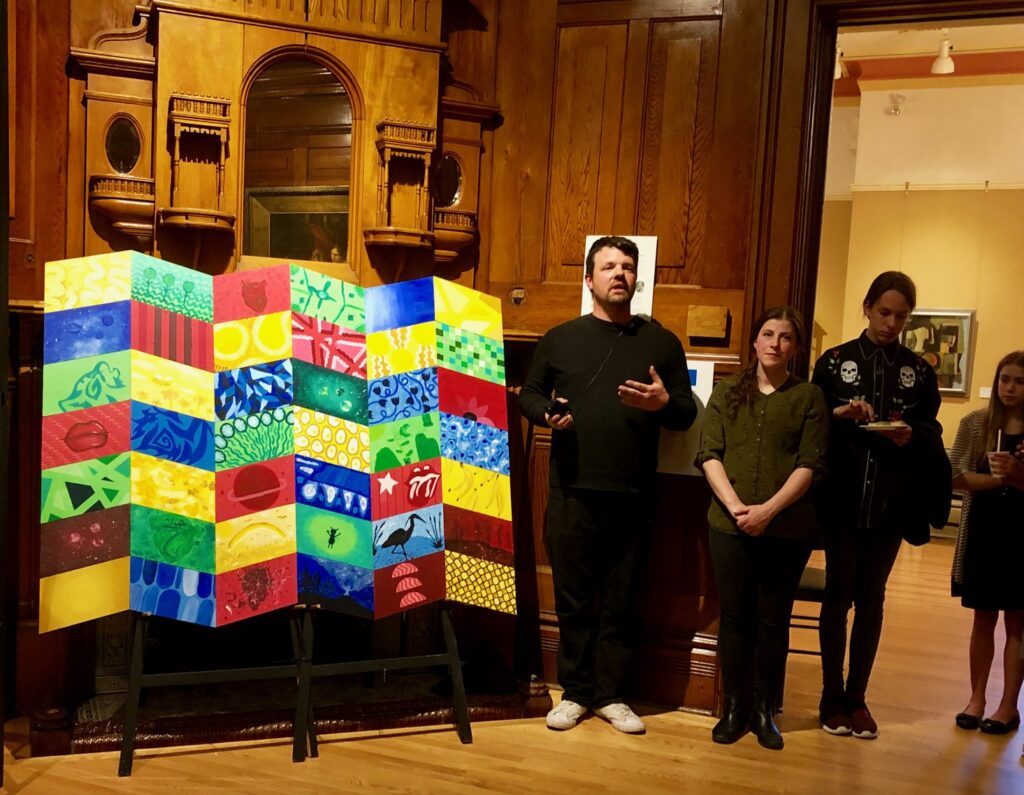 The spectacular sculpture "We Hang Together" (pictured above) was created by the students of Westshore Centre for Learning and Training, in collaboration with Raphael Divi. Also known as the "mandala project", the art initiative was designed to bridge the connection between the various disciplines of language, math, science, music and art. The sculpture is created with coat-hangers, each one painted by a student to tell his or her own story. Their manifesto explains the metaphor of the hangers: "The Creation of the Mandala represents that regardless of our cultural upbringing, religious belief, and our own way of perceiving the world, we all hang our clothing on the same hangers."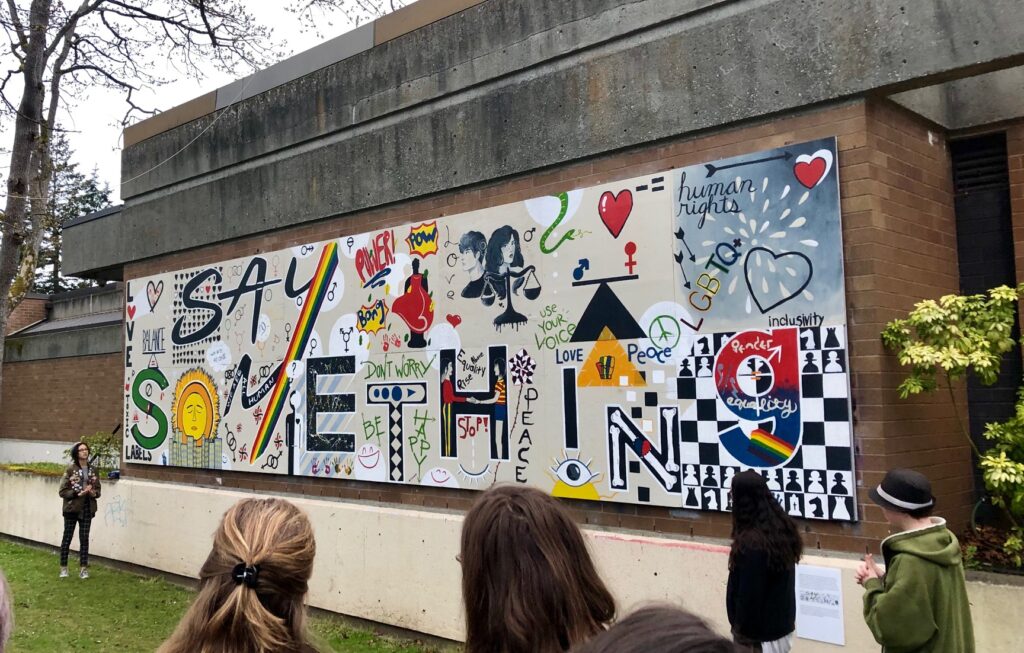 The grade 9 and 10 students of Spectrum Community School, together with mentor-artist Lydia Beauregard issued this group statement: "Words are powerful. With every word we utter, a world is created. With language, we are given the opportunity to express gratitude for the land we live on, for the air we breathe. For the people we love, for the things we hold dear. We have a choice to speak with intention, clarity and inclusivity. We can use words to make a statement, to express what's important to us, spread a message and unite our communities with common goals."
Entitled "Say Something", the mural painted by the students of Spectrum covers a multitude of issues facing youth today, from equality to tolerance, inclusivity, to simply talking and sharing experiences, using "communication as an empowering tool to spread love, kindness and knowledge…"