By Shaylin Allison, AGGV Facilitator, Volunteer & UVic MA Student
I first experienced Woven In: Indigenous Women's Activism & Media at the opening celebration and dialogue at the Art Gallery of Greater Victoria. The event was attended by several members of the local and greater Indigenous community, including loved ones and family members of the artists and curators. The exhibition was co-curated by Gerry Ambers, Marianne Nicolson, and Siku Allooloo – three Indigenous women, from different generations, whose work is also shown in the exhibition alongside works by Banchi Hanuse and Tania Willard. Their work is powerful and proudly proclaims their presence, identities, and ongoing resistance to colonialism across generations. As an Anishinaabekwe woman I have found that there are very few spaces where Indigenous women can feel safe, but for me this exhibition is one of them. Because of their work, the space was warm, welcoming, and Indigenous – there was a circle of chairs with blankets set out for the Elders, and generations of Indigenous women were huddled together chatting and hugging each other as they entered. I was comforted by how familiar this scene felt to me, despite the fact that I am thousands of kilometres from my homelands and family.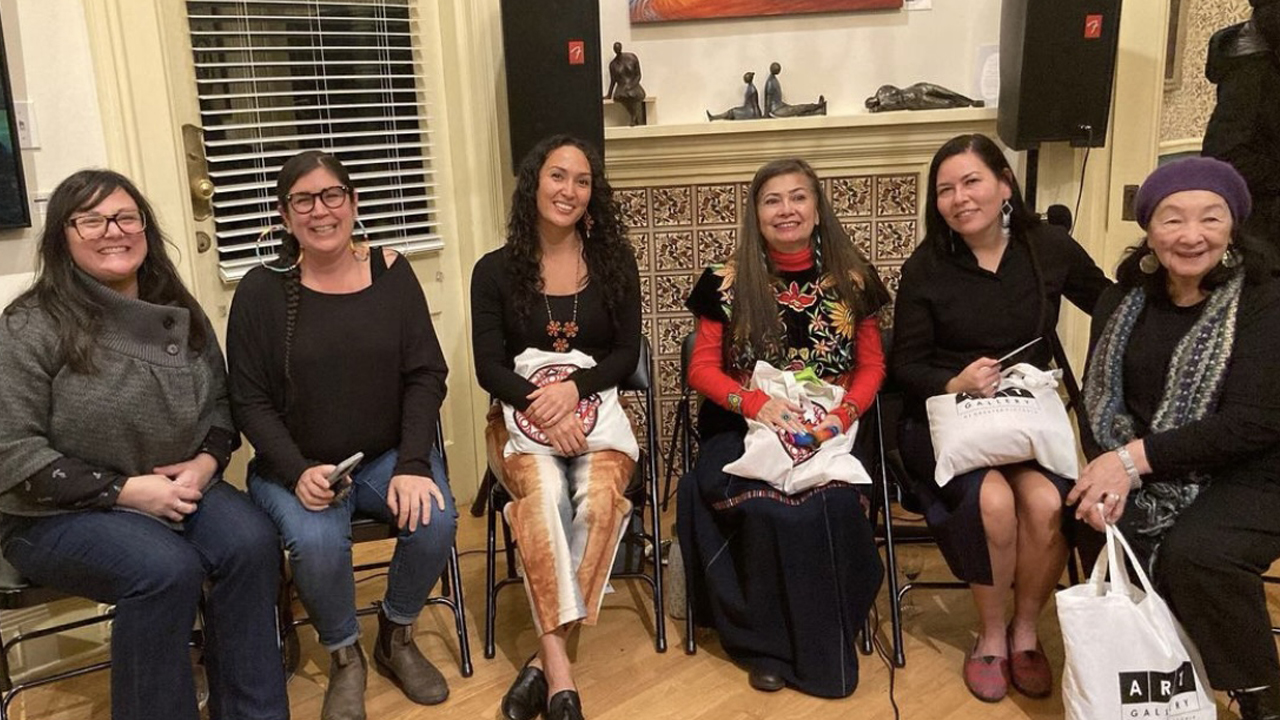 I also had the pleasure of viewing the space on a walk-through with the AGGV's public programs coordinator, Natalie Ashley Rollins, who offered her interpretations of the works from her own Cree worldview. Viewing this work for the first time in a collaborative, community-based setting embodies the Indigenous pedagogies, methodologies, and ways of knowing that are vital to anticolonial art activism. Woven In also coincides with another exhibition at Open Space called TIDE LINES: Coastal Resistance of the 60s & 70s organized by Gerry Ambers, Eli Hirtle and Toby Lawrence, which emphasizes the power of community and the context in which Indigenous art should be experienced.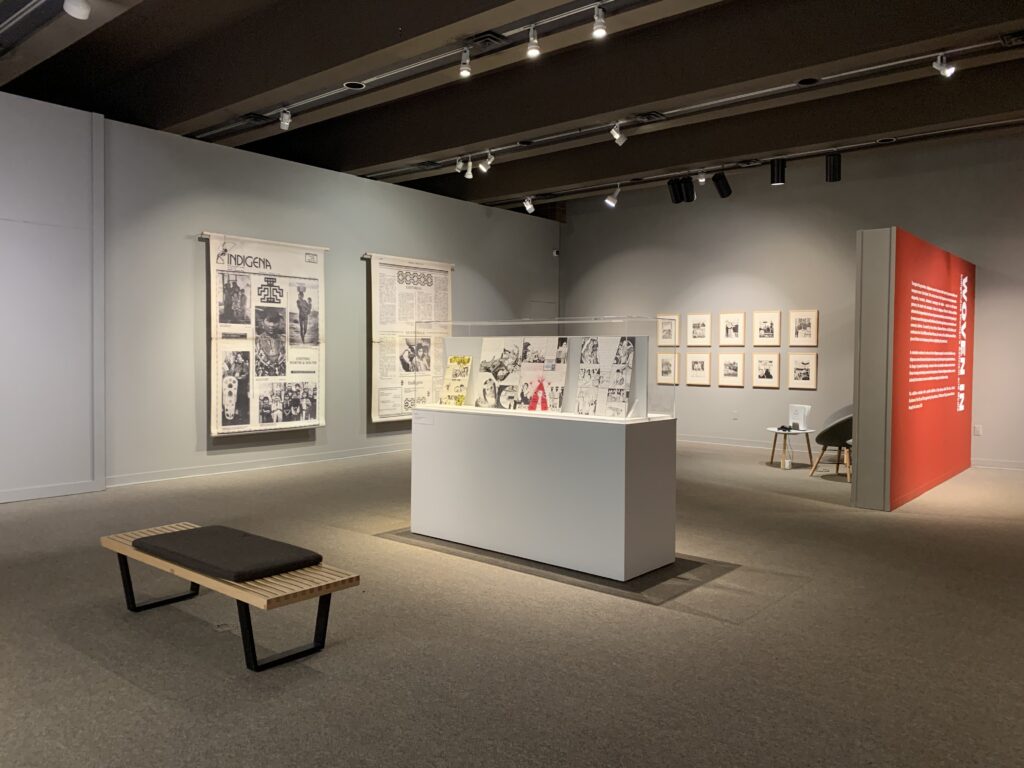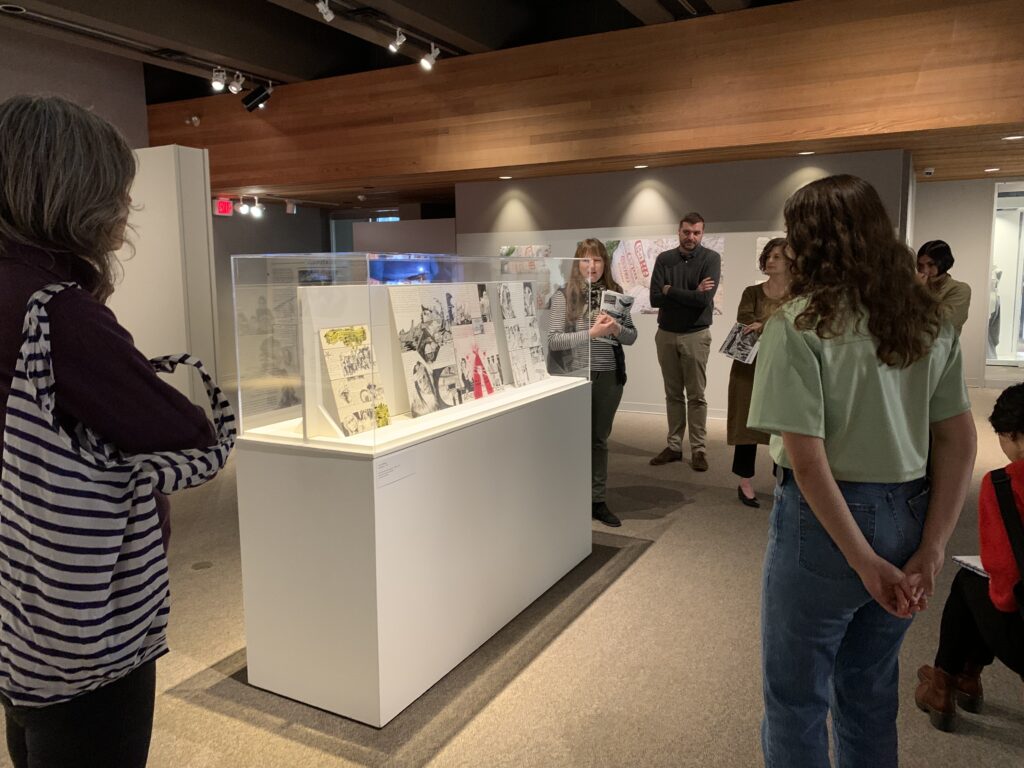 An Auntie attending the celebration commented that the space felt like a "beaded earring competition," as the ears of almost every Indigenous woman in the space were adorned with beaded earrings of varying length, size, and splendour. Beaded earrings are a way for us to convey our traditions, culture, and to proudly take up space as Indigenous women. The Auntie who commented on this was wearing hot pink beaded earrings that fell to her shoulders, and I was wearing turquoise beaded earrings made by my mom. Every time I was complimented on them, I glowed with pride and shared that my mother made them, to which people responded that she is very talented, and I must be very loved. This is significant because in many spaces, being seen as an Indigenous woman is not the safest option. However, in the context of Woven In, a celebration of the resilience and strength of Indigenous women and their relentless resistance and activism in the face of continuous colonialism – taking up space feels amazing.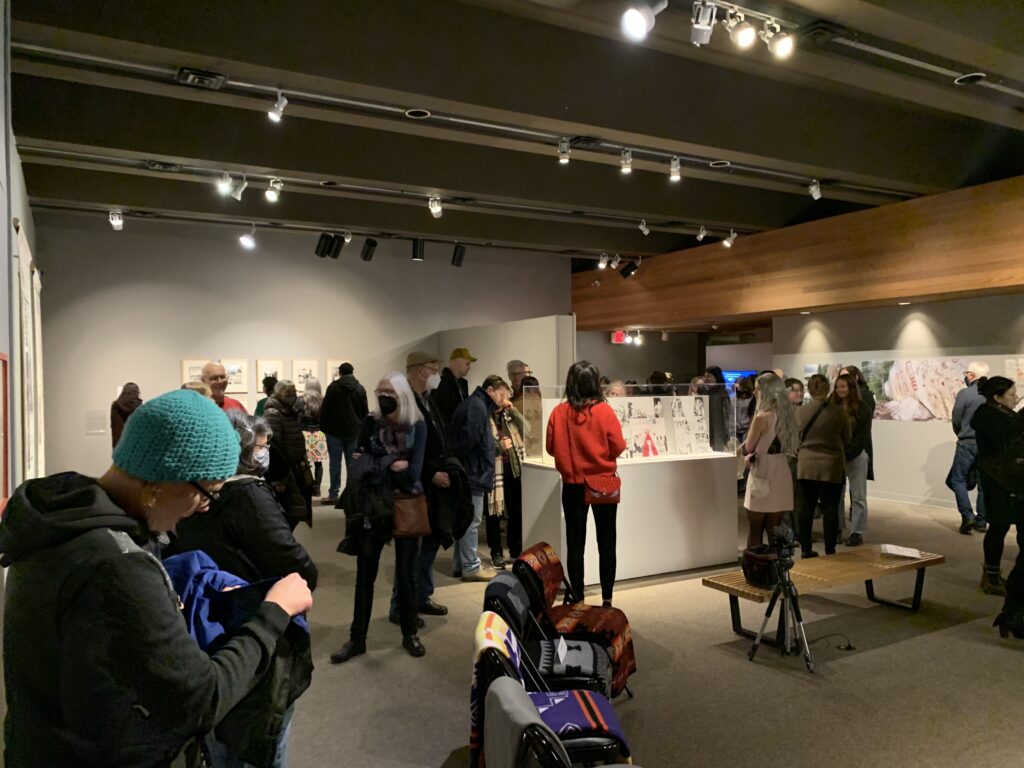 Miigwech to the artists for creating such beautiful art and experiences that celebrate and honour Indigenous women, showing the power of storytelling for Indigenous communities as a form of revolutionary resistance, and for paving the way for future generations to experience the utter privilege that is feeling safe in a space despite ongoing settler colonialism. If you want to learn more about the incredible works in this exhibition, please join me on Saturdays (until May 6, 2023) from 2-3pm for a guided drop-in tour of Woven In: Indigenous Women's Activism & Media (free with admission). And incase you missed it, listen back to the conversation that was shared on January 12, 2023, during the opening celebration and open dialogue coming soon to the AGGV's #WIP Podcast!