We had a little Party for Our People on September 21. DJ Yake and M'pendo brought a mix of African Music, Reggae, Hip Hop and Funk to the evening. It was one last kick at a summer soiree, and the atmosphere was warm and celebratory.  The event focused on the body of work produced by local and regional artists in the exhibitions – Moving Forward by Looking Back, Close to Home: Local and Regional Artists in the AGGV and Water Work Space.  Linda Gammon, Rick Leong, John G. Boehme, Phyllis Serota, artists featured in Close to Home, Alexis Hogan, Tara Nicholson and Gu Xiong, featured in Water Work Space, Pat Martin Bates featured in Moving Forward By Looking Back, as well as several other artists from the Victoria community, including Lyle Schultz, Megan Dickie, Laura Gildner, Paul Walde, Léuli Māzyār Lunaʻi Eshrāghi, David Gifford and Doug Jarvis, were in attendance. There was an enormous diversity of age, culture, and companions, as old friendships were reignited and new ones began to kindle.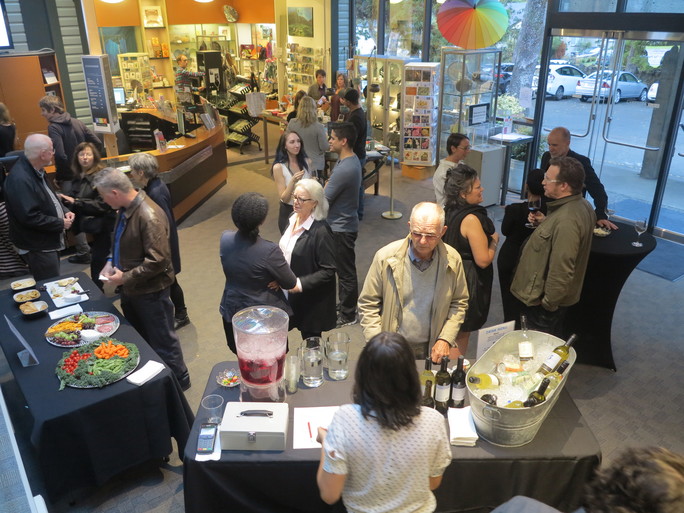 The AGGV's founding director, Colin Graham, focused on local artists as a key tenet of the Gallery's mandate way back in 1951, and it remains an integral part of the AGGV's programming. The art on exhibit was diverse, as the curator of Close to Home, Michelle Jacques used a novel approach of grouping together unrelated works to yield an exhibition of remarkable cohesion. Water Work Space is another unique exhibition where at the forefront were the community and cross-disciplinary engagement on the topic of water. Information panels about the Douglas Treaties invoke a critical response to the history of Canada, and the lands and waters taken from the Indigenous communities on Vancouver Island. And in this same spirit, unexpected choices in artwork selection turned the spotlight on the theme of community and cooperation. Here, we see a real distinct shift in perspective, away from the exclusive support of established artists to the inclusion of lesser-known artists and the recognition of Indigenous works that tie every Canadian to the land and place they live in.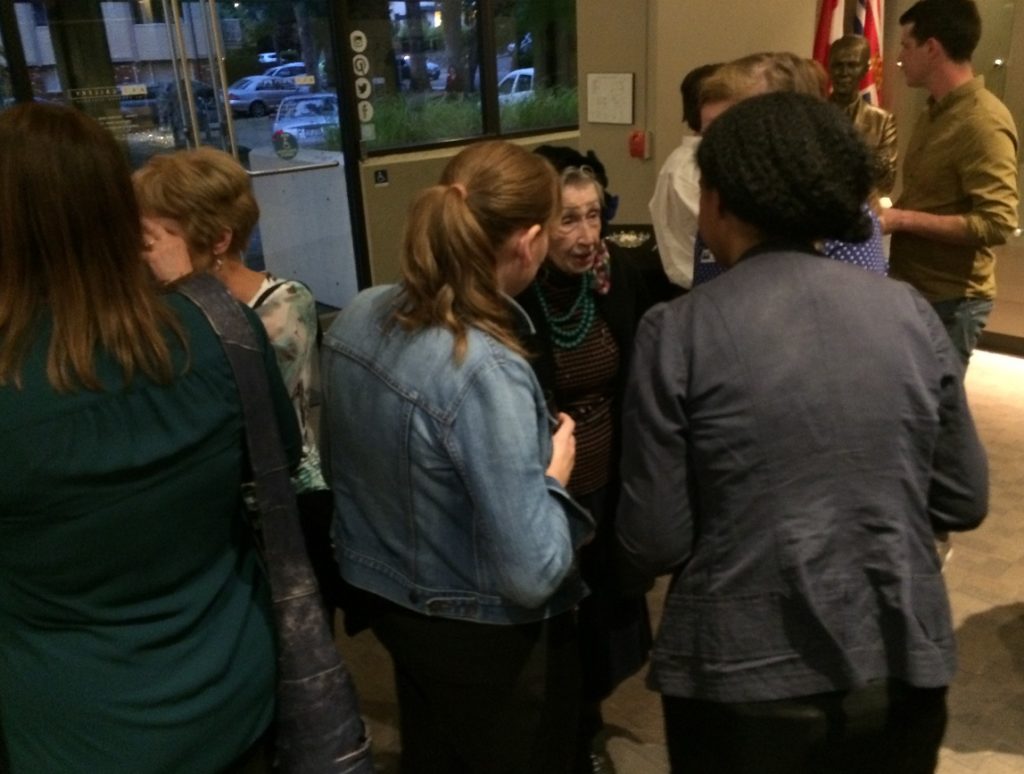 Party For Our People was exactly that, a celebration of local and regional artists, activists, collaborators and visitors, each with a voice that can make a difference in a climate of inclusivity and diversity. It is also a celebration that sets the Art Gallery of Greater Victoria apart, in its tenacious drive to embrace the community and to acknowledge, with gratitude, the lands of the Lekwungen-speaking peoples, in whose territory the gallery is located.
As the party progressed, people roamed the galleries, many finding solitary souls snooping for artistic insights of place, as well as small groups collaborating on creating interactive and thought-provoking messages to future Gallery visitors. There is no doubt that this Party for our People provided its guests with ample opportunities to engage with local artists too – there were several on hand. More importantly, it provided art lovers with an opportunity to engage with their neighbours from down the road or across the region. As the exhibitions touched on political, societal and environmental issues, key questions were asked to ignite meaningful discourse. Since we all comprehend art in different ways, we can use these conversations to bridge gaps and create connections between people, places and ideas, to navigate what work needs to be done and how we may get there.