Audrey Wang, AGGV Volunteer
The Art Gallery's Family Sunday is a much-anticipated monthly event in the local community calendar. Taking inspiration from one of the current exhibitions on show in the Galleries, each Family Sunday focuses on a particular theme, and invites the whole family to engage in an array of art-making activities, interactive performances and explorative play in and around the Gallery.
The first installment of 2018 was another resounding success, as regular attendees and new faces filled the Spencer Mansion. January's Family Sunday was inspired by the Gallery's newest exhibition Form As Meaning: First Nations Prints from the Pacific Northwest, which had just opened to the public the day before.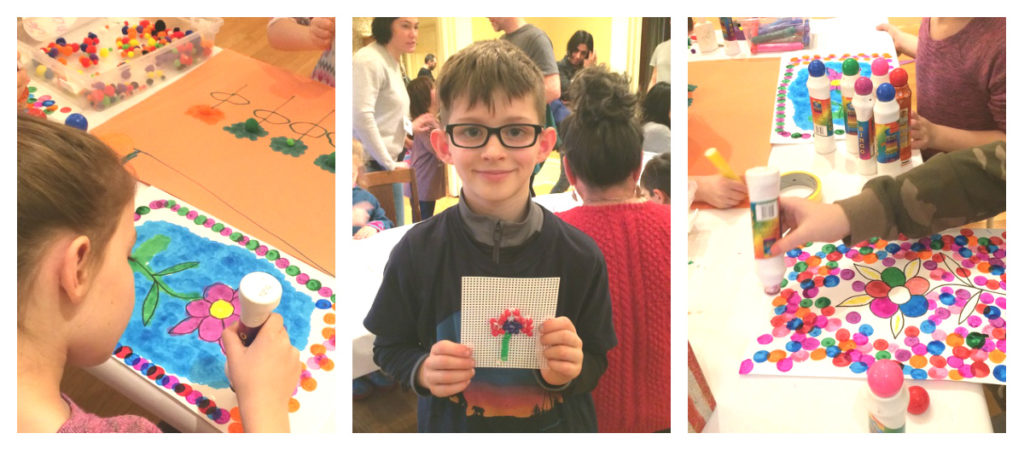 We were also fortunate to have as the event's special guest artist-facilitator, Kim Jensen, co-owner of local boutique Still-Life. Kim had brought with her fashion items from her own family's history, including her grandmother's moose hair tufting patterns and beadwork pieces originating from the Dene Nation in the Northwest Territories. With the Indigenous prints from the exhibition and Kim's fashion items, the afternoon of art-making brimmed with creative beaders, painters and clay-sculptors of all ages.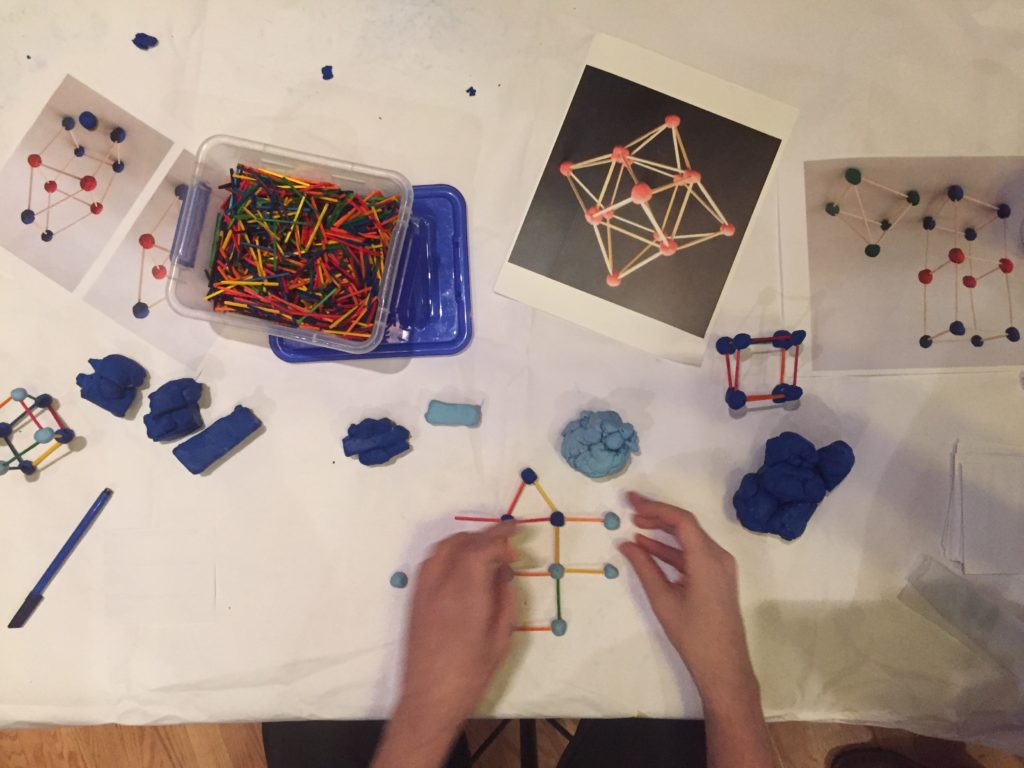 February's Family Sunday was another well-attended affair that kept young and old busy with a wide array of activities. Our special guest this time was Margo McLoughlin, storyteller extraordinaire, whose stories kept the audience in the Gallery enthralled. A musical element was incorporated into her performance with the use of a hang, a Swiss percussion vessel that produced a rich, sonorous tone in the Gallery. Afterwards, kids were given the chance to try it out.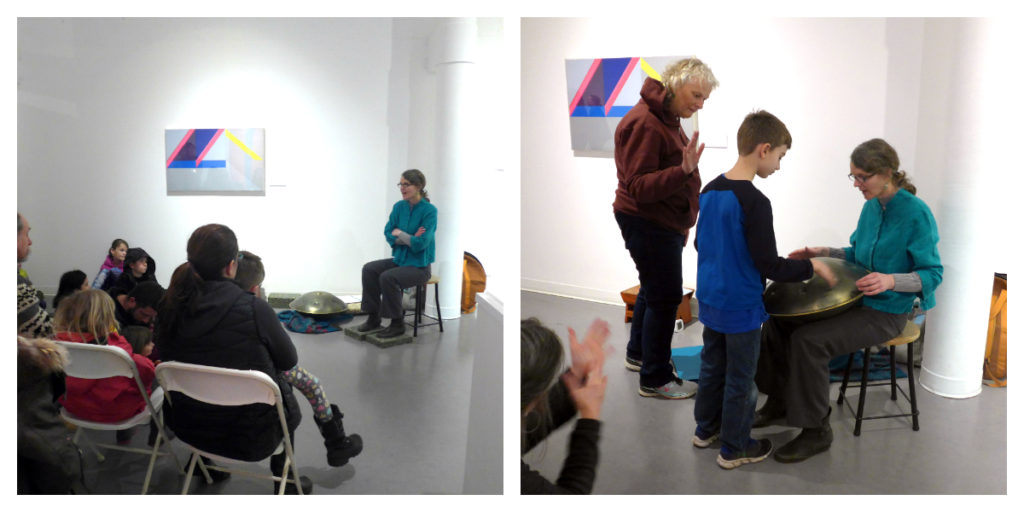 The art activities in the Spencer Mansion were inspired by the exhibition Beyond the Edges: Art & Geometry. The theme of geometry made for much fun and learning. Using balls of Plasticine and colourful sticks, one activity focussed on making 3-D shapes, and in so doing, the kids learned the names of these shapes – pyramid, prism, tetrahedron and so on. On another table, children worked hard on their fine motor skills, using spirographs to create intricate patterns. It was a challenging activity but ultimately rewarding, as the children looked so proud of their creations. Next door, Family Sunday volunteers facilitated the making of origami hearts.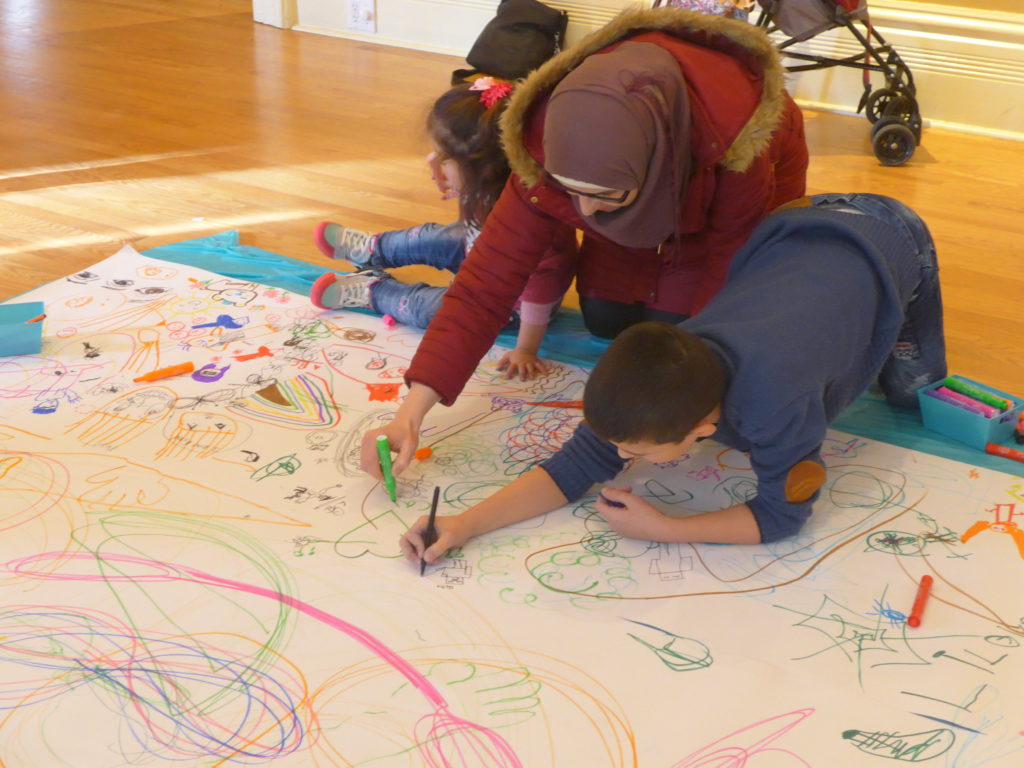 A big hit of the afternoon was the large collaborative artwork on the floor. Families enjoyed sprawling on the Mansion floor, drawing and colouring, tracing their hands, feet and even entire bodies. By the end of the event, the entire sheet was filled with bright and colourful images, a reflection of the afternoon's fun and enjoyment.
Family Sunday takes place on the third Sunday of the month. The next installment will be on March 18, 1-4 pm, inspired by the Sakura Cherry Blossom Festival.