By Audrey Wang, AGGV Volunteer
Contemporary artists Angela Teng, Shelley Penfold and Jess Willa Wheaton employ an innovative approach to mixed media. Their work simultaneously evokes curiosity and offers a destabilizing composition for the viewer. Featured in It's In The Making exhibition, these artists use the act of making as a process of thinking. They investigate the relationship between ideas, materials and things and combine familiar materials and processes and present us with new kinds of objects.
Vancouver-based artist Angela Teng's works (pictured above) succinctly epitomize the concept of this exhibition. Using the traditional feminine craft of crochet, Teng transforms the conventional process into extraordinary sculptures.  By making yarn out of acrylic paint, Teng then crochets her "yarn" into rich, three-dimensional pieces such as Golden Boy (2015) pictured above.  Her work highlights issues of gender-associated craft versus high art, and challenges the traditional process of painting, renegotiating how a picture can be made.
Crochet-painting is Teng's signature medium.  However, before embarking on this journey of crocheting paint, Teng didn't know how to crochet, and had to look up "how-to" videos on YouTube. In an interview with Canadian Art in October 2016, she professed, "Even after five years, it still feels really new… The paintings have the ability to speak to sculpture and painting and feminism—craft, women's work…. And there's still so much within colour, form and gesture that I have to explore."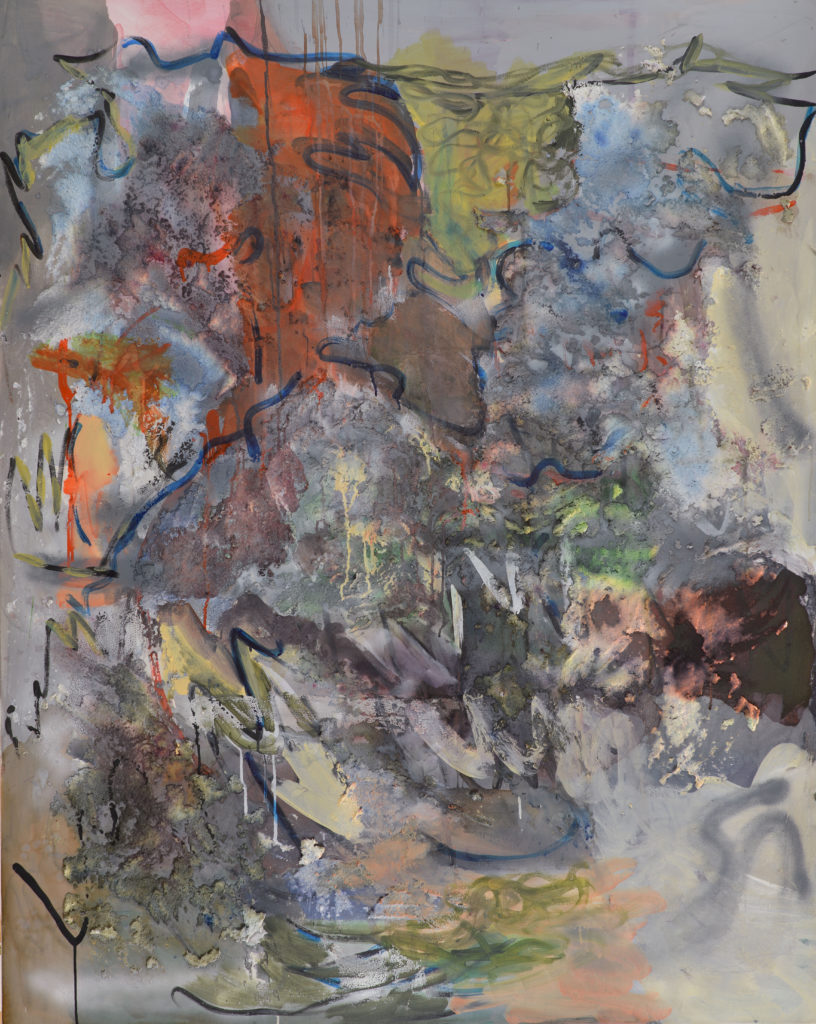 Shelley Penfold is also based in Vancouver and is a prolific artist with numerous exhibitions and publications on her resumé.  One of her abstract mixed-media works in the exhibition is titled The Older You Get, The Harder It Snows (2015).  To reconcile the ambiguity of the painting with its title, it helps to understand her point of view as explained in her Artist's Statement:
"My paintings employ experimental and intuitive actions and create compositional forms that allow for entry points into indeterminate places. I am interested in creating ambiguous formal elements that can also provoke narrative content.  At the same time I use restraint and composition to juxtapose and confuse the viewer's understanding of a piece as what suggests control is often created by chance. For example a stain can suggest a haphazard mark or it can resemble a thing or, a hole in the canvas can suggest the opening to an alternate dimension or just a black mark.  What may at first be perceived as one type of thing can quickly shift into another based on perception and recognition.  I use thinned out paint and dyes as well as sprayed paint to create multiple layers in the work.  I also experiment with different materials that may allow for a new paint effect to be revealed.  Most of all, I bring the focus to my actions on the canvas and allow the action to settle and permeate into the fabric.  The paint slows down and the action can be interpreted.  And, as atoms slow down at Absolute Zero, the outcome of the slowing down on the canvas is unpredictable.
The space I paint is one that is virtual rather than actual and it is a culmination of memory, perception, observation and material processes.  What interests me most is tapping into slippages through what is perceived as the real.  Finding these spaces through daily observation is an accessible entry point.  I am always aware that what is considered actual is always clouded by memory and perception.  I am interested in finding ways to link the figuration to landscape, to sound and then to an abstract field. There is a blurring of boundaries between the physical and the non-physical. "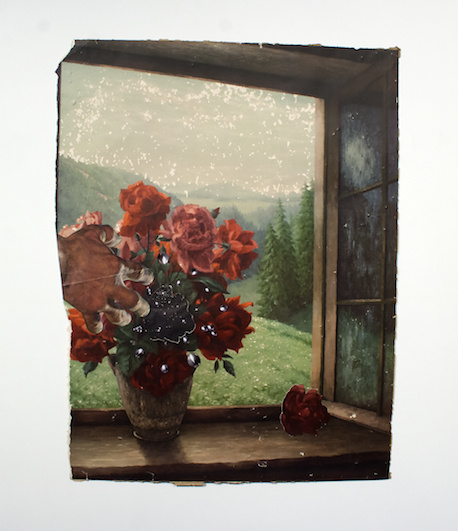 Jess Willa Wheaton's works in It's In The Making are her first inclusions in a museum exhibition.  Untitled (Atoms), 2015, is a collage made from found paper, as part of a dialogue with the vast amounts of images available today.  The work is a seemingly flat, two-dimensional picture. But, upon closer inspection, it invokes a sense of play with surface tension, in the way that elements of the picture are transposed to create a feeling of uneasiness in an otherwise refined still-life set against an idyllic backdrop. In Wheaton's own words, " (the) collage is guided by an investigation of how it can both combine and transcend its references, function simultaneously as sum total and parts, circulate associations and specificity, and move in and out of spaces."
It's in the Making | October 29 2016 – February 12 2017 | Curated by Haema Sivanesan and Nicole Stanbridge | Founders and Drury Galleries