By Audrey Wang, AGGV Volunteer
A brief Spring Break visit to Singapore coincided with hot season in the tropics. The new (5-year-old) National Gallery of Singapore not only provided reprieve from the heat and humidity on the equatorial island-state, but also a wonderful insight into the art of Minimalism. The exhibition Minimalism: Space. Light. Object. featured more than 150 works by artists from Europe, America, Australia and Asia, with the intention to document the history of this art movement that continues to inform the visual arts and contemporary practitioners today.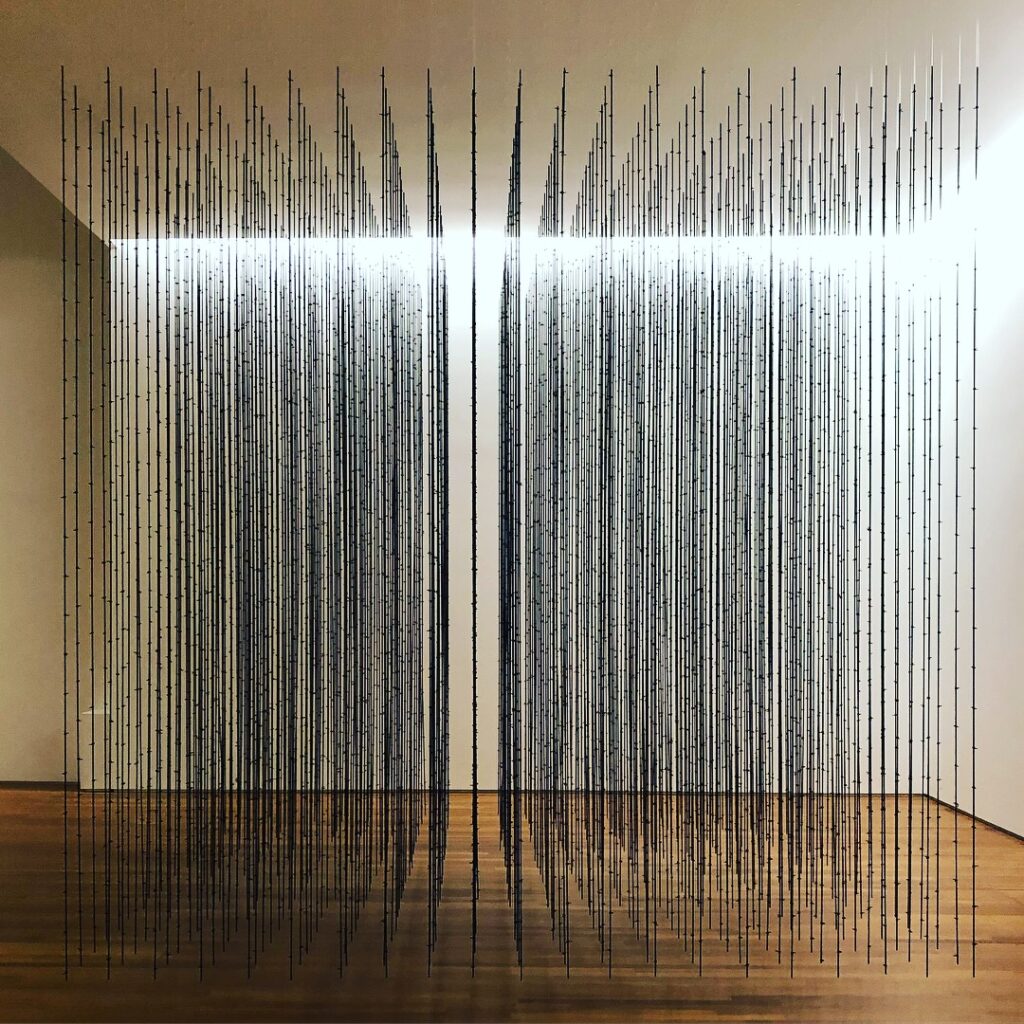 What is Minimalism? The first gallery we entered sought to answer the basics. All four walls were hung with large canvases invariably painted with black squares or rectangles, including one by Mark Rothko. Emerging in the 1960s in New York, Minimalism was first characterized by geometric forms often repeated in series, as well as by its use of industrial processes and materials. The artworks are pared down to only their absolute essential elements to create a direct, unmediated encounter between the viewer and the work in a specific space and time. The exhibition follows the trajectory of Minimalism outside the main centre in New York, showing the influence of American artists on artists in other parts of the world, but also demonstrating the same tendencies in art developing independently, such as Mono-ha in Japan. In doing so, the show extends the established narrative of Minimalism beyond the United States, and turns its attention especially to artists working in Australasia.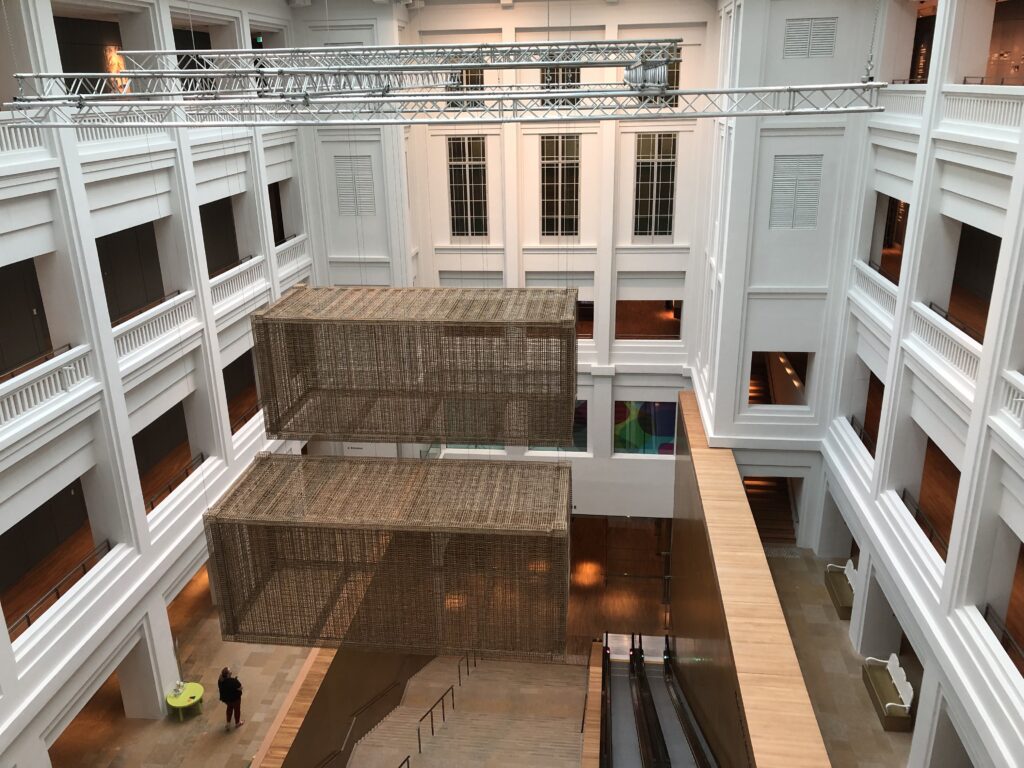 While the use of industrial material was de rigeur in the New York scene, Asian artists sought the use of local material that was more easily available to them. Cambodian artist Sopheap Pich's massive sculpture, Cargo (2018) is based on two 20-foot shipping containers, symbolizing global trade and capital. Hanging in the atrium of the Gallery's entrance, the sculpture is made predominantly of local Cambodian materials bamboo and rattan, rooting the work in a sense of place.
An entire room in the Gallery is devoted to Ai Weiwei's multitudinous Sunflower Seeds (2010). Taking the concept of seriality in Minimalism to a new level, each seed in the work was handcrafted by ceramicists in Jingdezhen, known for its porcelain industry since the 12th century. In this work, Ai challenges the "Made in China" narrative of cheap mass production by drawing attention to individual artisans and their relationship to society.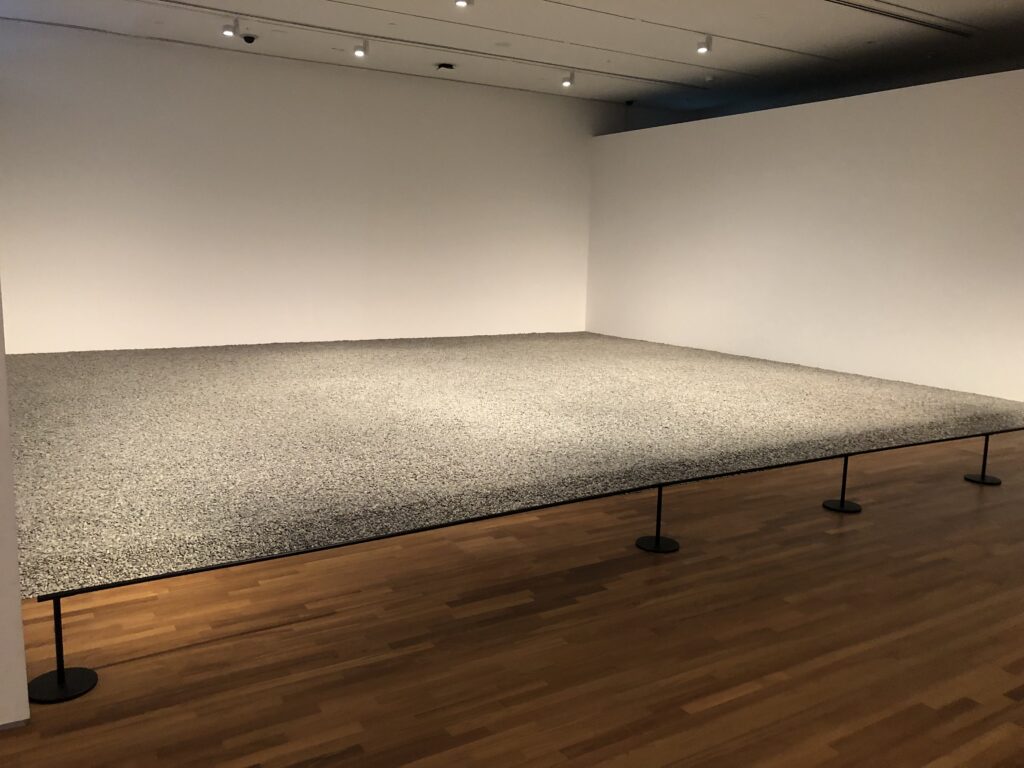 This momentous survey of Minimalism brings the context of Asian contemporary art practices into perspective. In doing so, often overlooked artists are considered. Many were overshadowed by better known mentors or contemporaries. Engagement with Eastern thought and philosophy, such as the connection between Zen Buddhism and Minimalism, is thought-provoking, and most certainly paves the way for more in-depth search into the origins of Minimalism from the Asian perspective.
Feature image: Peter Kennedy | Neon Light Installations 1970-2002 | Australian, 1970-2002 | Neon, composition board, synthetic polymer paint | 235 x 1192.2 x 8.6 cm. | Collection of Museum of Contemporary Art Australia, Sydney (photo credit: Audrey Wang)