By Audrey Wang, AGGV Volunteer
Established and emerging artists from the Greater Victoria area are featured in Close To Home, an exhibition that has drawn many visitors for its depth and breadth of representation. Genres and styles across cultures make for thought-provoking displays, and among them, the photographic works on show are perhaps some of the most evocative.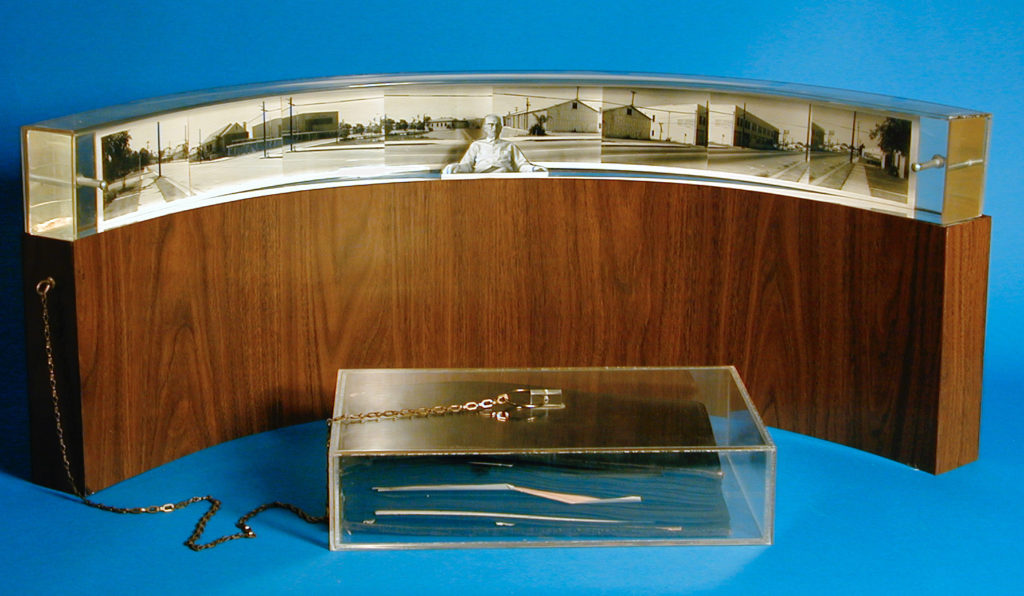 One of the most intriguing among the photography works is Jack Kidder's Snapshot Portrait of Father (1972), a mixed media display that centres on a curved wooden pedestal. Encased behind the Plexiglass sits the black and white portrait of the austere-looking patriarch, cut out against joined-up Polaroid prints of a bleak urban landscape. The deserted streetscape is a recurrent theme in Kidder's photographs and paintings, and they act as both a documentary tool and his observation of his surroundings. In spite of the severity of the portrait and landscape, there is a real poignancy to Snapshot Portrait of Father. Chained to the wood and Plexiglass frame is another case containing an old-fashioned family photo album. The viewer doesn't get to see what is in the album, but the artist's memory of person and place suggests that there's much more to this work than meets the eye.

Like Jack Kidder's joining up of Polaroid prints to create a panoramic landscape, Peter Sramek's photographic journey of Vancouver Island is vividly captured as a filmstrip in Island Highway – Nanaimo (1989). Instead of taking photos of scenic landscapes along the way, Sramek, as a driving tourist, has recorded the mundane but necessary sites in his journey – gas stations, motels, convenience stores, fast-food restaurants and endless asphalt roads. Without distinctive landmarks or people in the pictures, there is a sense of isolation to the journey of a tourist.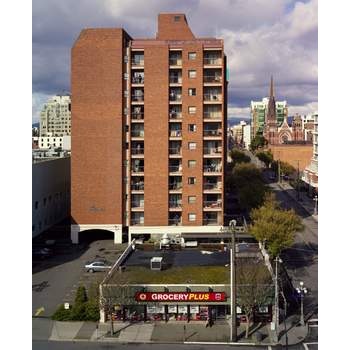 Althea Thauberger's photograph of the block of apartments in downtown Victoria is a video still from her film Chelsea Girls (2008), based on Andy Warhol's 1966 film of the same name. But rather than a mere adaptation of Warhol's eponymous film, Thauberger's version has her collaborating with the residents of Victoria's own Chelsea Apartments and brings up issues of social housing. In her artist statement, she says:
The Chelsea Apartments were built in downtown Victoria in 1977 as social housing, but were sold to a private owner (who has retained the property to the present) within three years. Many homeless people live in the vicinity and use the Chelsea's parking lot as shelter and/or as a place to use drugs.
In much the same way that Thauberger used social and architectural contexts of a place to bring insight into the experience of living and being there, Adrienne Lai's Collected Series (2005) (pictured above) brought together place and memories of that place in an inspiring photographic series. The site in question in Lai's work is none other than the AGGV, and the people whose memories and stories were presented were the Gallery's employees, volunteers and visitors.
Feature image (top): Adrienne Lai | Collected Series | 2005 | Chromogenic prints | Gift of the Artist
Close to Home: Local and Regional Artists in the AGGV Collection | April 22 – September 4 2017 | Curated by Michelle Jacques | Centennial & Ker Galleries
SaveSave
SaveSave
SaveSave
SaveSave
SaveSave
SaveSave