Pictured: Adelle Andrew | Over the Edge | undated | acrylic on canvas | 30 x 30 cm | 2015
"Adelle was a fixture at the TD Moss Street Paint-In. In her oversized red sunhat and her boldly coloured painter's smock, she drew a crowd and had a loyal following of collectors. Her early paintings highly detailed and representational, Adelle continuously explored new avenues with her work, pushing the boundaries of what she already knew into something more abstracted and mysterious. She faced her mortality with dignity and acceptance, only lamenting that she would no longer be able to practice her craft, to see how much further she could take it." – Elizabeth Allen, 2017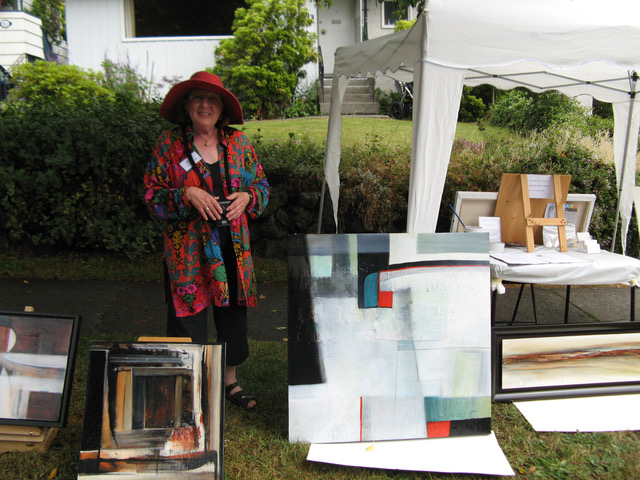 In May, the AGGV's Massey Sales Gallery celebrated the life and works of acclaimed local artist, and a dear friend of Art Rental and Sales Program, Adelle Andrew, who passed away in March 2017.
Adelle studied Fine Art at the University of Alberta as a young woman, but it wasn't until the mid-1980s when she found her passion for paint on canvas. She was a long-time member of the Alberta Society of Artists and the Canadian Federation of Artists and was represented by leading galleries in Vancouver, Victoria and Calgary. Her works are displayed in museums, corporate and private collections. Notable early exhibitions include the 1988 Winter Olympics Art Festival, the Muttart Art Gallery and a solo show at the Royal Tyrrell Museum of Paleontology in 1990. Locally, Adelle was first represented by Fran Willis Gallery and then The Avenue Gallery, both located in Victoria BC. She was a regular fixture at the Moss Street Paint In, the Sooke and Sidney Fine Art Shows and she was proud to have her work included in the Art Rental and Sales Program at the Art Gallery of Greater Victoria.
Adelle experimented with various subject matters throughout her artistic career but had a special affinity for the Badlands of Alberta. She particularly liked painting hoodoos, unique ancient landforms created by erosion over millions of years. Her renditions of these unusual landscapes helped make her mark in the Calgary art community. In 2004, Adelle moved to Victoria to be close to the ocean, and here, she painted her ethereal seascapes.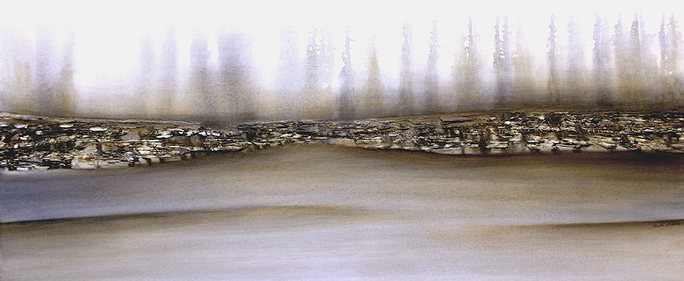 Claire Aitken, the AGGV's Art Rental & Sales Consultant, describes Adelle's works as "abstracted landscapes that are intrinsically Canadian". Her landscapes tell a story of the land as a cross-section of land formation down to the core sediment, exploring what's beneath the surface and its unrecorded history. Adelle's landscapes capture much more than what we see on the surface, as they hold the very essence of the beginning of time.
She was well-respected by her peers and contemporaries, and loved her many collectors, friends, family and admirers.
"My favorite memory of Adelle is that of laughing – not just a little chuckle but the bent in half, belly laughter that lasts until you can hardly breathe. I hung numerous art shows with Adelle by my side, and she had a strong opinion, that she voiced often, but it was always couched with wit.  All we had to do is look at one another and we understood where the other was coming from – serious, silly, super intelligent – that was my friend Adelle." – Sherry Willing, 2017