"Culture cannot be contained as it unfolds. My art enters this stream at many different points, looking backwards, looking forwards, generating its own sound and motion.  I am inspired by generations of Tlingit & Unangax̂ creativity and contribute to this wealthy conversation through active curiosity. There is no room in this exploration for the tired prescriptions of the "Indian Art World" and its institutions. Through creating I assert my freedom.
Concepts drive my medium. I draw upon a wide range of indigenous technologies and global materials when exploring an idea. Adaptation and resistance, lies and exaggeration, dreams, memories and poetic views of daily life – these themes recur in my work, taking form through sound, texture, and image. Inert objects spring back to life; kitsch is reclaimed as cultural renewal; dancers merge ritual and rap. I am most comfortable not knowing what form my next idea will take, a boundless creative path of concept-based motion." – Nicholas Galanin, 2016
Nicholas Galanin's thought-provoking installation Imaginary Indian is part of a series of sculptures that connects the artist's Indigenous heritage and his perspectives on contemporary art. The installation is a part of the exhibition, It's In The Making, and features a carved totem pole floating on a wall, camouflaged against the floral wallpaper.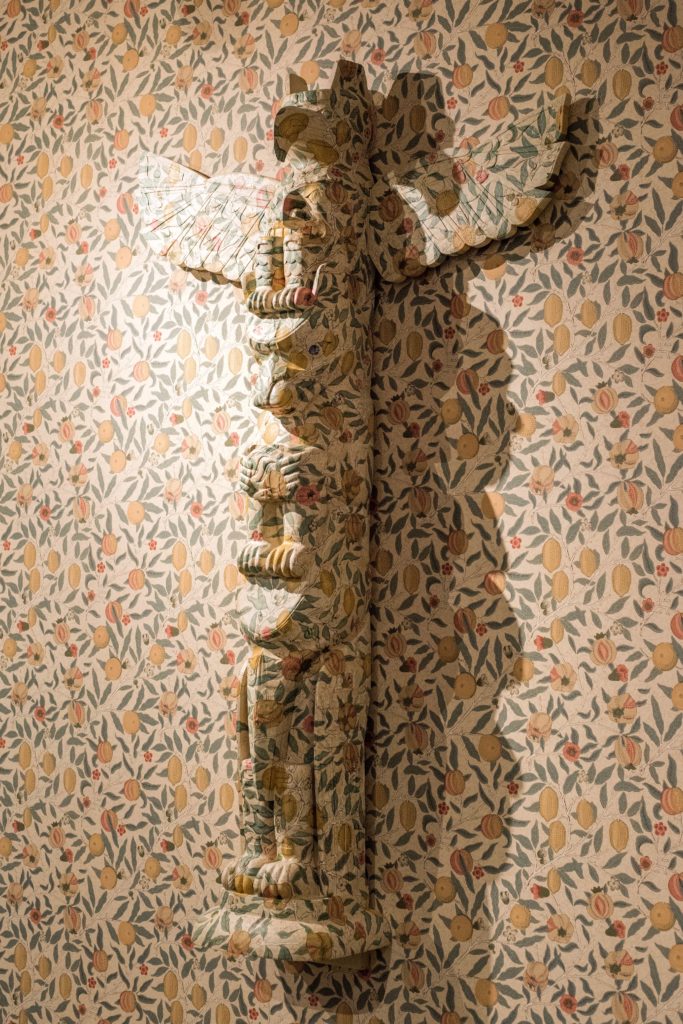 It is a provocative piece, given the iconography and choice of materials. The genteel nineteenth-century designed wallpaper – which incidentally can also be found covering parts of the Spencer Mansion elsewhere in the Gallery's building – is suggestive of the colonial era in B.C. The totem pole is painted with the same design as the wallpaper, to challenge the viewer's interpretation. Galanin's intention is also to highlight the fluidity of Indigenous identities.
Galanin also brings to the fore the idea of Indigenous cultural elements being transformed into commoditized objects created for the tourist dollar. The title, Imaginary Indian, suggests that it is not the First Nations peoples who are at odds with their identity, but rather, it is the imaginary and commodified portrayal of their cultures that is questionable and de-contextualized, and therefore in need of revision.
It's in the Making | Oct 29 2016 – February 12 2017 | Curated by Haema Sivanesan and Nicole Stanbridge | Founders and Drury Galleries