Audrey Wang, AGGV Volunteer
In Christian iconography, the apple symbolizes Original Sin, the fall of man and temptation. In Chinese culture, the word for apple, "ping guo", is a homophone for the word "ping", meaning peace or tranquility, so an apple symbolizes a wish for peace. Apples also feature prominently in Greek myths.
Fruits and vegetables are depicted in nearly all forms of art across all cultures around the world, as dictated by mythology and association. They are usually representational of abundance or the harvest, while specific fruit or vegetables have come to acquire their own symbolic meanings.
The AGGV possesses a collection of life-like fruit and vegetables made in the Chinese pottery known as Shiwan ware, also known as Canton stoneware. Dating from the late 19th – early 20th century, these pottery wares have a slightly coarse texture that lends an element of realism to the dimpled texture of the fruit. The overglaze enamel is also applied in a very naturalistic style. It is likely that these fruit sculptures were used as decoration or on altars to represent food offerings.
The peach (pictured above) is probably the most common fruit motif in Chinese art. It is associated with the mythical Queen Mother of the West, Xiwangmu, who had an orchard of trees bearing the peaches of immortality. The God of Longevity, Shoulao, is often portrayed with a peach. Thus, through religious and mythological connections, the peach has come to represent a long and fruitful life and is most often used for birthday greetings.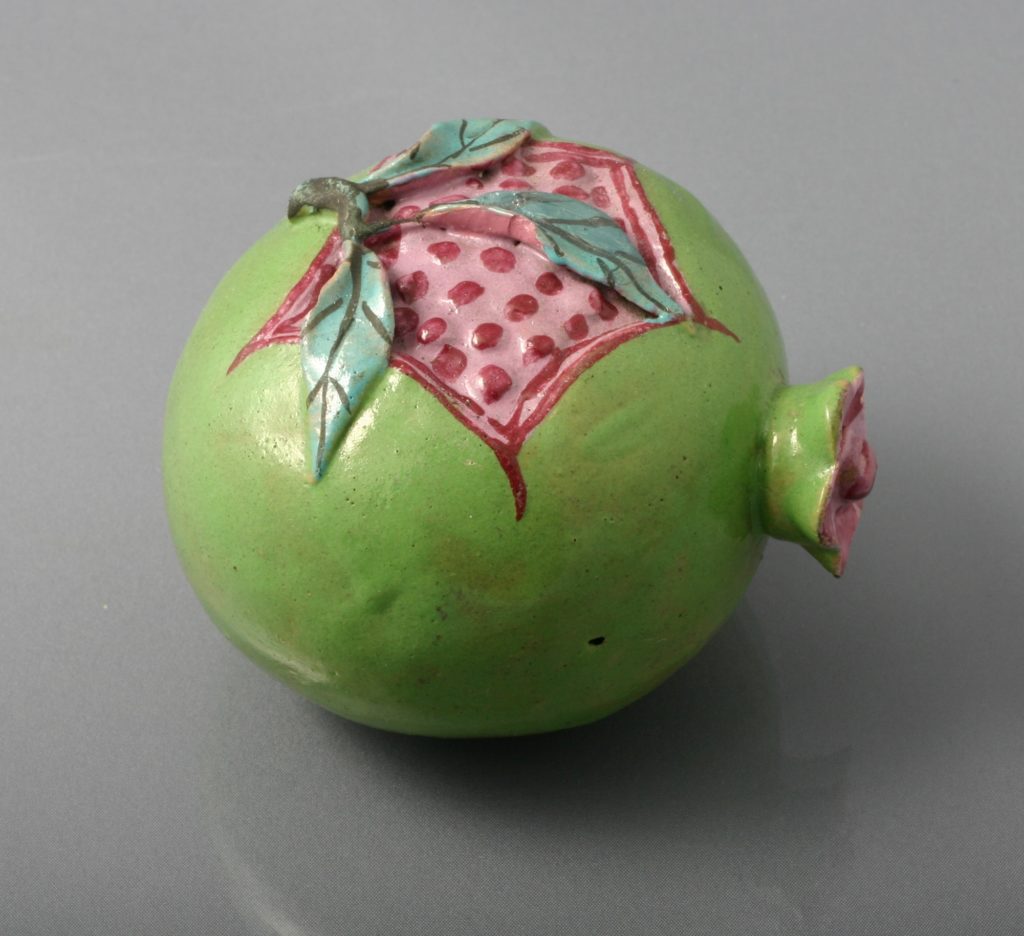 The pomegranate is another common design element in Chinese art as it symbolizes the wish for many children, and in particular, sons. The fruit is full of seeds, and the word for seeds in Chinese is also that for children. Together with the double-happiness symbol, pomegranates feature prominently as wedding gifts. The Chinese rebus, liu kai bai zi, translates as "the pomegranate brings you a hundred seeds/sons". Pomegranate trees were brought to China via the Silk Road during the Han dynasty (206 B.C. – 220 C.E.).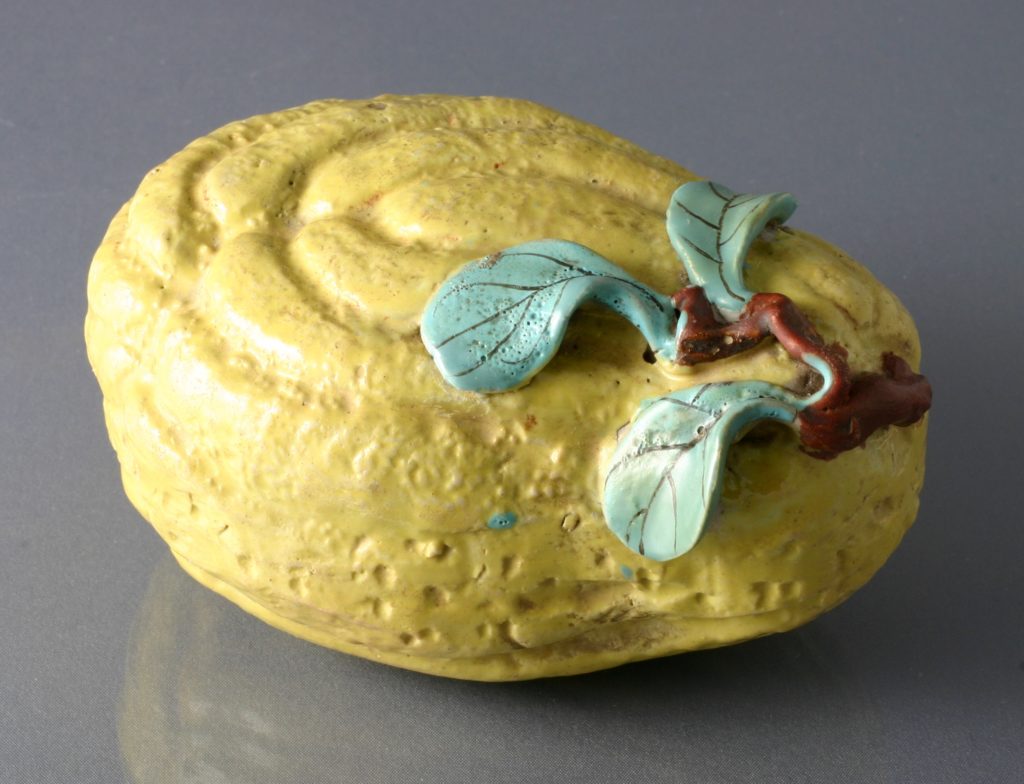 The finger citron is not eaten but used as decoration and for the citrus fragrance it emits. The unusual finger-like protrusions have led to it being called "Buddha's hand". As a Buddhist symbol, it is another favourite in Chinese iconography, for its auspicious associations.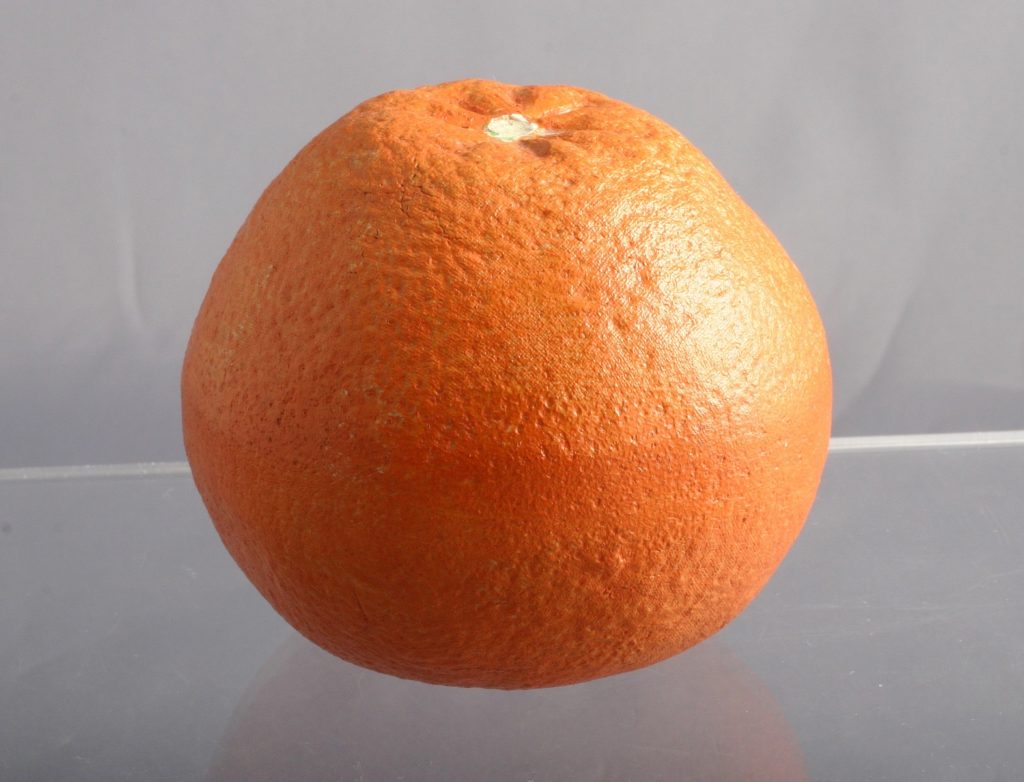 Oranges are eaten at the end of many Chinese meals. The Cantonese word for orange is a homophone for the word for "gold" or "fortune".  The radicals that make up the character for the word ju are also auspicious and mean good luck. Oranges are eaten frequently during the Chinese New Year festivities and amongst certain Chinese diasporas, oranges are exchanged as gifts during the Festival.
Feature image (top): Shiwan stoneware peach with overglaze enamels | Chinese, late 19th – early 20th century | 9.4 cm. wide | Gift of the American Friends of Canada through the generosity of Carol Potter Peckham