By Hannah Gelderman, AGGV Family Sunday Coordinator
Hi! My name is Hannah Gelderman. I am an artist, educator and arts-based community organizer currently living on these territories of the Lekwungen People, in Victoria, British Columbia. I am a settler of Dutch descent who grew up and lived until recently in the region called Amiskwaciwâskahikan, also known as Edmonton, Alberta.
After I completed my Bachelor of Fine Arts in Art and Design at the University of Alberta, I went on to work as an arts educator and programmer. Since then, I have worked in a variety of settings to develop and facilitate art programs and workshops for children, youth and adults. Most recently, I have joined the team at the Art Gallery of Greater Victoria as the Family Sunday Coordinator. I am excited for this opportunity to creatively facilitate engagement with the exhibits and to invite Family Sunday guests to explore, create, reflect and collaborate.
Alongside this, I have been an active climate justice organizer, with groups in Edmonton and now here in Victoria. I come to climate justice work with extra enthusiasm for arts-based organizing. As a strong believer in the transformative power of art, I am energized by how arts-based and creative practices can mobilize people to create the cultural shifts necessary for sustained political change. To deepen my understanding in this area I am currently working towards a Master of Education in Leadership Studies at the University of Victoria, with a research focus on the role of participatory visual arts in this era of climate crisis.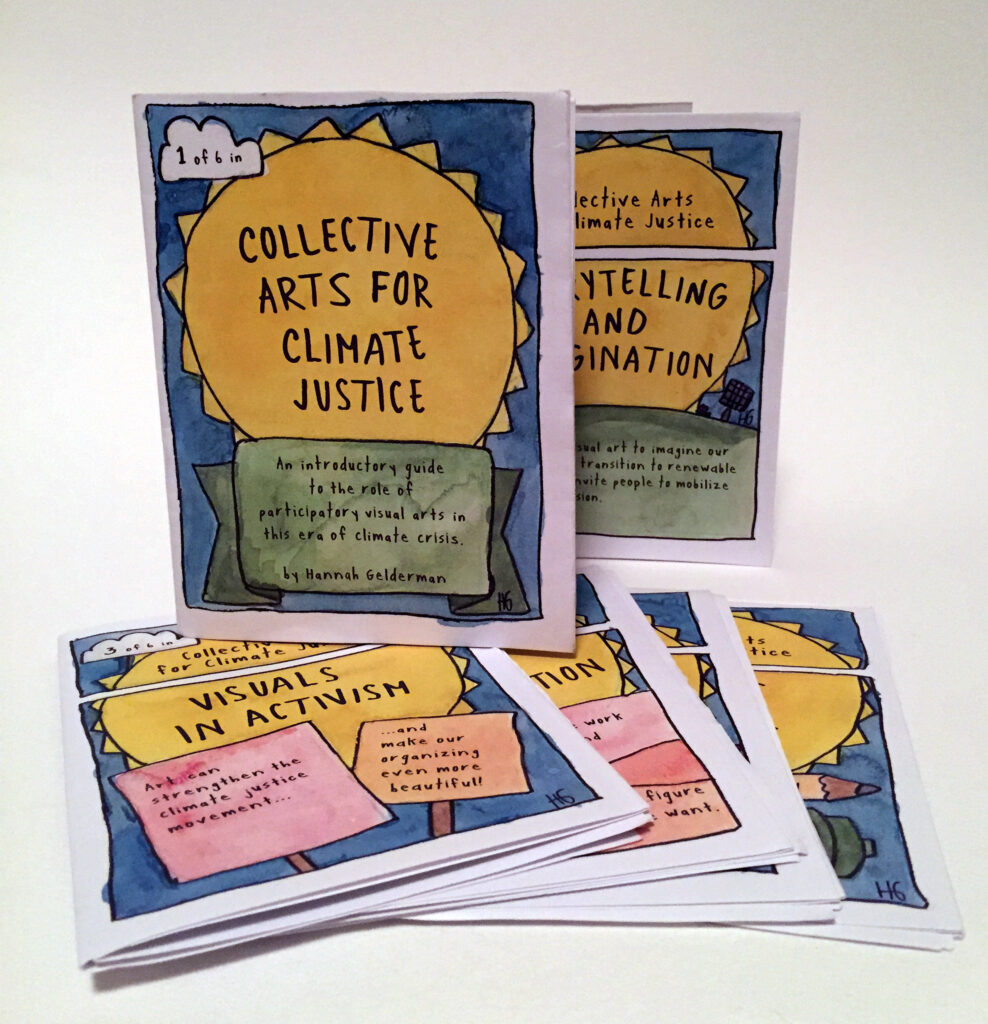 As we navigate this climate crisis and collectively fight for a just and habitable future, the arts and creative practices have a critical role to play. In particular, participatory visual arts offer us a platform to envision a different future, enable us to strengthen our activism, help us build relationships, and increase our resiliency. All of these things help invigorate and sustain us as we fight for climate justice, renew our relationships with the land, and build the world we want to live in. I have brought all of this research together in a project titled Collective Arts for Climate Justice that has taken form as an illustrated guide in an easily distributable zine format. Collective Arts for Climate Justice can be found online at hannahgelderman.com and it is available to download and share. I invite you to take a look to learn more about how we can collectively leverage the power of the arts for change! I also invite you to come to Family Sundays where we will be exploring some of these themes in hands-on and colourful ways!