By Audrey Wang, AGGV Volunteer
David Milne (1882-1953) was born in Ontario where he lived and studied art by correspondence. He moved to New York in 1903 for a job as a commercial illustrator. While there, he studied at the Arts Students League and was exposed to the paintings of the Post-Impressionists and early Modernists.
His early work depicted his urban surroundings in New York City, with an aesthetic that emphasized his commitment to the modernist approach. He had relative success as an artist in New York, with five paintings exhibited in the 1913 Armory Show, and representation by the N.E. Montross Gallery. In 1916, he and wife Frances May moved to Boston Corners, a small hamlet in Upstate New York, and it was there that landscape painting in oils and watercolours became his focus. The painting in the AGGV Collection, Reflected Forms (1917), is typical of this period in his life, especially in the heavy use of black. The move into abstraction and the flatness of the surface aligns him with the modernist movement of the time.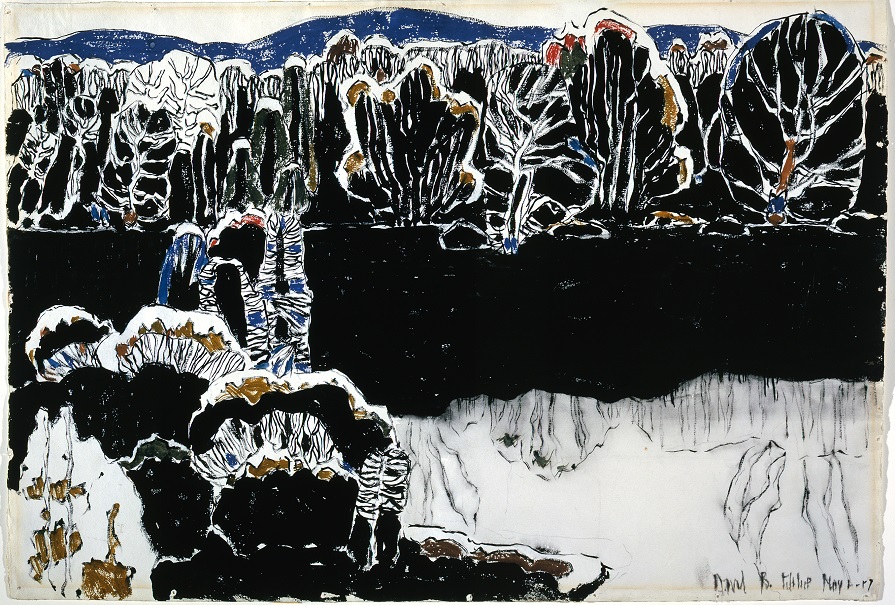 Milne returned to Canada in 1917 to train in the military during World War I. Because of his background as an artist, he was commissioned by the Canadian War Memorials Fund to record the aftermath of the war in France and Belgium. In 1919, he returned to Boston Corners, living and working there until 1929. Milne picked up where he left off, painting the landscapes in his environs. In 1929, he returned to Canada, moving around until he settled in Uxbridge, Ontario in the late 1930s.
Milne is known for his precision in technique and composition, choosing simple, uncomplicated objects for his still-life works and carefully planning his landscapes to ensure a pure aestheticism.
Milne died in 1952 in Bancroft, Ontario, after a series of strokes. In 1952, works by Milne represented Canada in the Venice Biennale, together with those of Emily Carr and others. A retrospective of his works was organized by the National Gallery of Canada in 1955-56. His works have recently travelled to London for exhibition where reception ranged the gamut of criticisms from very good to very bad.
Featured above: David Milne (Canadian, 1882-1953) | Entrance to Saugerties Harbour | 1916 | Watercolour on paper | Gift of Patrick Stewart