By Audrey Wang, AGGV Volunteer
Wu Guanzhong is one of the best known Chinese painters in the world, often associated with the founding of the modern Chinese painting genre. His painting style and subject-matter are reminiscent of late 19th century Post-Impressionism, but blended with the Chinese medium of black ink mixed with colours on scroll paper.
Wu was born in a village in Yixing, Jiangsu province. While studying for a degree in electrical engineering in Hangzhou, he was introduced to art by Zhu Dequn, a student from the National Hangzhou Academy of Art, and in 1936, against the wishes of his parents, Wu transferred to the art academy. At the academy, he studied both Western and Chinese art under the tutelage of the great painters Pan Tianshou (1897-1971) and Lin Fengmian (1900-1991).
Wu graduated in 1942, and in 1947, after the war, he won a scholarship to study at the École national supérieure des beaux-arts in Paris. During his time there, he visited many museums and became enthralled with European art, especially the Post-Impressionists like Van Gogh, Gauguin and Cézanne. During his time away in France, China had been immersed in a civil war, and by the time Wu returned to China in 1950, the Communists had formed the People's Republic of China (since 1949).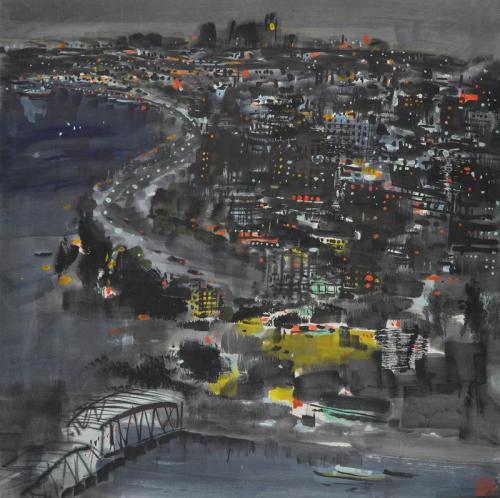 Wu enthusiastically supported the new government and was assigned to teach art at the Central Academy of Fine Art in Beijing. His experience and knowledge of French modernism was, however, somewhat at odds with the social realism movement that was dominant at the Central Academy during this time. After leaving the academy in 1953, Wu travelled and taught at various art institutions in China where colleagues and students alike shared his outlook and ideas, and where he could practice his art in a welcoming environment. However, when the Cultural Revolution took place in 1966, Wu found he was forbidden to paint or to write about art, and was instead forced into hard about in the countryside. To avoid persecution, he destroyed his paintings that included images of nudes, as other artists had been attacked and even killed for having painted nudes.
In 1972, Wu returned to Beijing where he was commissioned to paint murals. Free from the constraints of the Cultural Revolution, Wu embraced formalism again, and also wrote about European oil painting and the need for Chinese artists to cross over to the genre. His works are characterized by a marriage of Chinese and Western art techniques. He was comfortable using brushes and media from both cultures and he did not limit his subject matter. He painted landscapes, architecture, plants and portraits in a Chinese impressionist style.
By the late 1970s, his work was well recognized abroad and his career took off, remaining immensely popular until his death in 2010. His artworks are in high demand and continue to fetch high prices at auction. The two paintings in the AGGV's collection are demonstrative of Wu's genius and are typical of his style of painting. They were donated to the collection by Brian S. McElney, a Hong Kong-based lawyer and collector who eventually founded the East Asian Museum of Art in Bath, England.
Feature image: Wu Guanzhong (1919-2010) | Powerful Pines in Beijing | hanging scroll, ink and colours on paper | 68.4 x 69 cm. | Gift of Brian S. McElney (1999.033.004)