By Audrey Wang, AGGV Volunteer
Walter Joseph Phillips was born in 1884 in Barton-on-Humber, a small town in Lincolnshire, England. He began his art training around the age of 14 at the Birmingham Municipal School of Art. In 1901, Phillips was hired as an assistant instructor at Yarmouth College in Great Yarmouth, Norfolk, where he taught everything from Latin to physical education. He continued to take art lessons at the Municipal School of Art and Science in Great Yarmouth. However, after just a year of in this post, at the urging of an uncle, Phillips moved to South Africa. He lived there for five years, working in a variety of jobs, but returned to England in 1907 in order to focus on his passion for art again. In 1913, Phillips immigrated to Winnipeg where industry and agriculture were booming. The art scene was just emerging and the Civic Art Gallery and Museum (now the Winnipeg Art Gallery) had just opened. Phillips secured a position teaching art and commercial subjects at St. John's Technical High School while pursuing art-making amongst a circle of friends.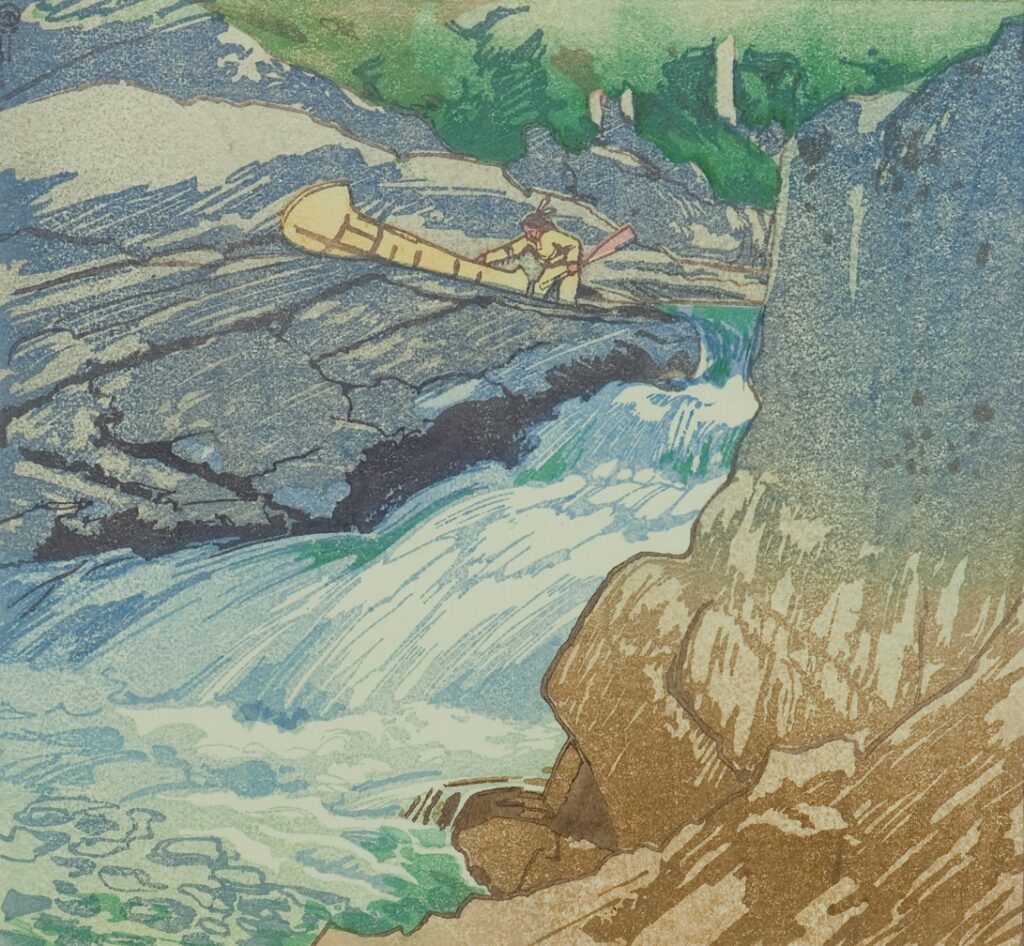 Phillips was raised to admire English landscape watercolourists like J.M.W. Turner, John Sell Cotman, and David Cox. Watercolour remained a touchstone in his practice throughout his entire career. While many Canadian artists of his time strove to break away from traditional art forms, Phillips, by contrast, revered the past. He once lamented that "few voices are raised in support of tradition, whilst propaganda directed by the rebels fills the journals."
Phillips was also profoundly interested in the legacies of Japanese printmaking and is widely considered to be the artist who brought the tradition of the Japanese woodblock print to Canada. His first entry into printmaking had come in 1915 when he learned to make etchings from Winnipeg artist Cyril Barraud. Enamoured by the "beautiful simplicity" of woodblock printing, Phillips set out to teach himself its methods.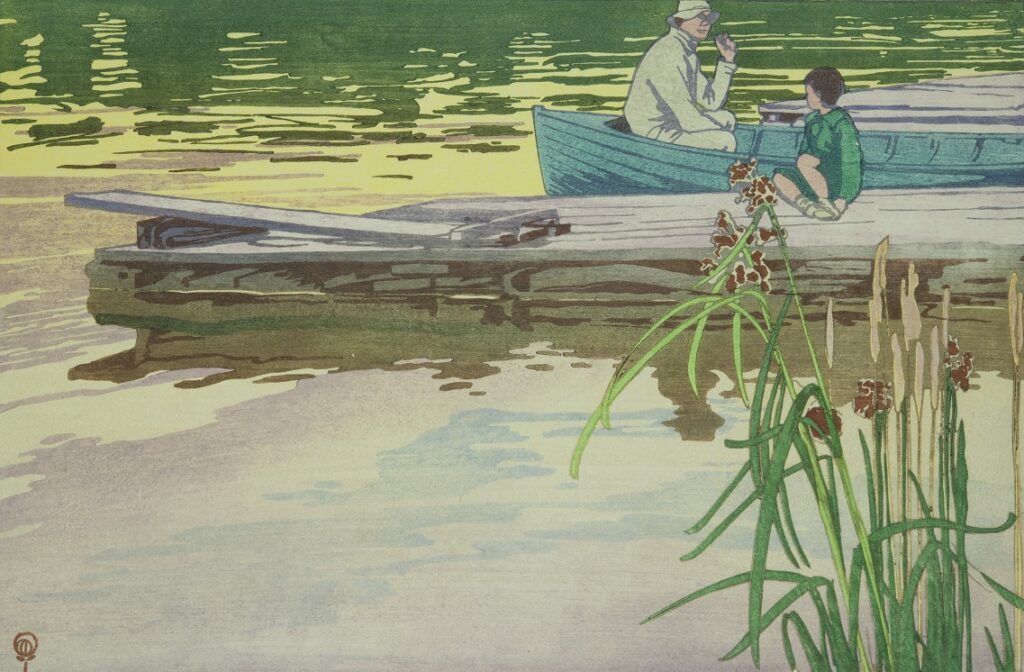 During an extended visit to England in 1924-25, Phillips met William Giles, a British printmaker who became a mentor and who introduced him to Yoshijiro Urushibara, a Japanese artist who lived in London from 1908 to 1934. Urushibara was central to the revival of colour woodblock printing in England, and he taught Phillips the Japanese techniques for lining up the paper on the woodblock and treating it to make it less porous. These lessons in registering and sizing his paper as Japanese printmakers did were at the root of Phillips' remarkable ability with the colour woodblock technique.
"The Japanese found out centuries ago that, of all woods, mountain cherry, properly seasoned, is best suited for the making of wood-cuts. It is even and close in texture and though hard it is easily cut. It yields colour in printing in the best possible way…. I used one set of English cherry-wood blocks and found the wood admirable, otherwise I find native American cherry-wood quite suitable."

Walter J. Phillips, "Making a Wood-Cut," in Another Wood-Cut, (unpublished and undated typescript).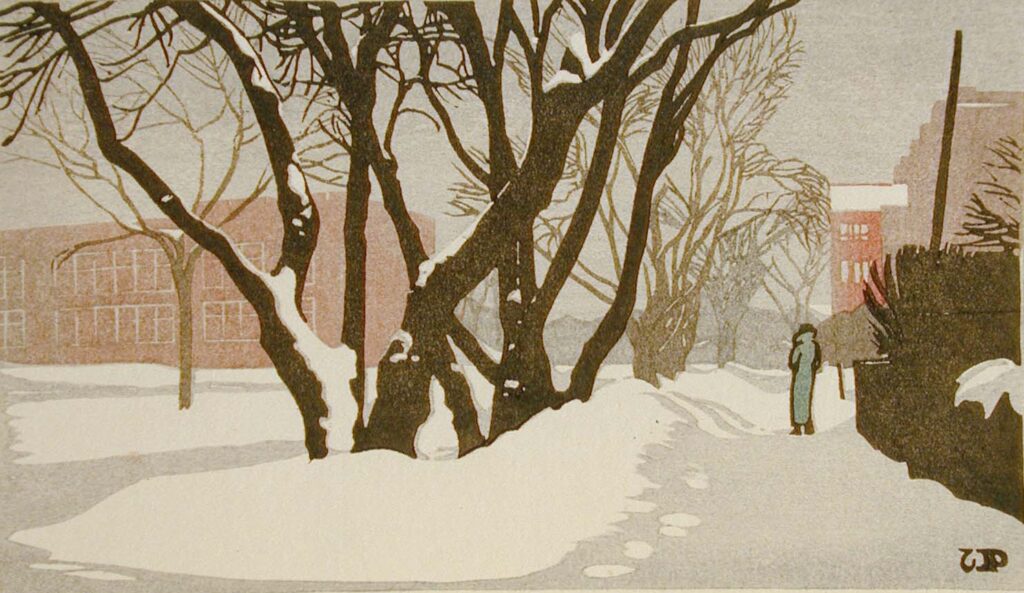 After 28 years in Winnipeg, Phillips moved to Alberta in the summer of 1940, joining the faculty of the Banff School of Art. In 1941, Phillips accepted a teaching position at Alberta's Provincial Institute of Technology and Art and moved with his family to Calgary, teaching there during the regular school year, and returning to Banff in the summers for the next 20 years. During this time, although busy with teaching, Phillips held numerous successful exhibitions of his work. Phillips' work was greatly influenced by his surroundings, first in Manitoba, then in Alberta. The landscapes of these provinces – prairie and mountain views – dominate his oeuvre, which of course also included landscapes of his home country of England and places he visited on his travels.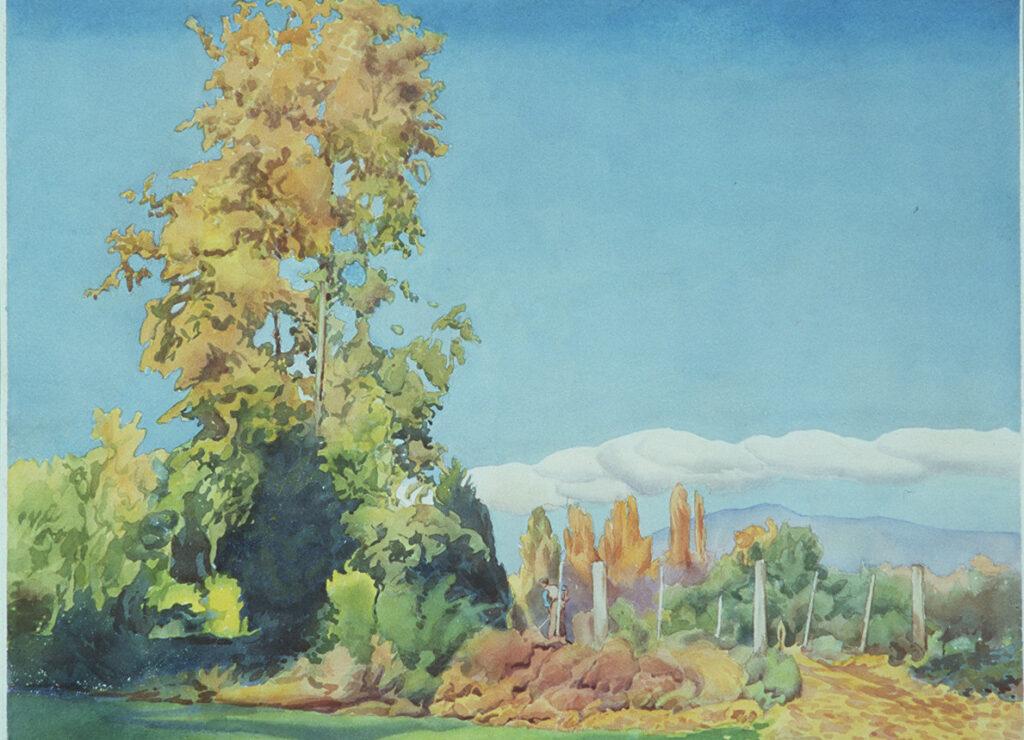 In 1948, Phillips moved to Banff full-time, focussing his teaching energies on the Banff summer school. In spite of Banff's relatively small size, Phillips found himself in the midst of an important creative scene. In 1960, he retired, to Victoria with his wife Gladys. Sadly, his time in this city was short, as he passed away in 1963. Nearly half the works by Phillips in the AGGV came from the artist himself, while others were donated by collectors in Victoria and elsewhere. The AGGV is grateful for all these gifts.
Feature image: Walter J Philips | Evening | woodcut | 19.3 x 18.5 cm | Gift of Edith J. Garbutt | 1991.017.001
Quiet Nature: The Woodblock Prints of Walter J. Phillips | March 9 – May 20, 2019 | Curated by Michelle Jacques | Ker Gallery