February is Black History Month, commemorated in the United States and Canada, in recognition of the African-Caribbean diaspora's contribution to nation building and other significant historical events. The Art Gallery of Greater Victoria was honoured to co-present with the BC Black History Awareness Society (BCBHAS) and MediaNet on February 25, with the screening of Leila Sujir's 2004 documentary For Jackson: A Time Capsule From His Two Grandmothers.
It was standing room only in the Spencer Mansion. Prior to the screening, Mavis DeGirolamo, President of the BCBHAS, gave an introduction. She set the scene by giving a background history to Black History Month, which began in 1926 as Negro History Week in the U.S. and became Black History Month in 1976. In Canada, the BCBHAS was formed in 1994 to celebrate the achievements of Black people in British Columbia, as well as to create awareness of the history of Black pioneers in British Columbia.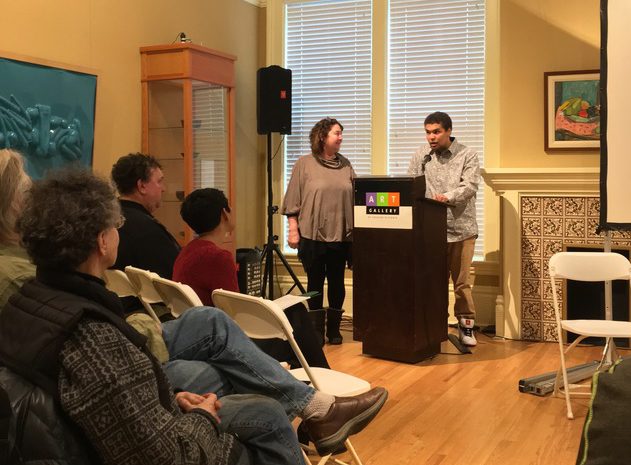 The audience was also introduced to 20-year-old Jackson Sujir, to whom the film is dedicated, and his aunt, Leila Sujir. They spoke only briefly, with Jackson saying that he was moved to tears when he recently watched the film again, as he finally understood the message.
For Jackson: A Time Capsule from his Two Grandmothers is a documentary portrait of two Canadian women, Rosemary Brown (1930-2003), BC's first black MLA, and Ruth Horricks-Sujir (b. 1925) who as a young woman, moved to India. The film creates a time capsule for their young grandson, Jackson, who is a hip-hop artist and rapper in Vancouver. Leila Sujir compiled video footage over many years to explore memory, as well as archival material in film and photography to piece together the histories of Jackson's grandmothers. She moves the viewer through the geographies and journeys of the women's lives.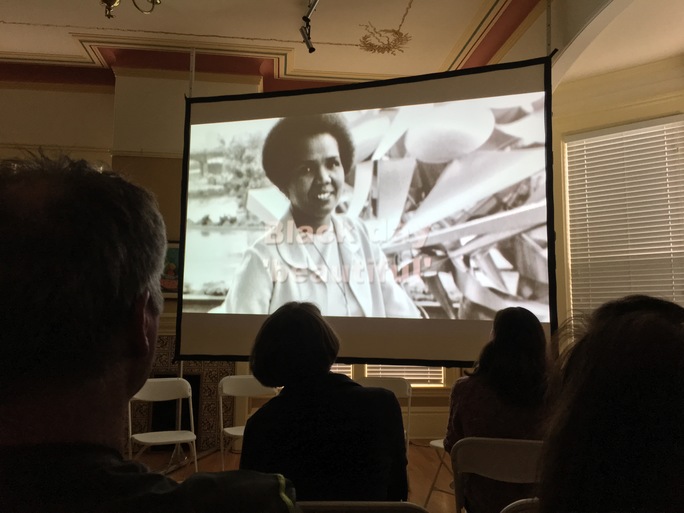 Born in Jamaica in 1930, Rosemary Brown is the consummate storyteller in the documentary, often reading from her 1989 autobiography, Being Brown. She describes the racial discrimination she faced when she moved to Canada in 1951 where she studied at McGill University. Yet, despite the challenges, her outspokenness and her advocacy for women's rights led to her winning a seat at the Legislative Assembly of British Columbia in 1972, serving until 1986. Ruth Horricks-Sujir also describes the negative attitudes towards her and her mixed-race family, both in India and later in Alberta, where she raised her young family as a widow. Both women's personal stories serve as a historical context through which race politics and societal change form the basis for the film.
In all these stories, both women always referred back to the purpose of the film, as a message to Jackson. Contemporary footage taken in 2003, when Jackson was 7 years old, puts this into perspective, grounding the content as a personal document of family history.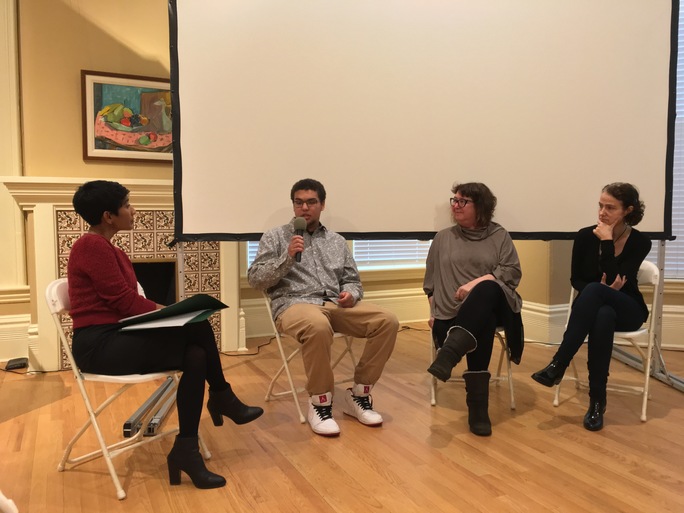 A discussion on the film followed, with AGGV curator Haema Sivanesan moderating. Leila Sujir spoke about her inspiration for the documentary, as well as various other film projects in the making for the future. Jackson also spoke briefly, telling anecdotes and relating his feelings upon learning of the death of his grandmother, Rosemary.
Perhaps most moving during the discussion, was the tributes to Rosemary, as told by two members of the audience, who were keen to share their memories with Jackson. They were evidently touched by the works of Rosemary Brown and the principles she upheld, one of them expressing the great honour he felt in having met her.