By Heng Wu, Curator of Asian Art, AGGV
A horse-drawn carriage passing the Legislative Assembly building, instantly captured in freehand-style brushwork, resonating with a festival night in China about 900 years ago recorded in a poem by the Chinese poet Xin Qiji (1140-1207). A young girl in traditional Chinese dress dancing under a maple tree, paired with a line transcribed in the seal-script calligraphy, which reads, "Where my heart settles, is where my home is." The colorful float homes gilding Victoria's Fisherman's Wharf rendered in traditional Chinese ink wash with a tone of Western oil painting.
These are only a few examples of thirty-five individual fan paintings that constitute a collective work by the Victoria Chinese Painting & Calligraphy Association (VCPCA, previously Chinese Art Association of Victoria), titled "Where my heart settles, is where my home is", currently on display at the AGGV in the Reverberations exhibition.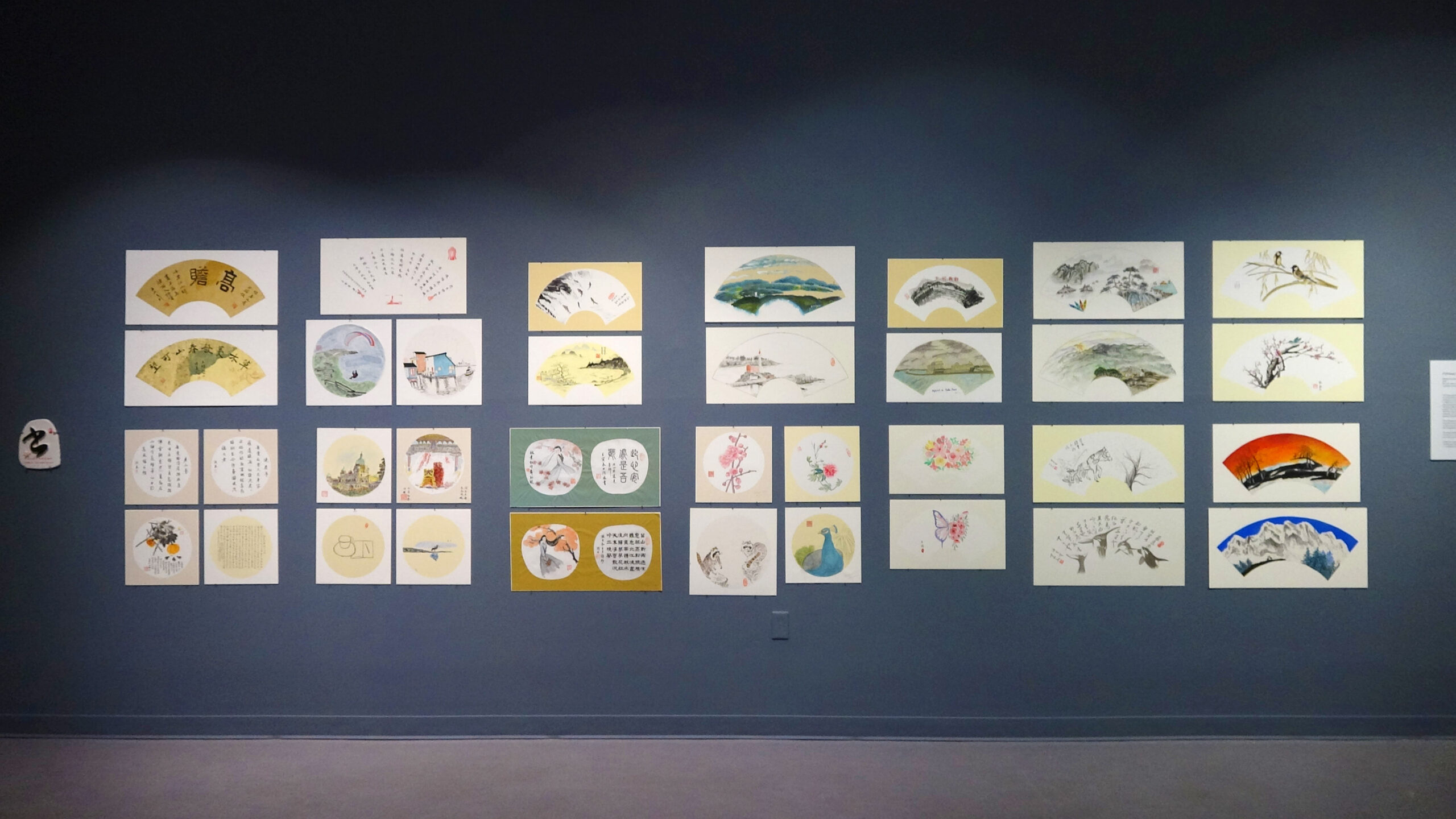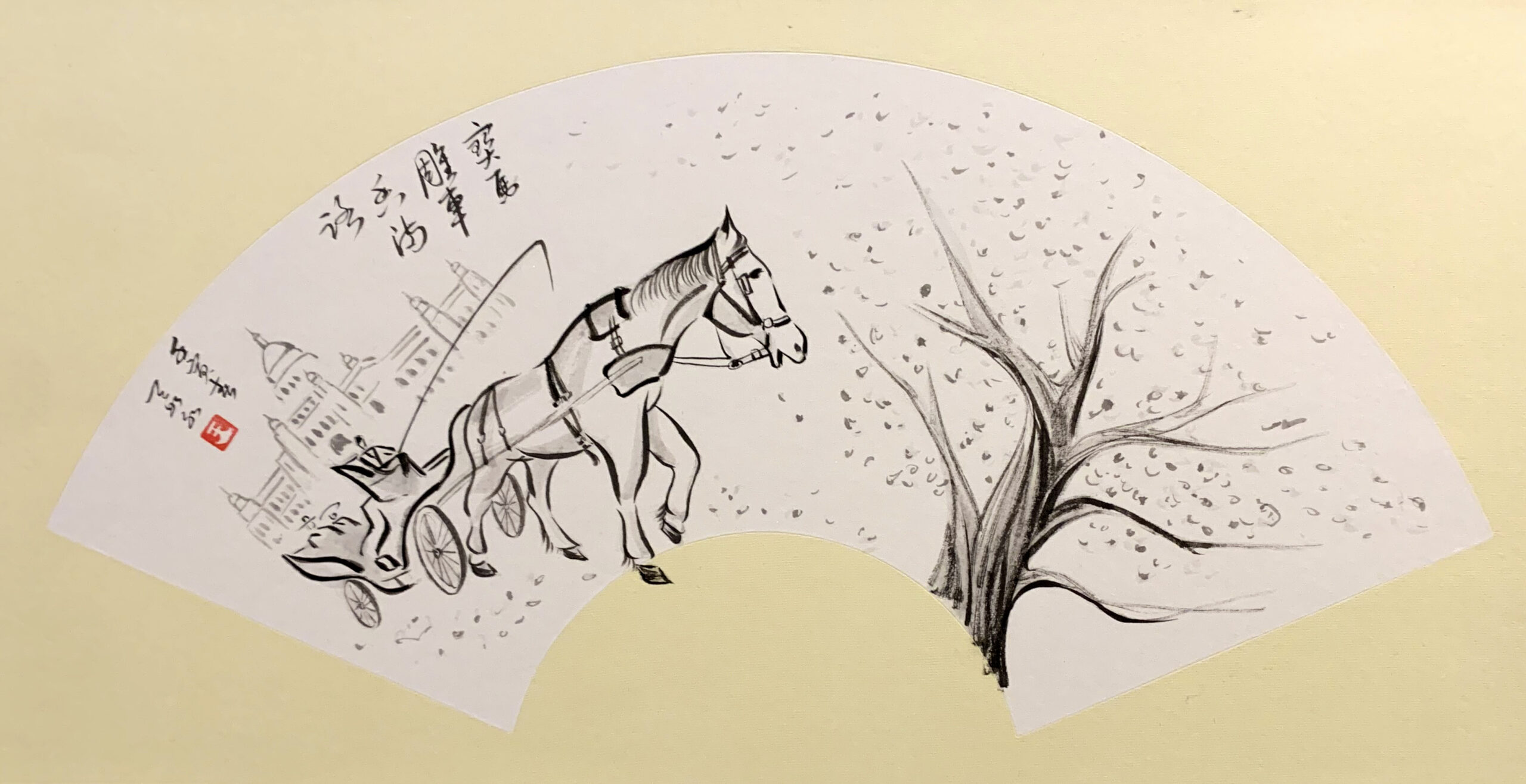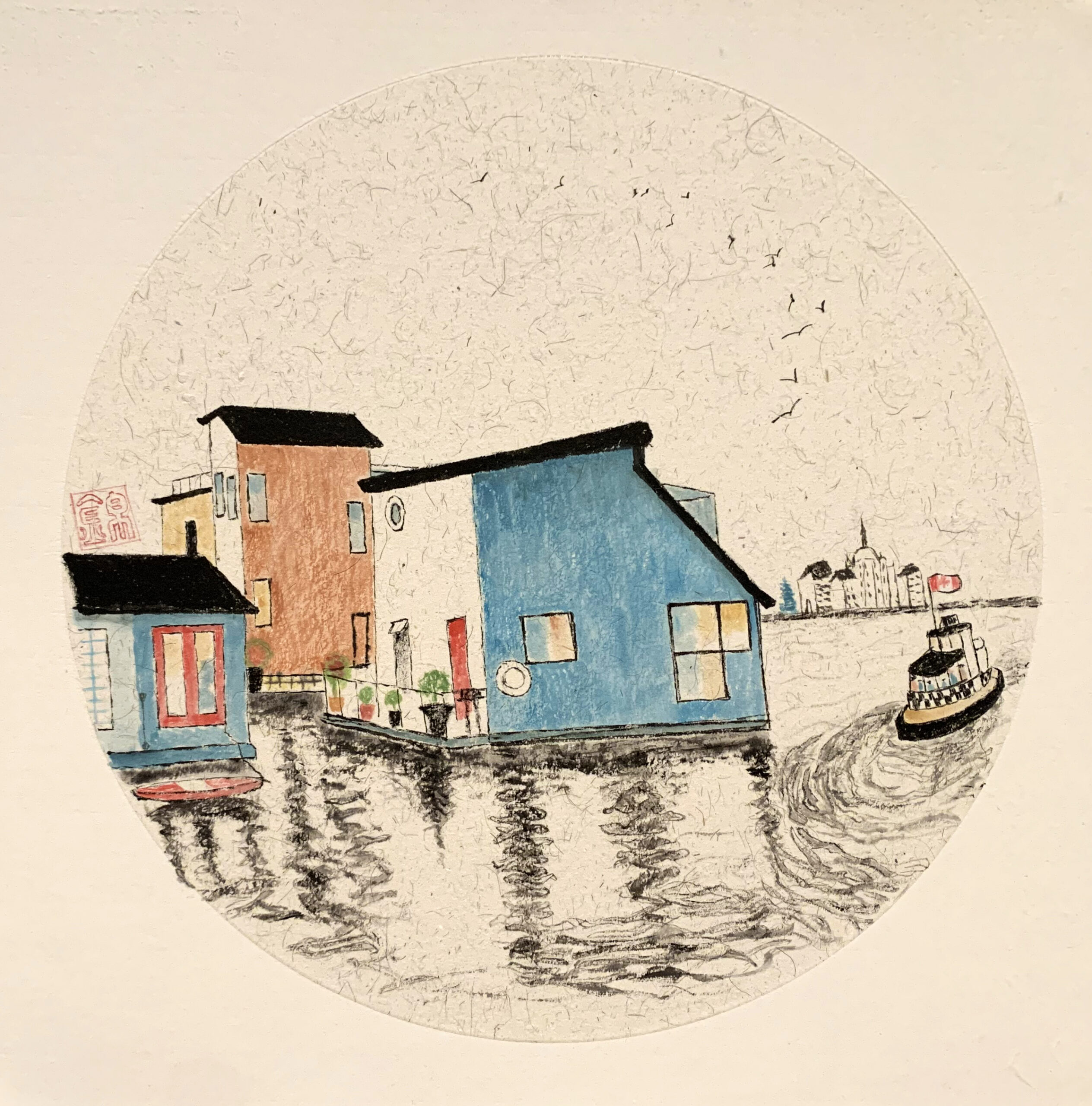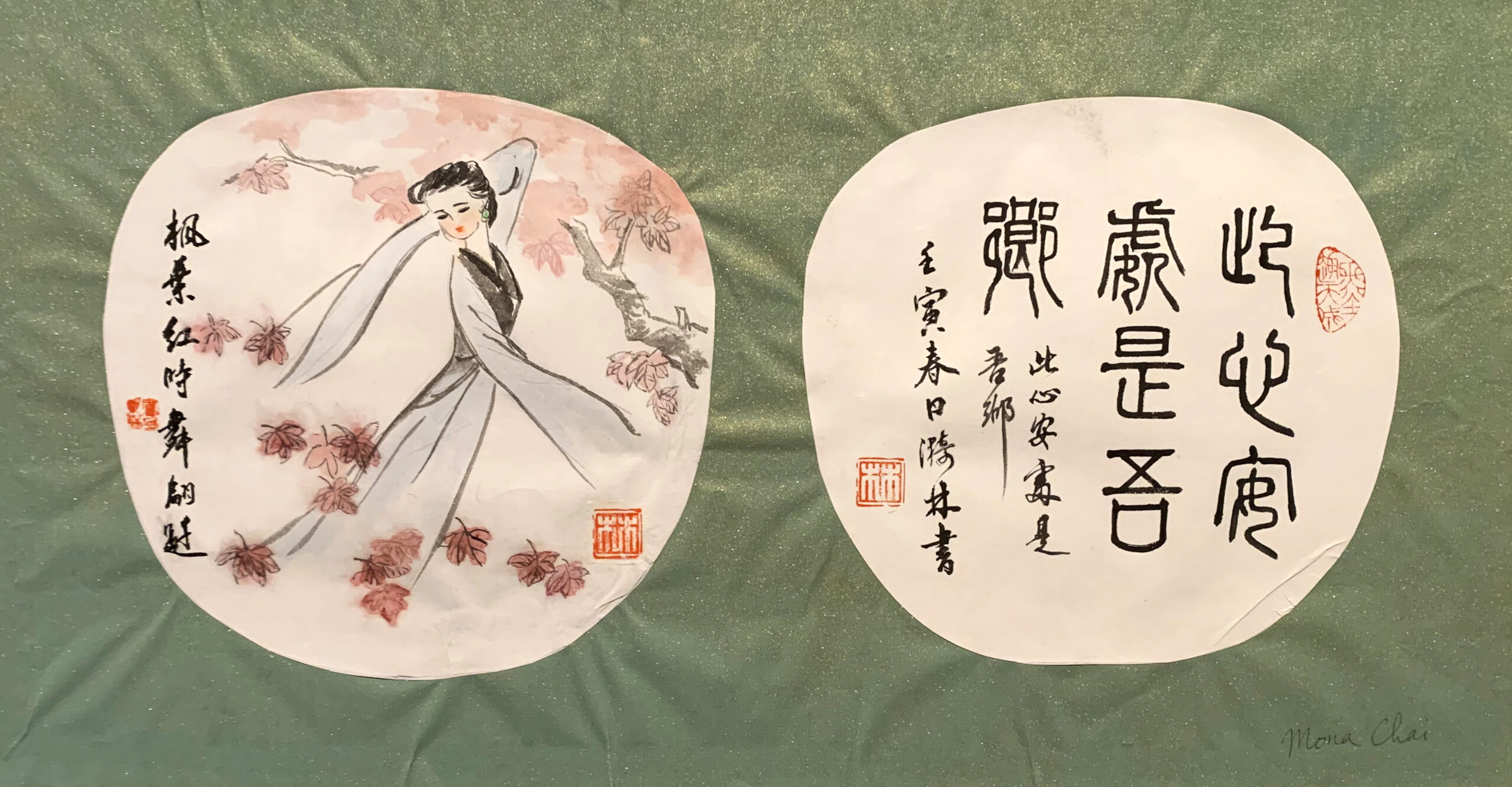 Reverberations, open from April 2 through September 25, 2022, is one of AGGV's recent initiatives in adopting new curatorial approaches to our permanent collections with the aim of bringing the collection to life and fostering audience and community engagement. Artists, makers, and creators were invited to respond to works from our collection through their own creations to add new meanings and bring in diverse voices to the gallery spaces. 
The VCPCA gathers a group of artists and enthusiasts who are willing to learn, share and promote the art of Chinese painting and calligraphy. All the current members are the first generation of Chinese immigrants who journeyed a long way from China and settled here in Victoria. They are engineers, scientists, therapists and small business owners. They work in different industries and within diverse roles. They are one of the many communities of Asian heritage who are making contributions to Canadian society. They bring with them also a passion for Chinese painting and calligraphy as they pursue a sense of belonging here.
Among the AGGV's collection, which features over 10,000 pieces of Asian art works, a special category – Chinese fan paintings – arouse an immediate and strong resonance from them. 
Originally a device for creating a breeze, the fan is also used in China to carry art – either paintings, or calligraphy or both. While the practice of decorating a fan with brushwork can be traced back to as early as the 4th century, fan painting popularized as a form of traditional Chinese art in the Tang dynasty (618-907). Fan painting further thrived in the Song dynasty (960-1279) yielding a wealth of masterpieces alongside other forms of high achieving Chinese landscape and flower-and-bird painting. The tradition of combining painting and calligraphy on a fan arose in the Ming dynasty (1368-1644) after the invention of the folding fan; before that it was shaped in a fixed form, which was mostly round and called tuanshan (circular fan). Fan paintings were so admired that they were often mounted as an album leaf and collected for better appreciation, which gradually developed into a practice that artists would work directly on a round or folding fan shaped composition. Most of the AGGV's fan paintings are in this format. Unlike other forms of Chinese painting such as hanging scrolls and handscrolls that are often presented in large sizes, fan paintings are modest conveying a more intimate feel, which, however, does not undermine their ability to be full of expression or rich in symbolic meanings.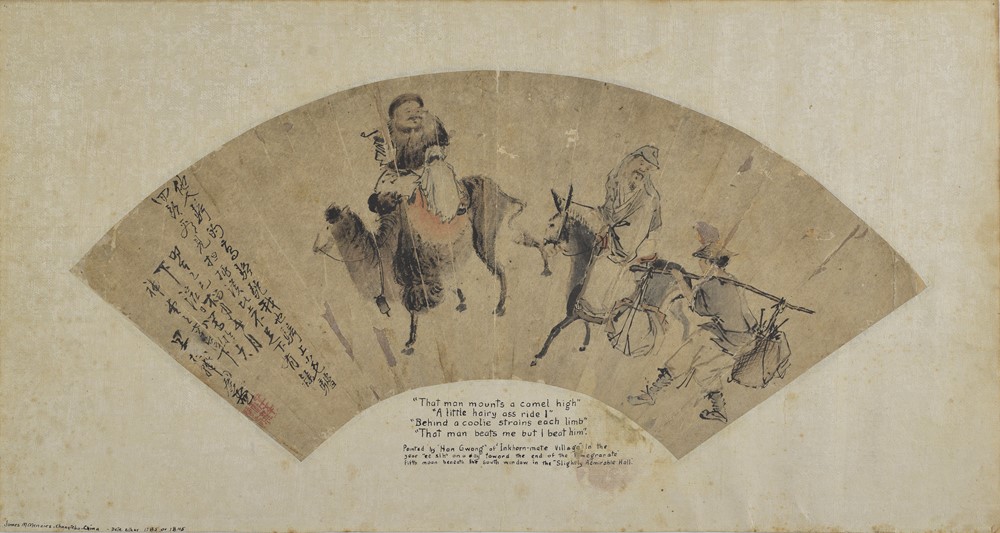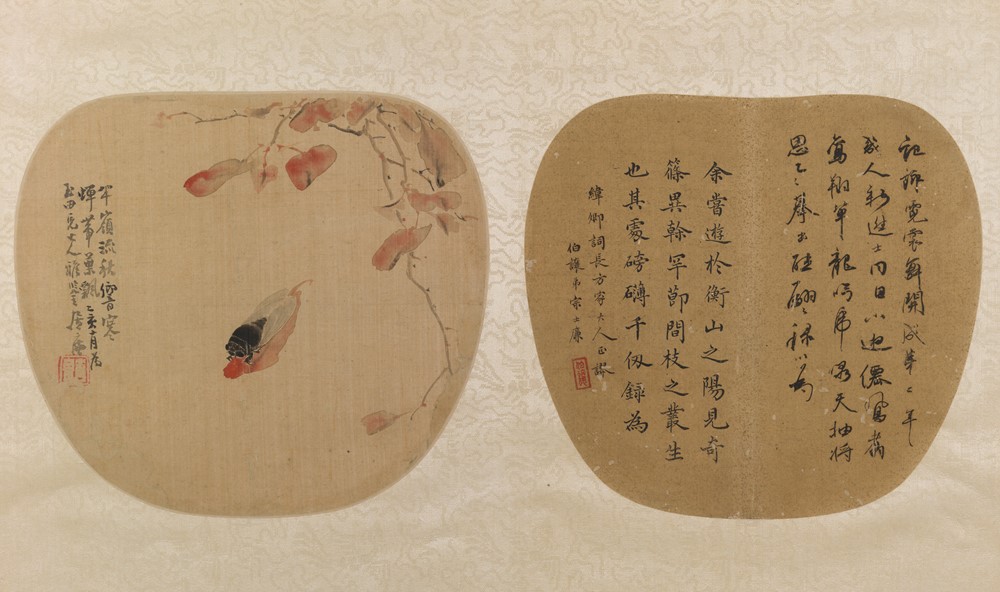 VCPCA members decided to use this special form of traditional art to approach their creations. The subject they chose is Victoria, the place they made their homes. 
Mount Douglas during the pandemic time, Royal Bay Beach before the rezoning, a peacock seen at Beacon Hill park rendered with gongbi, a traditional Chinese painting technique featuring meticulous brush craftsmanship, the Gate of Harmonious Interest (Tongji Men) standing at the entrance to Canada's oldest Chinatown in the celebration of the Lunar New Year with the lion dance. In their works Victoria is captured, recorded, represented and admired.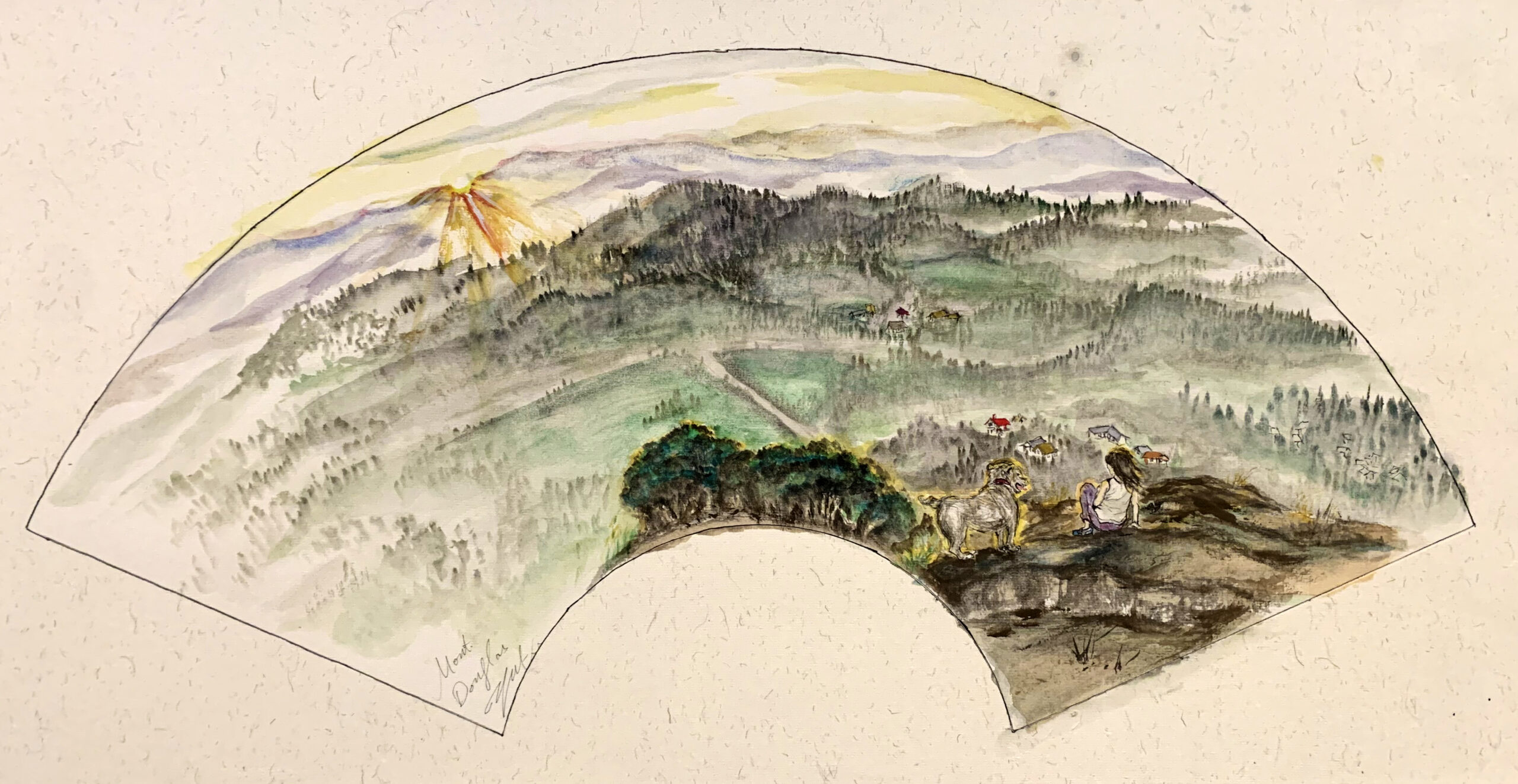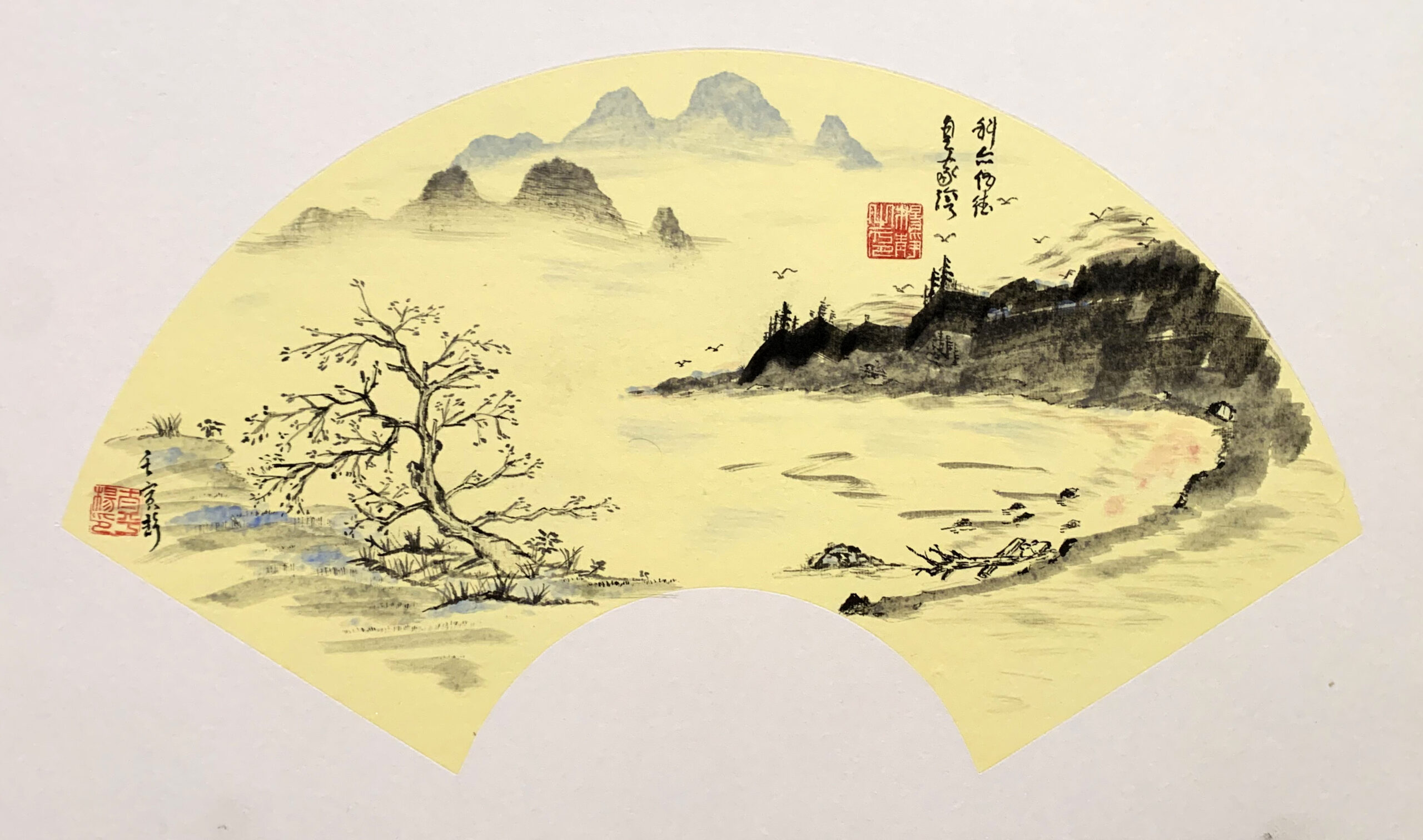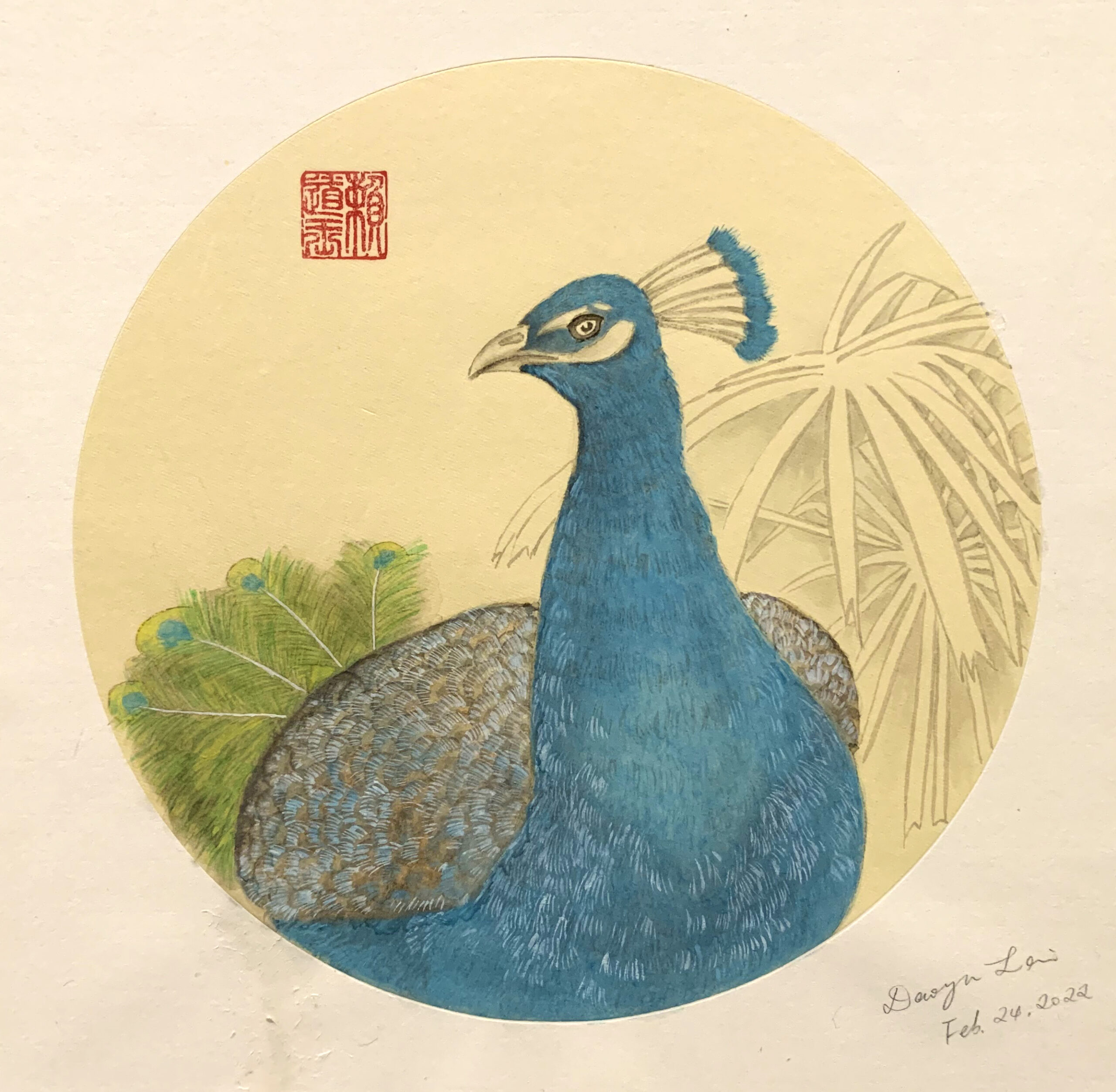 Salmon swim all the way up the stream against currents and rapids, leaping over waterfalls, and even into the mouths of bears, to find their "home" – the native stream where they were spawned. This scene of wonder occurring locally every year is depicted in one of the works. About one thousand years ago, the Chinese literary scholar Su Dongpo (1037-1101), however, wrote in one of his poems, "Where my heart settles, is where my home is." This line became the title of this collective work. The legacy of traditional Chinese art is continued in the VCPCA's innovative employment of fan painting, echoing the chosen theme for Asian Heritage Month 2022, "continuing a legacy of greatness."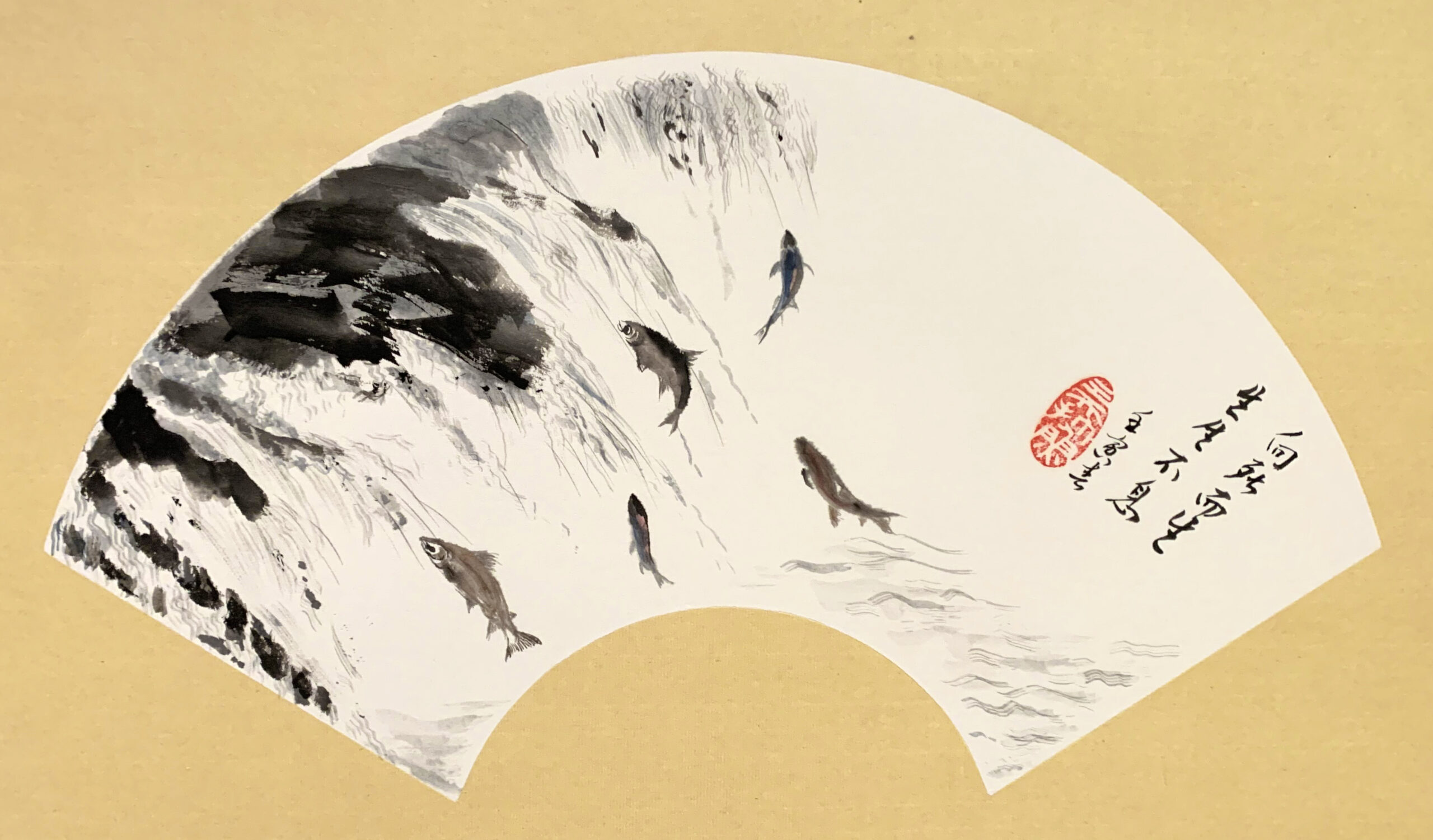 Featured Image: Details from fan Painting by Leo Liao.