By Natalie Rollins, AGGV Public Programs Coordinator
Standing in circle under the golden Garry oak growing in the Art Gallery of Greater Victoria's courtyard, Yetta woke the heart beat of a drum with a soft slow thrum, thrum, thrum. She opens into song reflecting this gentle rhythm and deep reverberance. Yetta's teachings for the beading workshop begin; we have been invited to learn about the transformation of a bead. Yetta, a name gifted to Connie Paul by her Grandma Dirty Lake from the Okanagan territory, was also the name of Connie's Great Grandmother's Grandmother. Yetta carries her ancestors knowing and being in her art, stories, weavings and songs. She is an abundant Indigenous knowledge carrier and healer from the Okanagan and Coast Salish lands.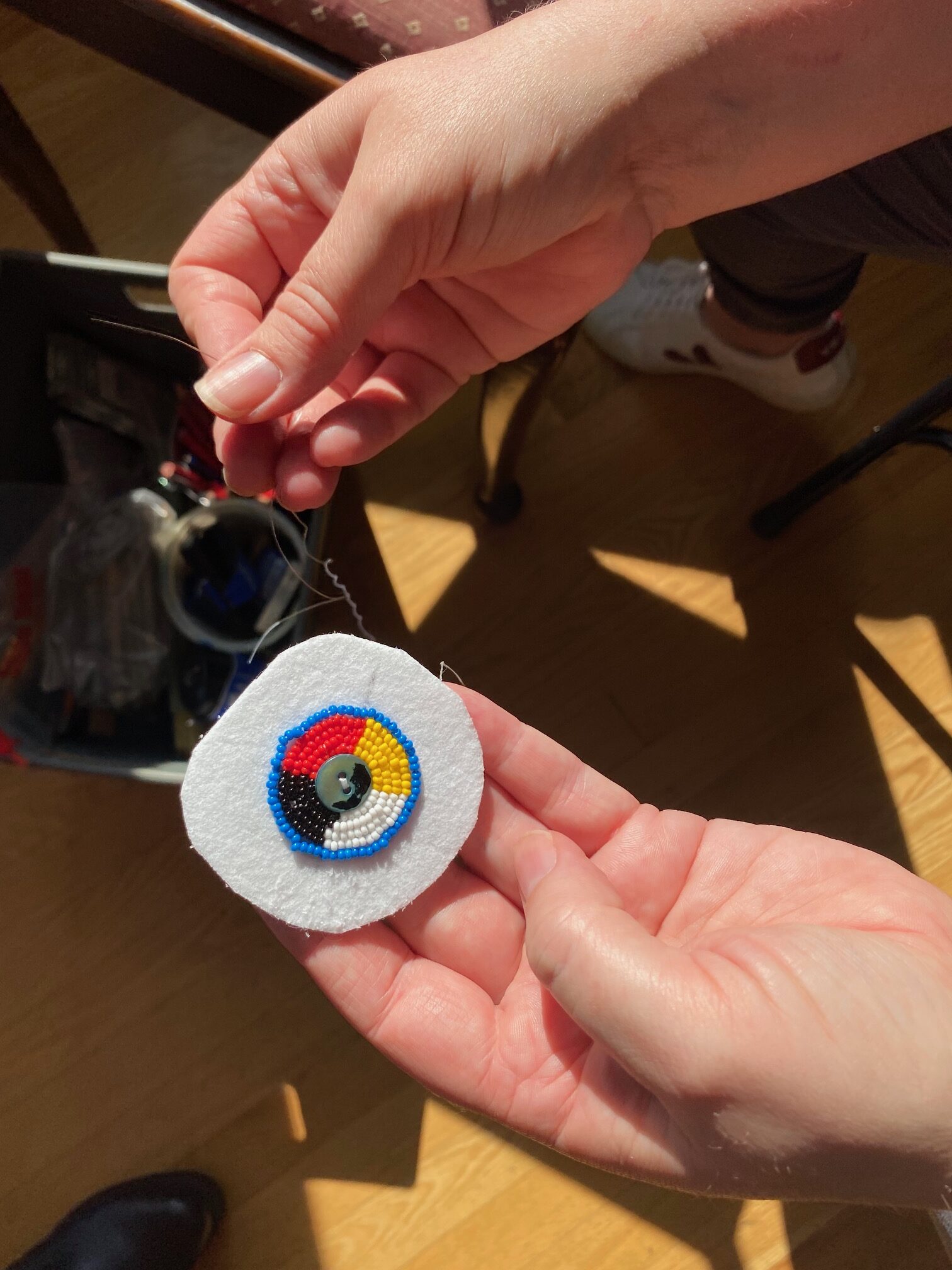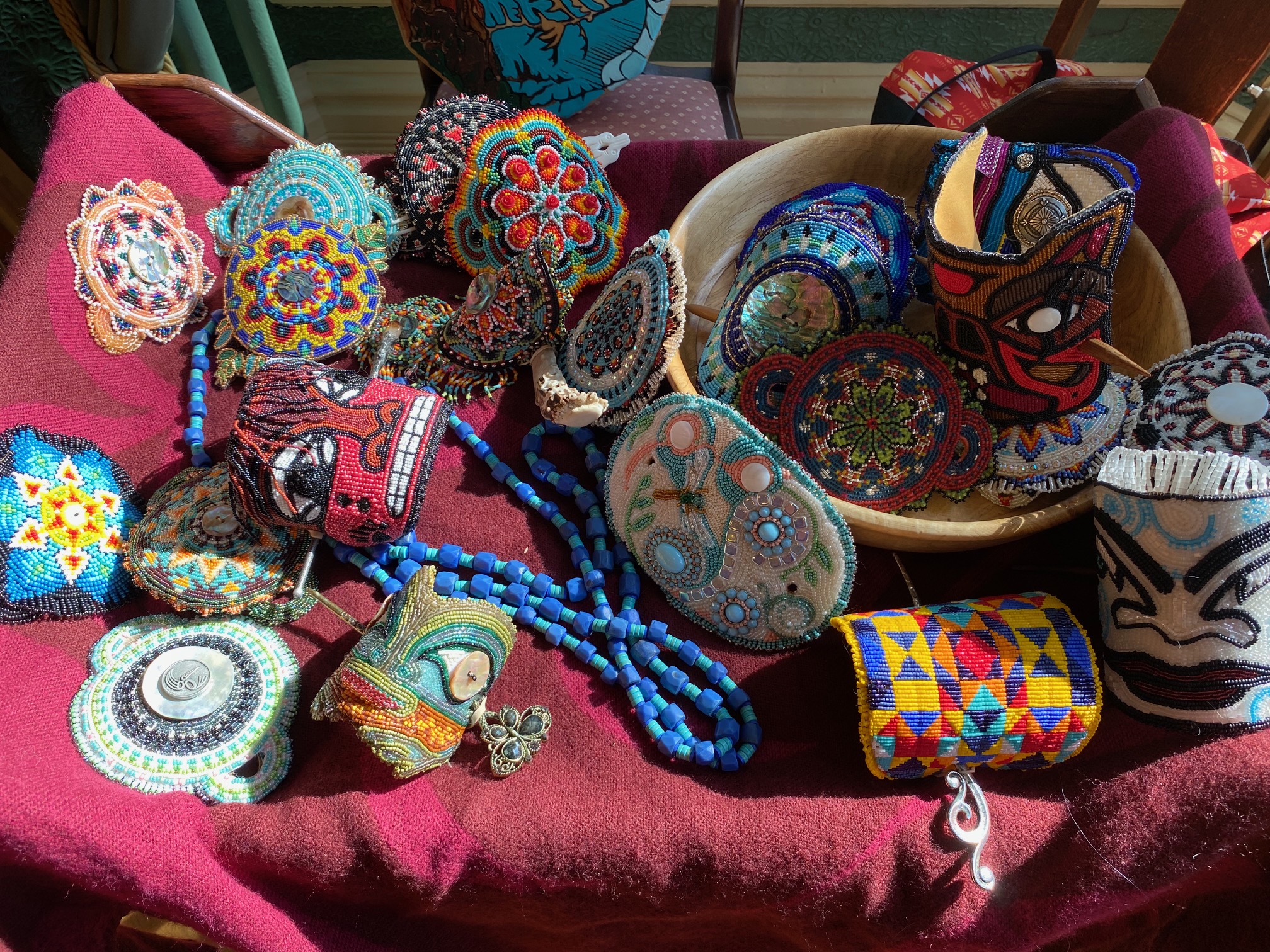 In conjunction with AGGV's current exhibition Adorned (which by popular demand has been extended to January 8, 2023) Connie spent the day with community members earlier this fall, sharing techniques and teachings in a hands-on, in-person beading workshop at the Gallery. For this exciting program, Connie chose the medicine wheel as the design concept. She explains how the wheel's four colour quadrants held in the shape of a circle symbolize aspects of being: yellow represents the mental, red for the physical, black for the emotional, and white for our spirit. All four parts call for tending when we heal. As a Community Care Nursing Manager, Connie understands the importance of nurturing our whole circle of wellness.
Encircling the medicine wheel is a blue band of beads. Connie taught us that this blue band represents the universe or the ocean, and she reminded us that we are responsible for both. After a full day sitting around the table, we learned to appreciate the love and patience required in beading. When you lay a string of beads on a felted fabric, each couple of beads must be tacked down by a stitch that wraps up and back down around the thread. The process asks you to listen, slow down, and connect.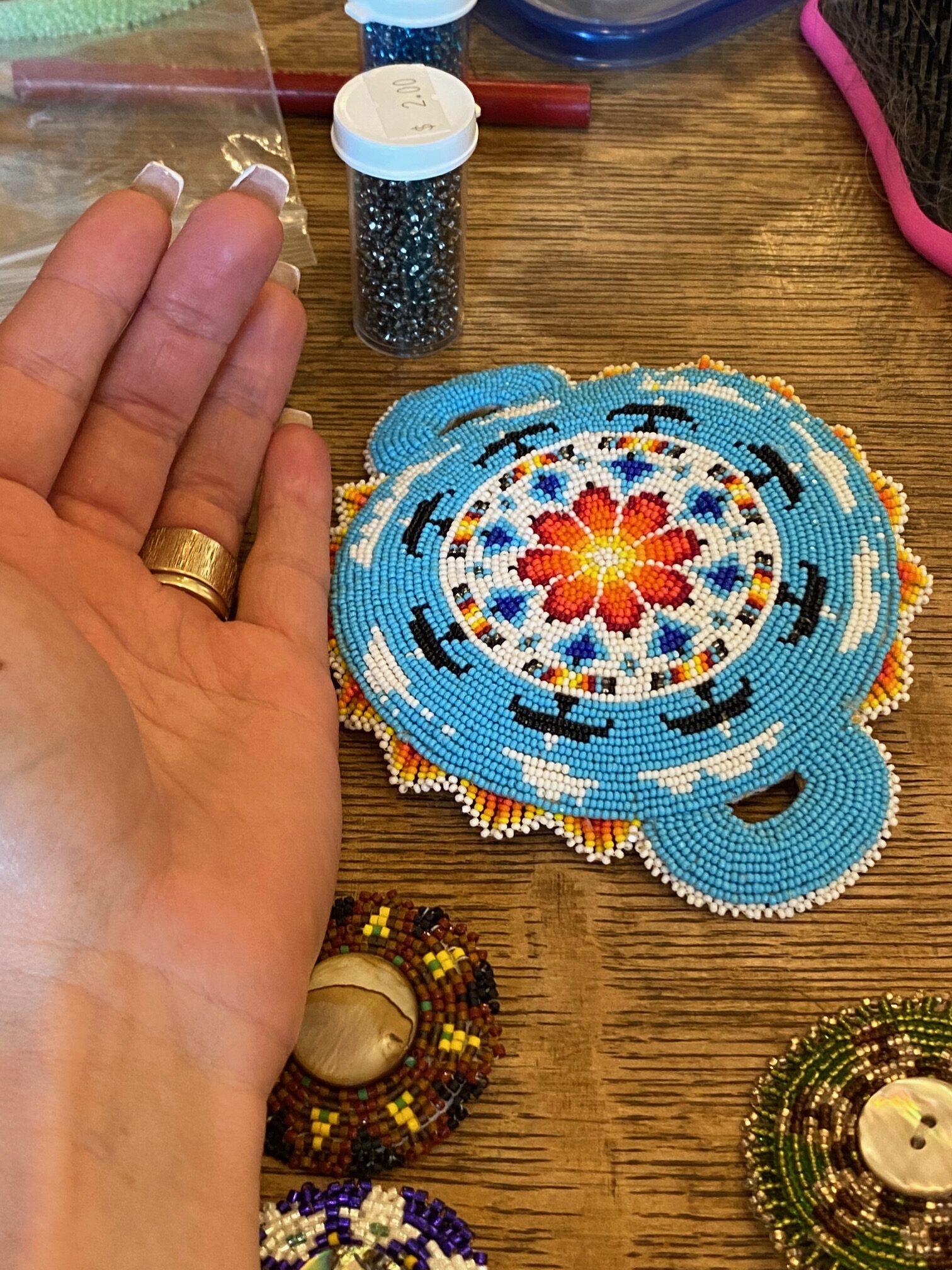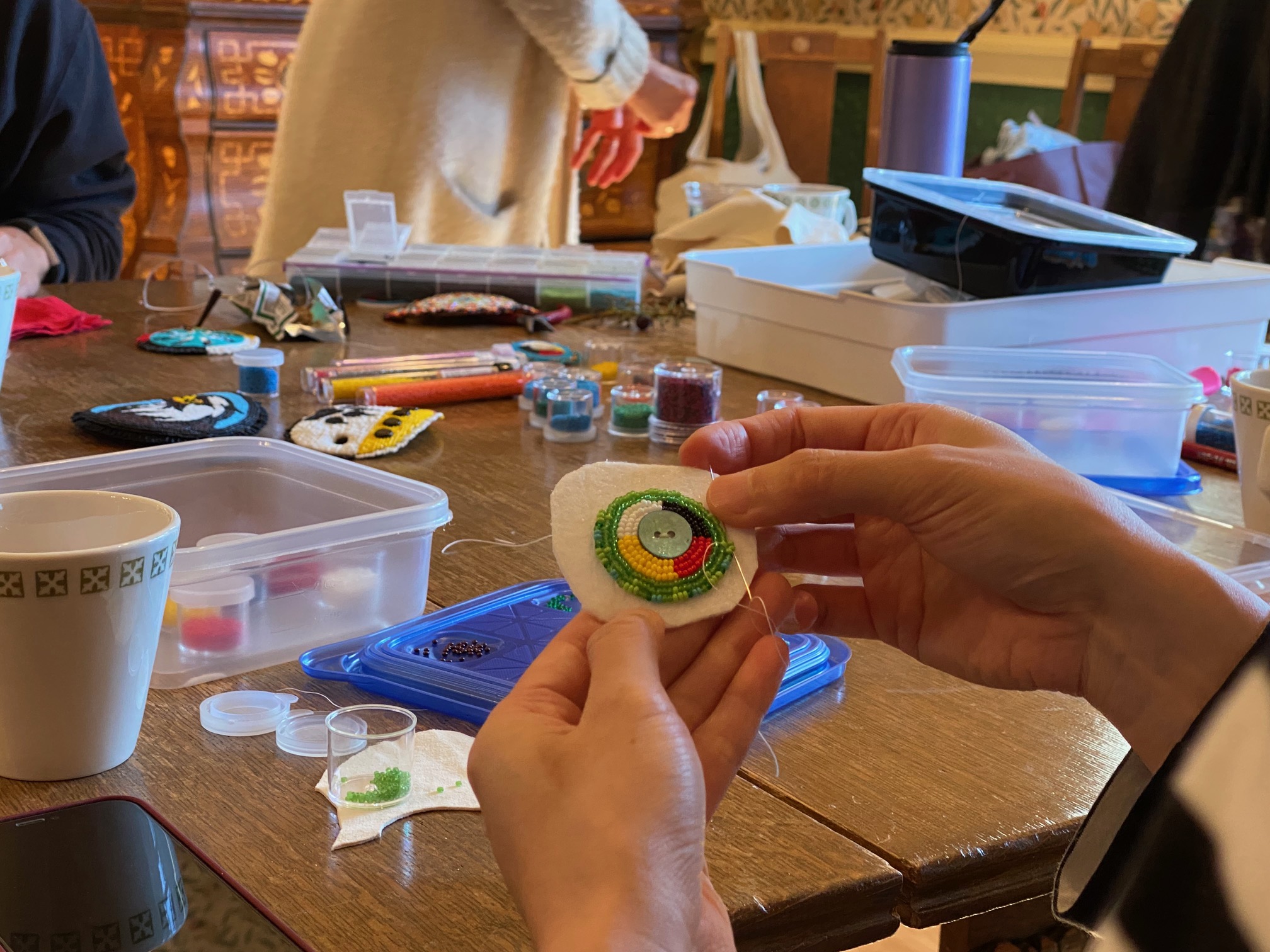 Currently, in the AGGV's Adorned exhibition, Dana Claxton's Headdress lightbox series (pictured below) features Connie draped in the immensity of her own hand-made and beaded artwork. Connie's Elaborate and unique patterns express tradition alongside innovation in her approach to the materiality of the medium, and in the narrative. Connie's stories resonated deeply. Grandma Dirty Lake's words carried by Yetta are, "Do something every day that is creative and beautiful for the simple joy of making. Art is medicine. Beading is medicine."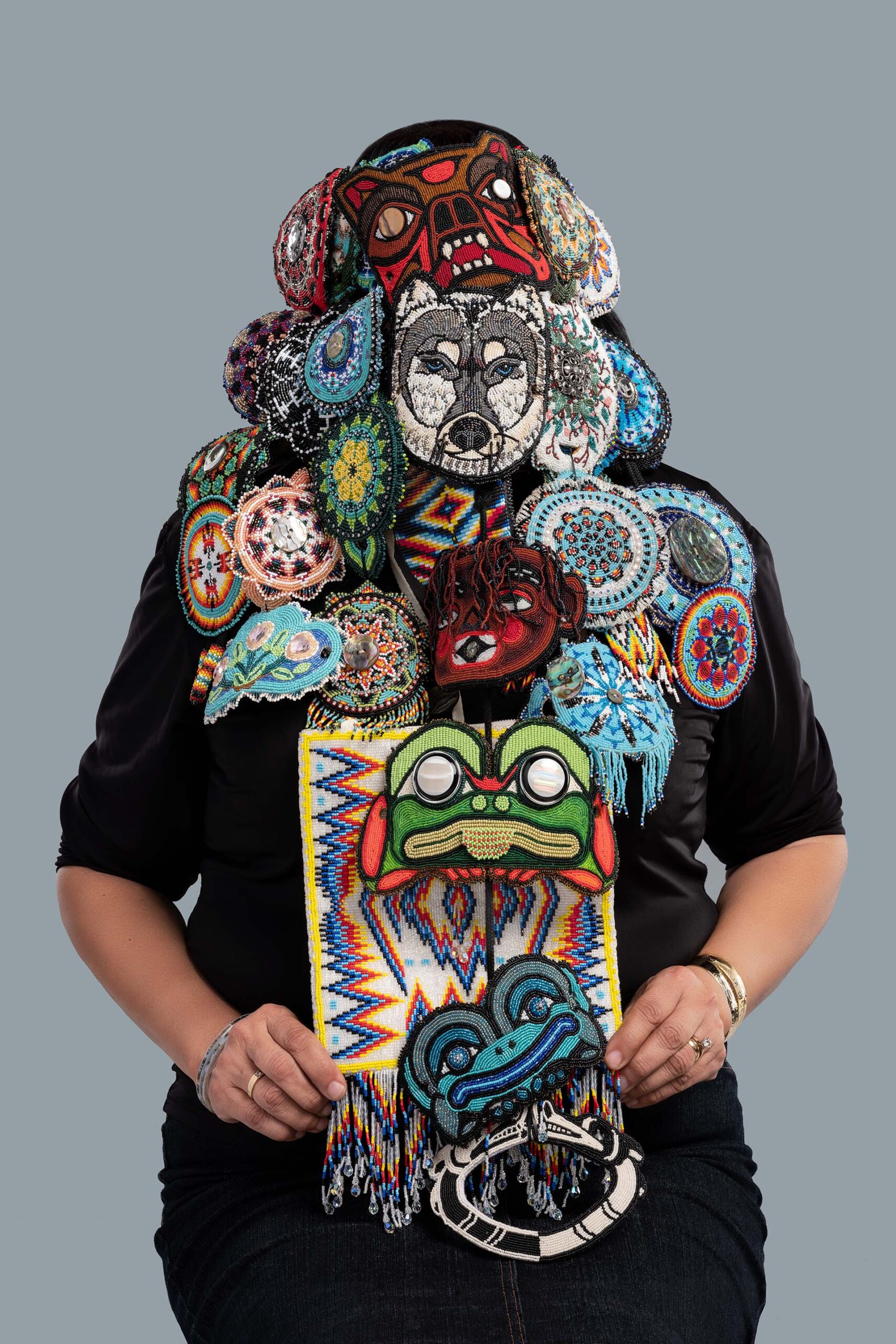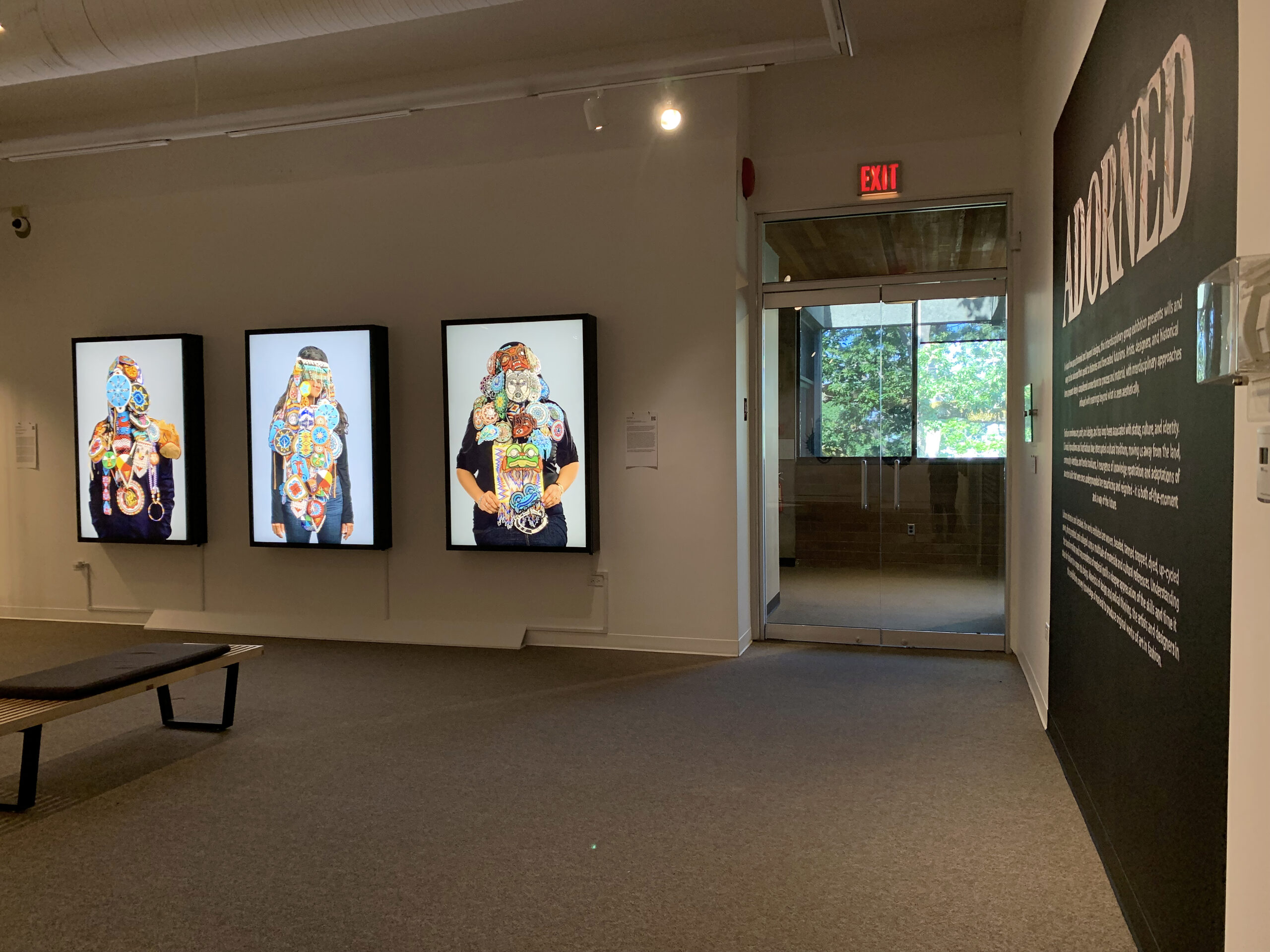 Feature Image: Image of Connie Paul's beading workshop.