Adding a new artwork to your living or work space can have a huge impact! Building on your art collection, or even reworking previous pieces, can change a space completely, updating it, brightening and livening it up, or creating a new calmness. Choosing new artworks or refreshing your layouts can be exciting and a breath of fresh air, but it can also be daunting – what works well together? How does spacing and sizing play into artwork layouts?
Although learning the art of installation can take some time to get comfortable with, it doesn't need to be daunting! In November, the AGGV's Art Rental & Sales Consultant Karen Cooper spoke to a group of gallery community members, breaking down the ins and outs of hanging artwork and how to gain confidence in your install. Now you can learn too! Here, Karen shares her advice and experience as to the art of the install:
The Logistics:
As you get comfortable with installing art, you'll develop a sense of where to position artworks, and the equipment you'll need to make things work. However, Karen has some general guidelines to follow as a basis for a successful installation, as well as tools that will be useful when hanging art:
On A Blank Wall: When hanging a painting, Karen suggests finding a height that is an average of 58 inches from the floor to the centre of the painting.
Above a sofa (or other seating furniture): When hanging a work above a sofa, for example, Karen suggests placing the painting so that the base is approximately six inches above the top of the sofa, which will provide some comfortable spacing that is pleasing to the eye. Karen also notes that it is important to make sure to consider proportion when hanging works above furniture! For example, a 24 x 24" painting above a sofa measuring six feet will look out of proportion, while a bigger painting will be more balanced and create a more pleasing composition.
Above a fireplace: For paintings above a fireplace, Karen encourages you to fill the space! Find a piece that takes up the area – again working with the proportions.
Tools needed: When hanging art, you will need some tools to help you. Along with your hammer and nails, it is helpful to have a tape measure, a level, a ladder (if needed), and a pencil to mark your spots. Karen suggests that you don't use nails bigger than what you really need, as this will prevent unnecessary damage to your walls. Only use larger nails when hanging a very large or heavy piece.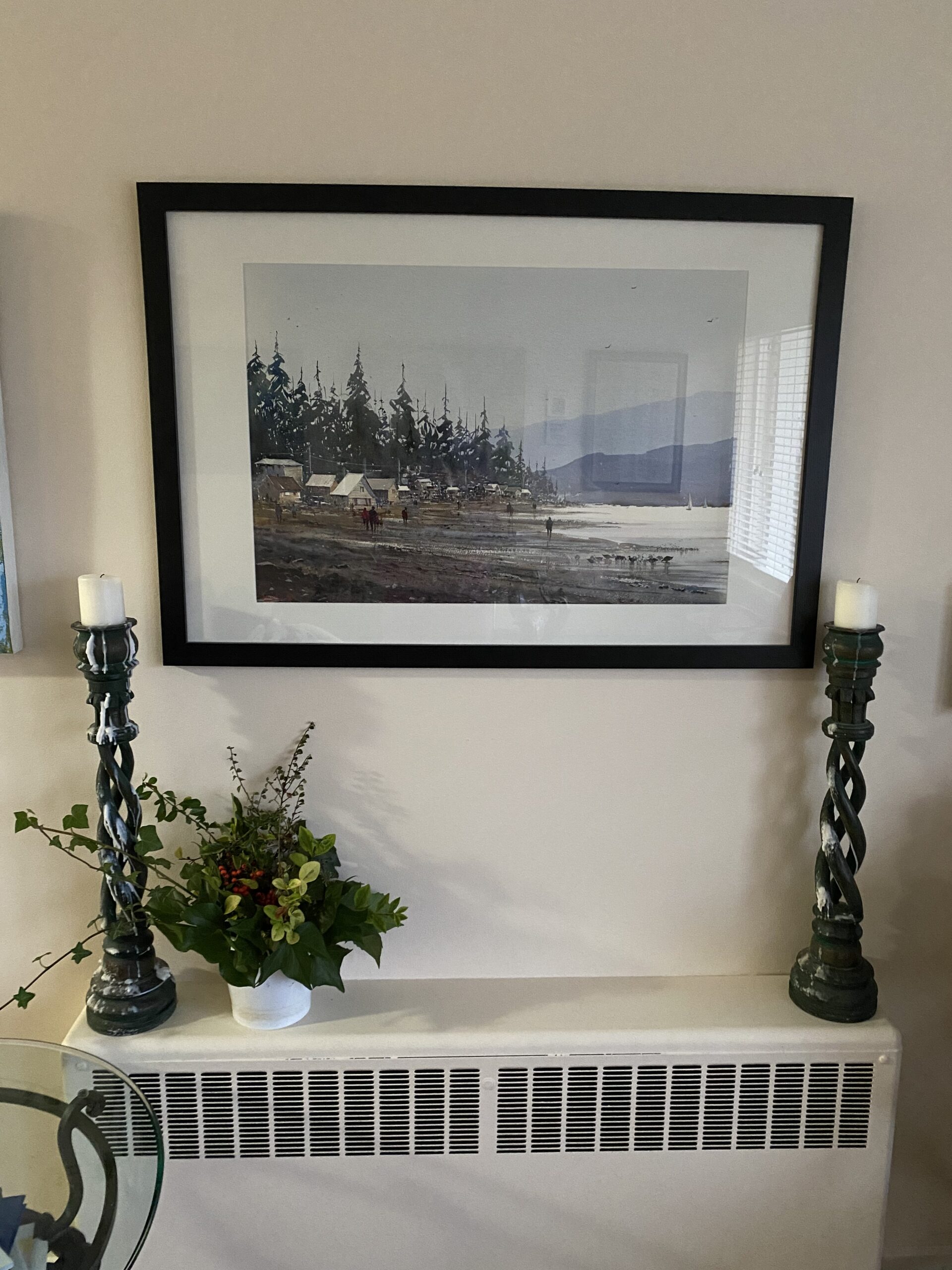 Hanging Pieces:
It is good practice to have use two nails, equally spaced from the centre of the painting, when hanging an artwork, as this will keep it steady and balanced. Use your judgement on how far apart the nails should be from the centre, with further apart nails for longer pieces.
Find your placement for the nails by figuring out first where you'd like the top of the painting to hang. Mark this spot, and then measure the distance between the top of the painting and the wire, making sure to put tension on the wire as if it were hanging. Then, on the wall mark this measurement under your initial top-of-the-painting mark. Now you know where your nails should be placed!
Finding Flow:
Almost as important as measurements when installing art is figuring out how your work will engage with your surroundings. Is your piece going up alone, or will it be working with other artworks? Consider a work as an individual first, and then in proximity to the other pieces you're installing, or the space will be installed in. How do these aspects flow with one another? If the flow isn't quite there, what could be added, removed, or moved around to work better? Karen suggests looking for a story, whether between works or between the individual work and its surroundings. What connects the piece to the others, or to your space? Look out for colours, lines, compositions, oppositions and the emotional expressions that come out and play around with how different components can work with one another!
Know The Process:
It can take some time to get comfortable with hanging artwork, and developing your style! Playing around with what works best for you, and your space, will help you figure out what you like and dislike. Starting with these basics, you'll be able to develop a greater sense of what looks good, and how you like to position and hang your artwork, on a more instinctual level. It takes some time and practice (and some mistakes!) but keep trying different styles out, and you'll get to know how to install art in no time.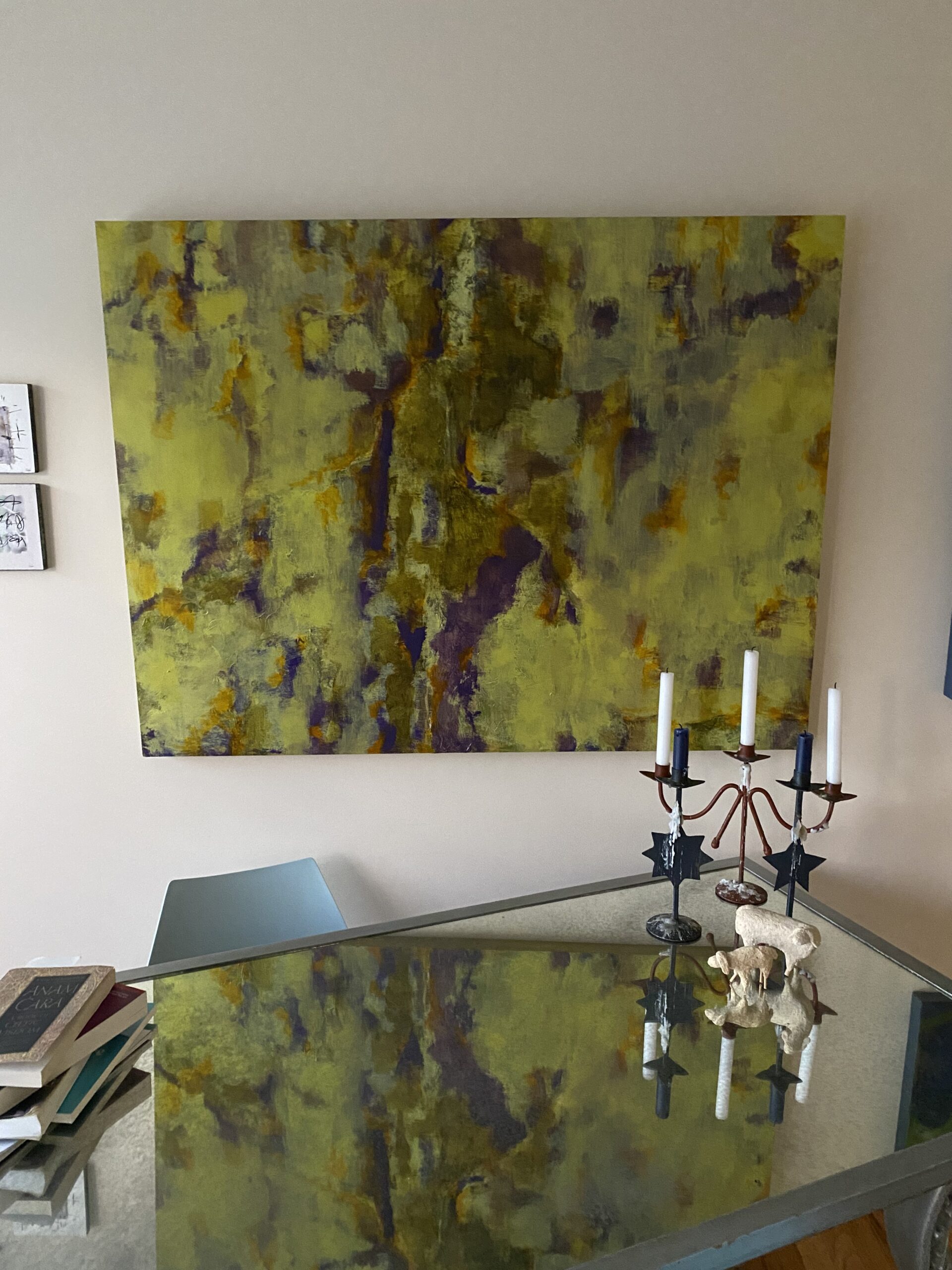 If you are familiar with the AGGV's Art Rental & Sales department, you'll know the department is brimming with artworks – ranging in all sizes, mediums, styles, colours! But did you know that the department also offers hanging services, and can help you place your artwork in your space? If hanging and installing artwork yourself just isn't for you, or you'd like to learn how to do it first hand, Art Rental & Sales is available for installation. This includes for pieces from the program, or from your own personal collection.
Feature Image: Karen Cooper, Art Rental & Sales Consultant, discusses the art of the install at the AGGV.