By Mel Granley, AGGV Assistant Curator
If you're excited by all things mycorrhizal, then the AGGV's upcoming exhibition Symbiosis is the show for you! Opening April 1, 2023, this exhibition explores the integral connections that exist between fungi and tree systems, through a mix of interdisciplinary works from local, national, and international artists. The show is co-curated by Chief Curator, Jaimie Isaac, and myself, Mel Granley. The exhibition came to fruition through a shared love of mushrooms, an appreciation for their importance to our ecosystem's health, and our desire to explore these hidden root systems in a gallery setting.
We are delighted to invite you to the Gallery for this curious and lush exhibition, which features a myriad of mushroom, tree, and root artworks. Mushrooms have historically occupied the public's fascination, with this intrigue continuing into the present day. Playing off this allure, we aimed to celebrate the unseen relationship between fungi, soil, and trees, and worked with artists who incorporate mycelium and ecology in their practice regularly.
Jaimie Isaac explains the show saying: "Symbiosis explores the reciprocal and interconnected relationships between these organisms as well as people living in proximity, and the concept of interdependence and balance in our ecosystems."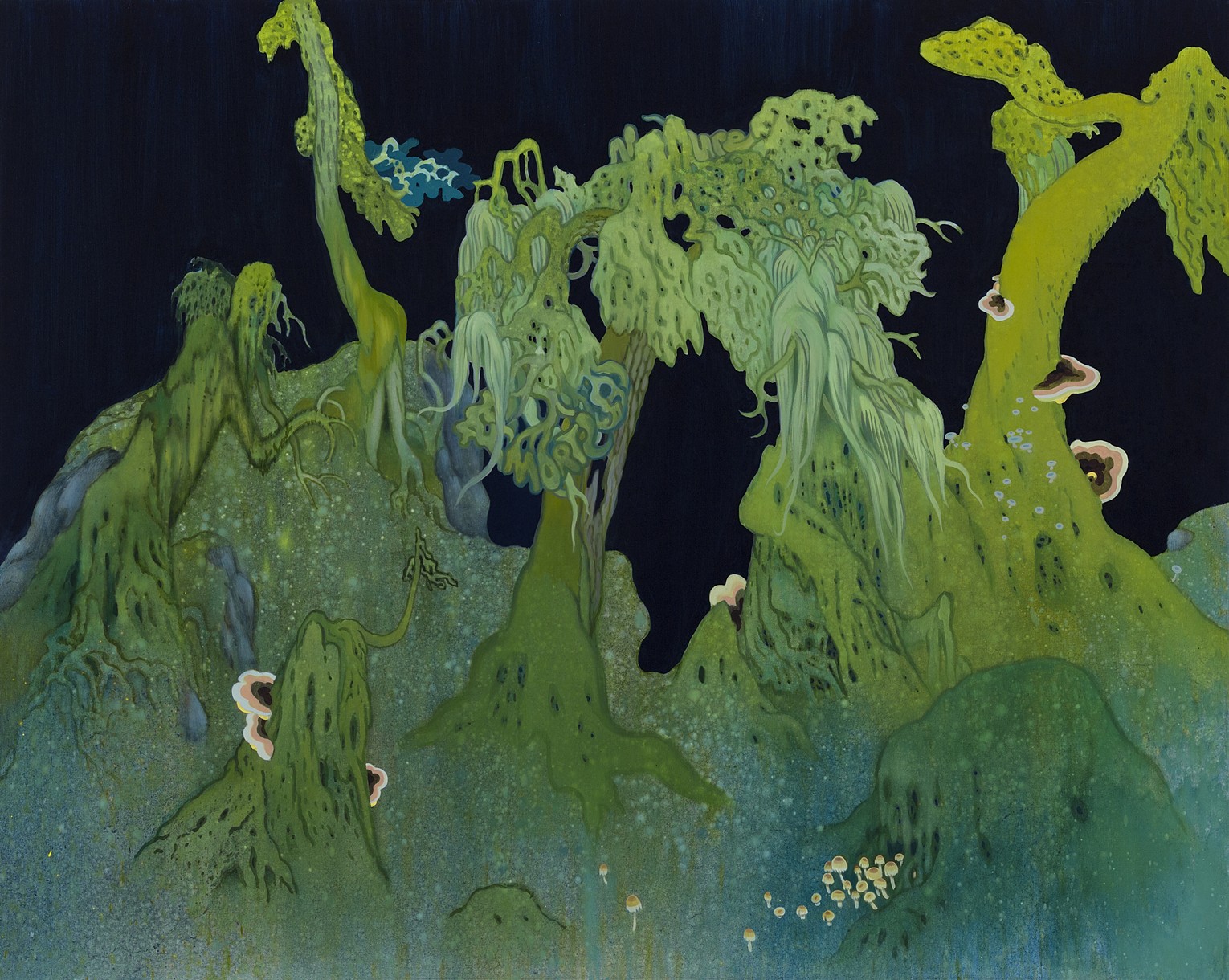 In the gallery spaces you'll find works ranging from paintings made of spore pigment, ceramic sculptures of mushrooms, interactive mycelial music, illustrations of trees and fungi, motion-activated growing trees, and much more. Some participating artists include: Sarah Jim, Diane Borsato, Rick Leong, Connie Paul, Xiaojing Yan, Colton Hash, Rande Cook, Brad Necyk and more.
Symbiosis is an ode to "the fascinating, the delicious, the deadly, and the strange." (Diane Borsato, Mushrooming). Please join us on April 1, 2023, for a panel discussion with some of the participating artists, and a mycelial music performance by artist Tosca Terán (keep an eye on social media or check out our web calendar for more details to come).
Feature Image: Colton Hash, Mycelial Forest (2023), Still from a dynamic-Interactive installation, using generative simulation software, modified computer hardware, courtesy of the artist.