By Cate Wareing-Oksanen, AGGV Events Engagement Assistant
"We'll meet outside the Gallery, grab some coffee, and find a nice place in the park to spread out. Is it okay if Ellen brings her dog?"
This was my introduction to working at the Art Gallery of Greater Victoria. Almost two months after the province shut down and jobs for students all but dissolved, I was brought on as a summer student for a dream position at the AGGV. From the get go, the requirement of working remotely meant that I was walking into a position that was new to both me and to the Gallery. Since then, working online has opened up a realm of opportunities that I could never have anticipated.
As an Events Engagement Assistant, a significant portion of my job was adapting the 33rd Annual TD Art Gallery Paint-In (cancelled in response to Covid-19) to a virtual format. With the goal of continuing to connect the public with Vancouver Island's artistic community, we came up with the TD Artist Guide, a virtual directory listing all the artists who applied and their work. Working on the Guide, I had the pleasure of talking to many artists personally, and learning a bit about their artistic practices. Even before it was released, I was overwhelmed by the positive responses the Guide received. Within and outside the Gallery, it was evident that everyone was feeling the absence of the Paint-In. So many people shared heartfelt experiences and memories of past Paint-In events and their hopes for next year's event. I didn't know what to expect from working at the AGGV, but every day I was surrounded by thoughtful, passionate people, finding creative ways to make projects like the TD Artist Guide happen.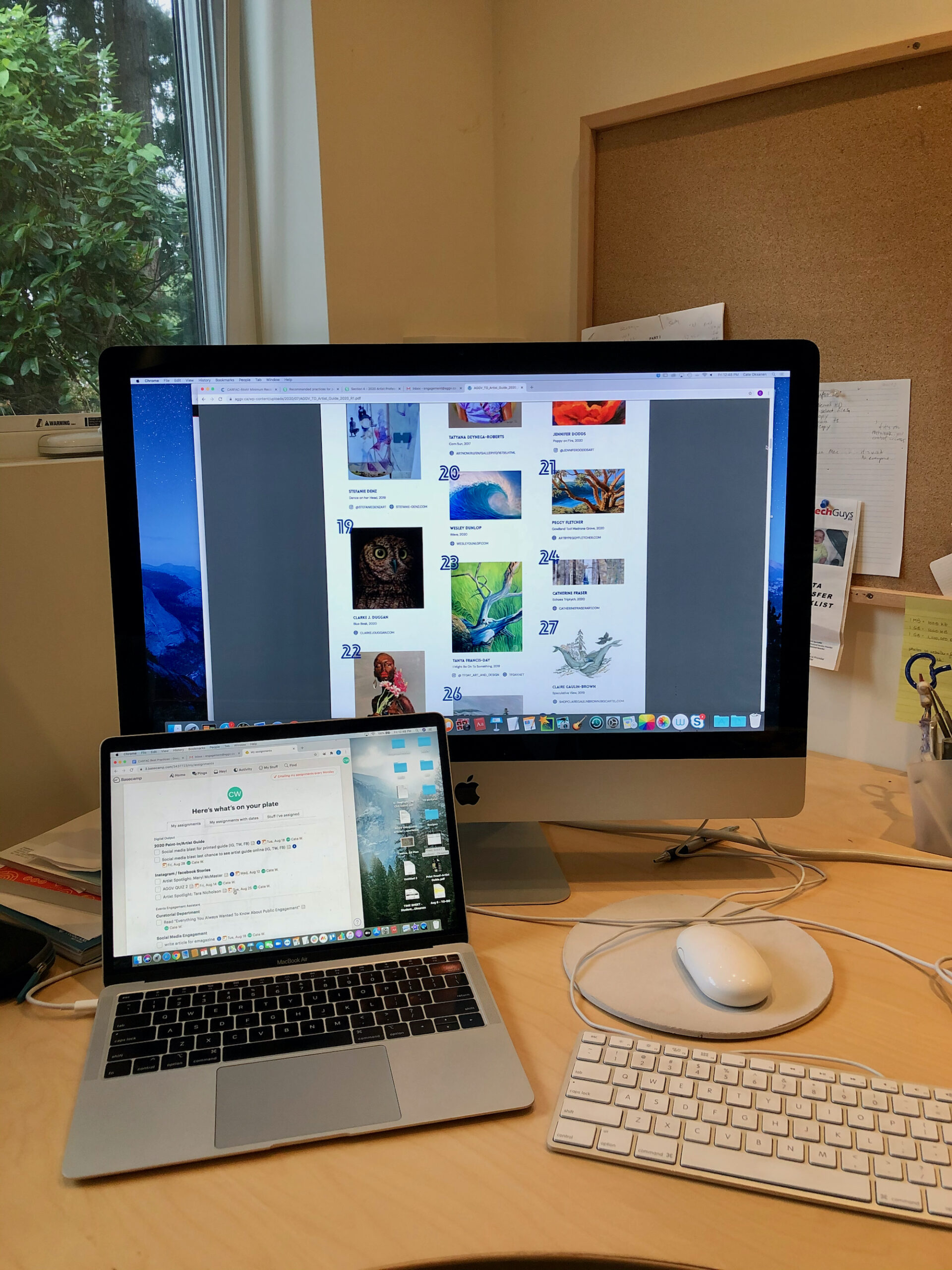 Another project I had the privilege of working on was Field Trip: Art Across Canada, an online, multi-institutional initiative led by Contemporary Calgary. Readily available online, this project shares arts programs and experiences to people of all ages across the country. Supporting the delivery of this highly collaborative endeavour exposed me to the ingenuity and variety of virtual programming. I was able to communicate with galleries and institutions across the country who are rising to the challenge of curating digital exhibitions and reaching out to their communities from behind a computer.
This summer started from a place of adjustment, a place of getting to know my coworkers on Zoom and uncertainty about what was in store. Since then, I've worked on Instagram stories that bring some of the fun of visiting the Gallery to social media, talked to talented artists and curators, and learned that all meetings are better over ice cream. Although I am very sad that my summer at the AGGV has come to a close, I am leaving the Gallery with a deeper understanding of the evolving roles and value of cultural institutions, and a greater love of the Vancouver Island arts community.
Feature image: Helpful Co-worker, "Mickey Blue Eyes". Courtesy of Cate Wareing-Oksanen.