By John Manson, Gallery Shop Coordinator
You may have noticed something different in the Gallery Shop in the last couple of months – new jewelry and clothing! In collaboration with the AGGV's Adorned exhibition, we have introduced a number of new local clothing, accessory and jewelry designers into the shop. These designers each have either participated in Victoria Eco Fashion Week (which also presented pop-up fashion shows during the Adorned opening) or are otherwise connected to the themes and artists in Adorned. The best way to view and purchase work by these incredible designers is to come in to the shop, but here is a taste of what you will find when you visit.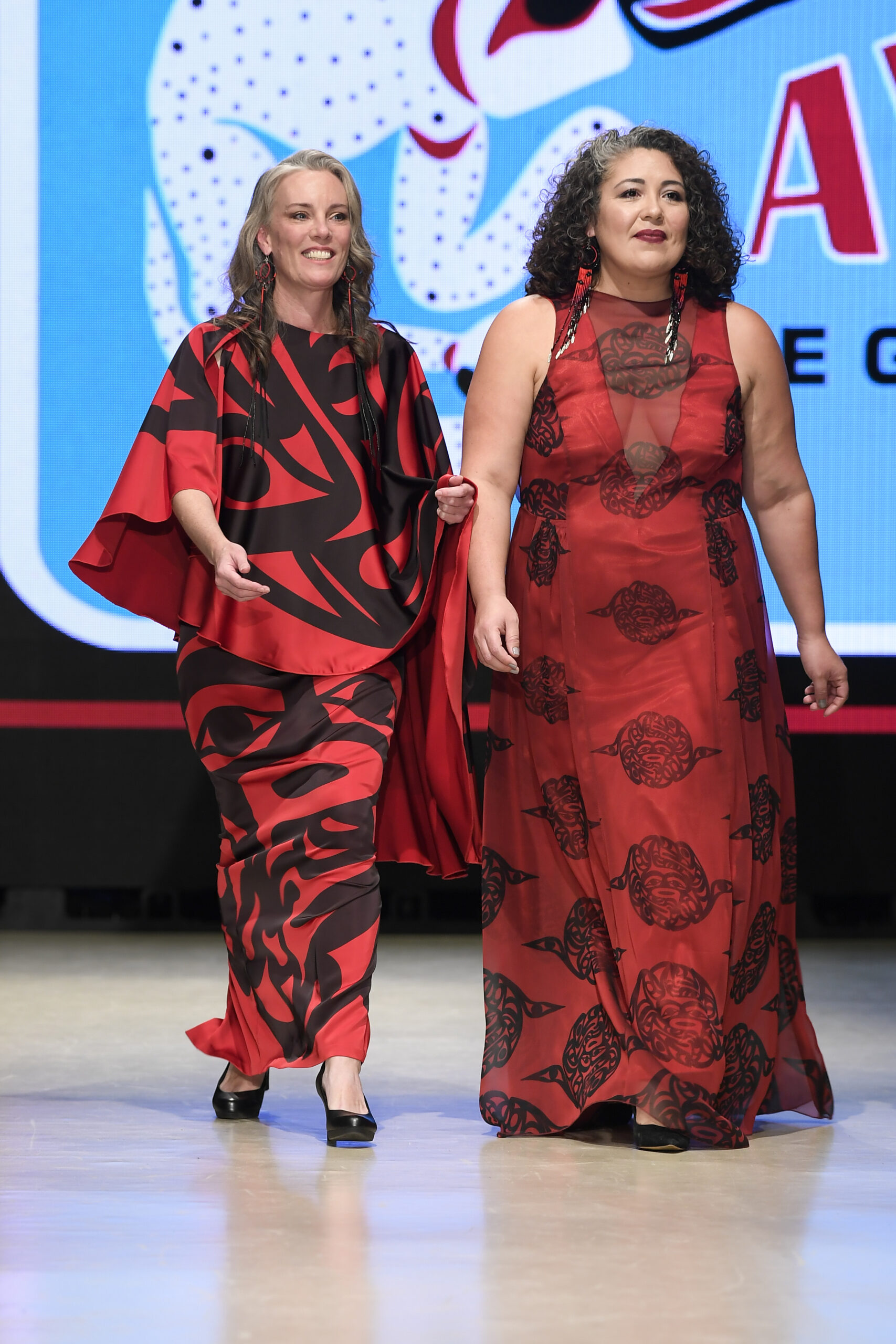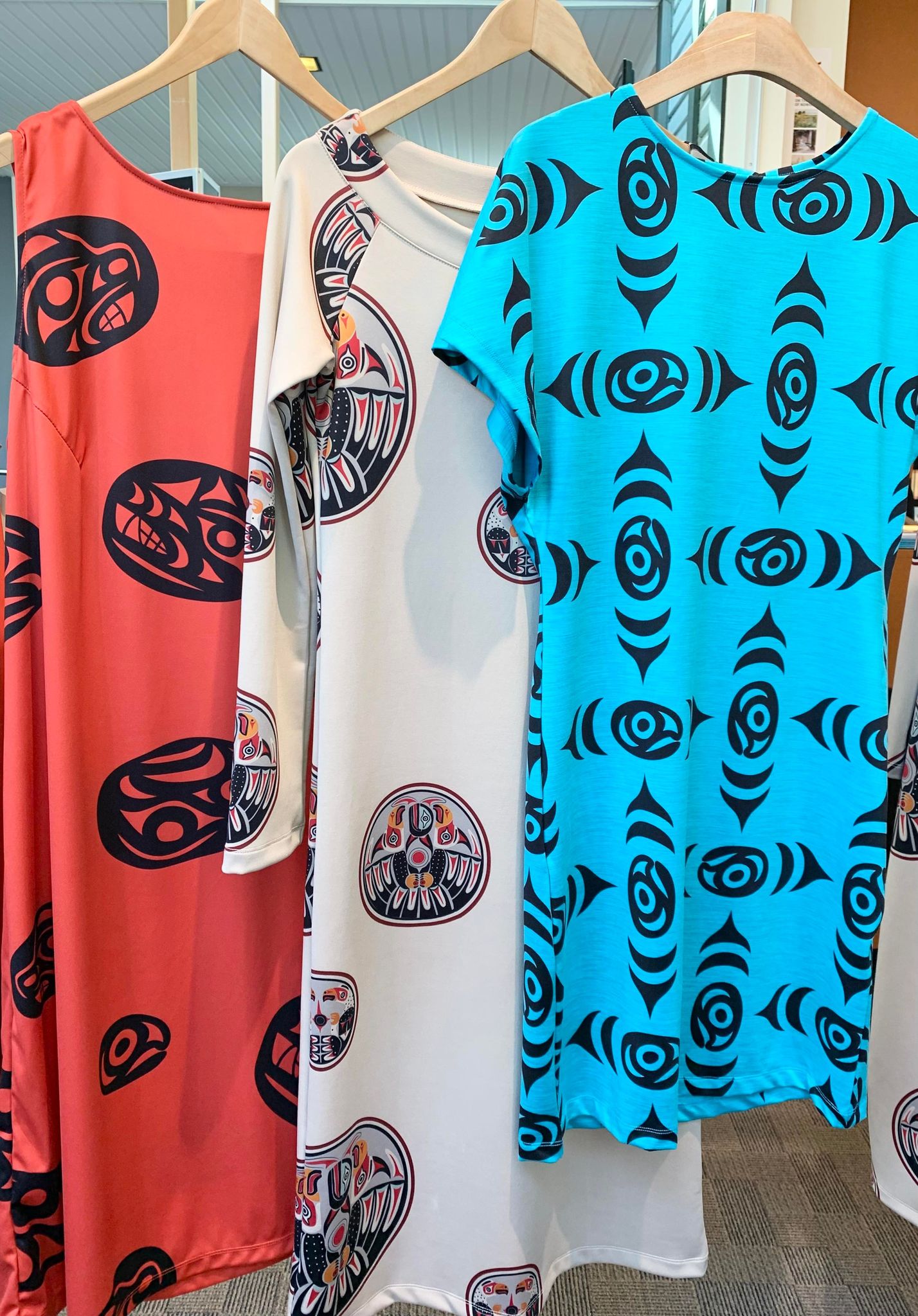 Ay Lelum – The Good House of Design, Snuneymuxw First Nation, Nanaimo BC 
Ay Lelum, The Good House of Design, is a Coast Salish design house located on the Snuneymuxw First Nation and operated by a multi-generational family of artists. Designers and business owners Aunalee Good & Sophia Good work to create wearable art for all with a reduced environmental footprint. You will also find one of their couture designs (a gorgeous copper gown) featured in the Adorned exhibition. They are mentored by their mother Sandra Moorhouse-Good, and their designs feature artwork by their father Dr. William Good and brother W. Joel Good. In their artistic and business practices, Aunalee and Sophia follow cultural guidelines, protocols and Hul'q'umi'num' Law, as outlined by their father Dr. William Good, who is a Storyteller and Master Coast Salish artist. Ay Lelum stems from the clothing line that Sandra Moorhouse-Good and Dr. William Good operated in the 1990's called Ay Ay Mut, which means beautiful in Hul'q'umi'num'. We are delighted to support this family design house and carry a selection of Ay Lelum dresses, shirts, and tunics in the Gallery Shop. Find out more about Aunalee, Sophia, their family, and their business at www.aylelum.com.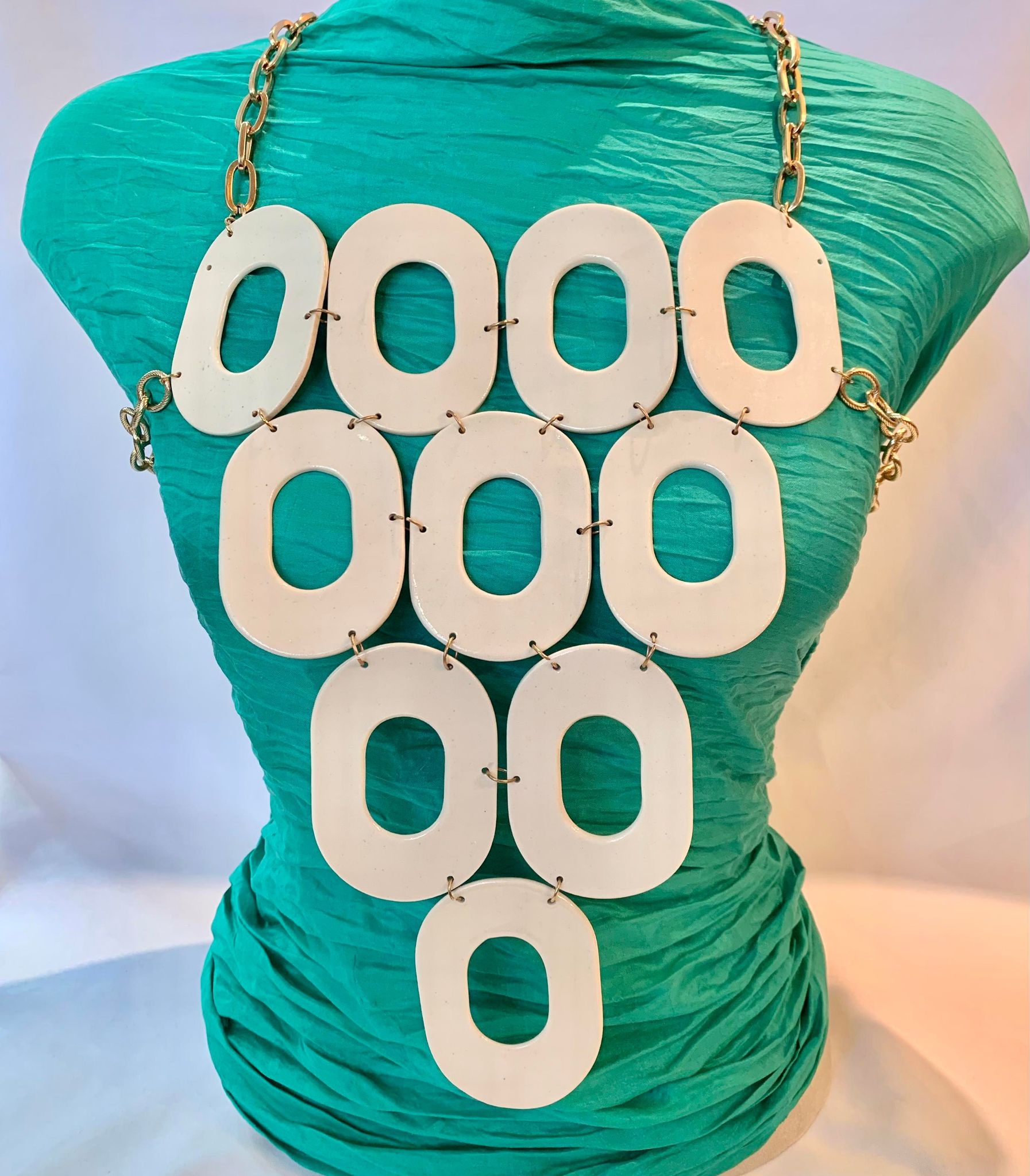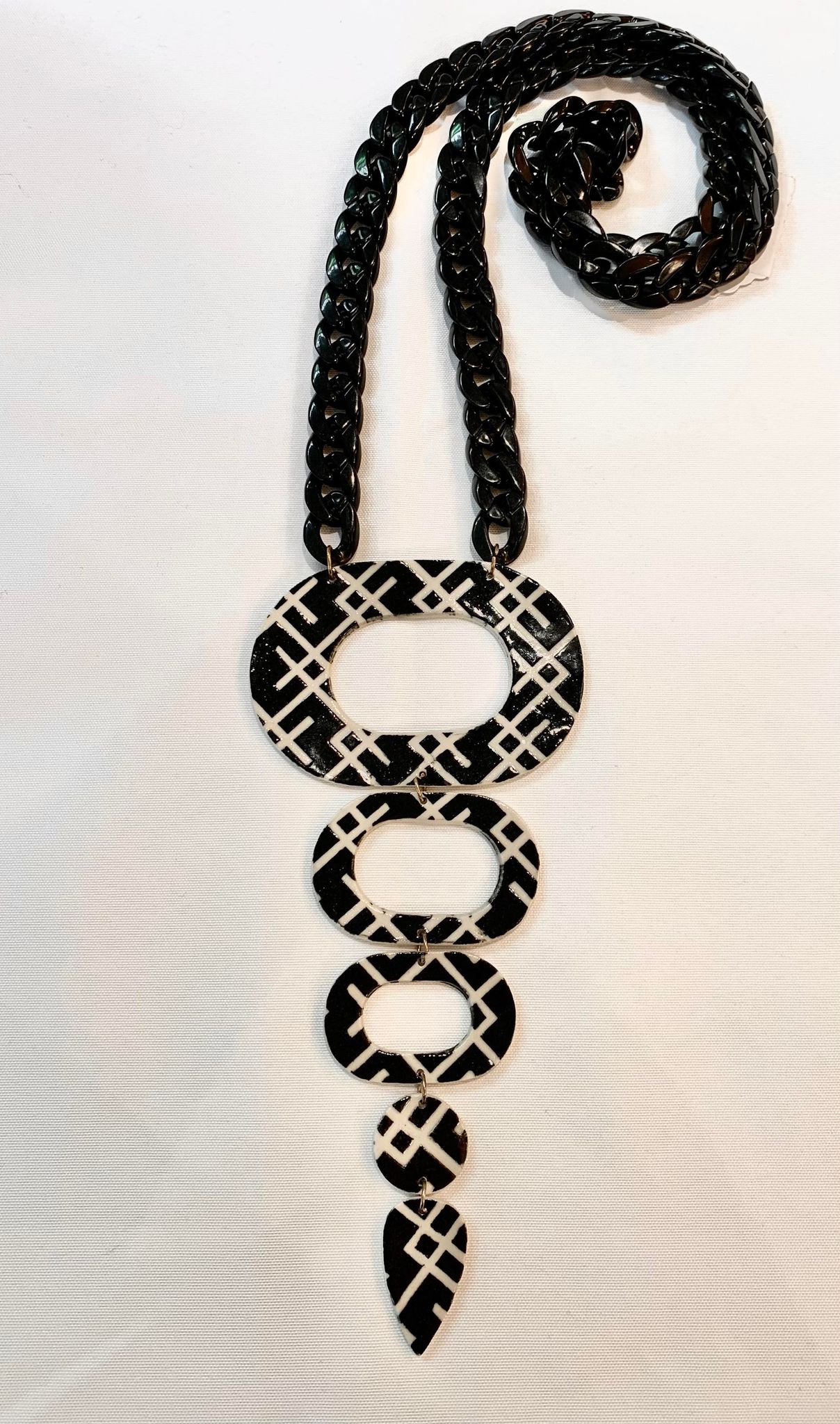 Kiln Ceramics – Laurie Bricker, Vancouver BC
Laurie Bricker is a massage practitioner, with multidisciplinary experience as a writer and performer.  Once she discovered ceramics as an art form, it has become a central focus of her practice. Her jewelry recently showed at Vancouver Fashion Week with Adorned participant and leather artist Farlee Mowat, and the two work together on a program coordinated by Farlee in Vancouver's Downtown Eastside called Enterprising Women Making Art (EWMA) through Atira Women's Resource Society. In the Gallery Shop, we have been fortunate to carry glamorous showpieces by Laurie that walked in Vancouver Fashion Week, as well as some of her lovely ready-to-wear lines. Learn about Laurie's art and design at https://www.kilnceramicjewelry.com/.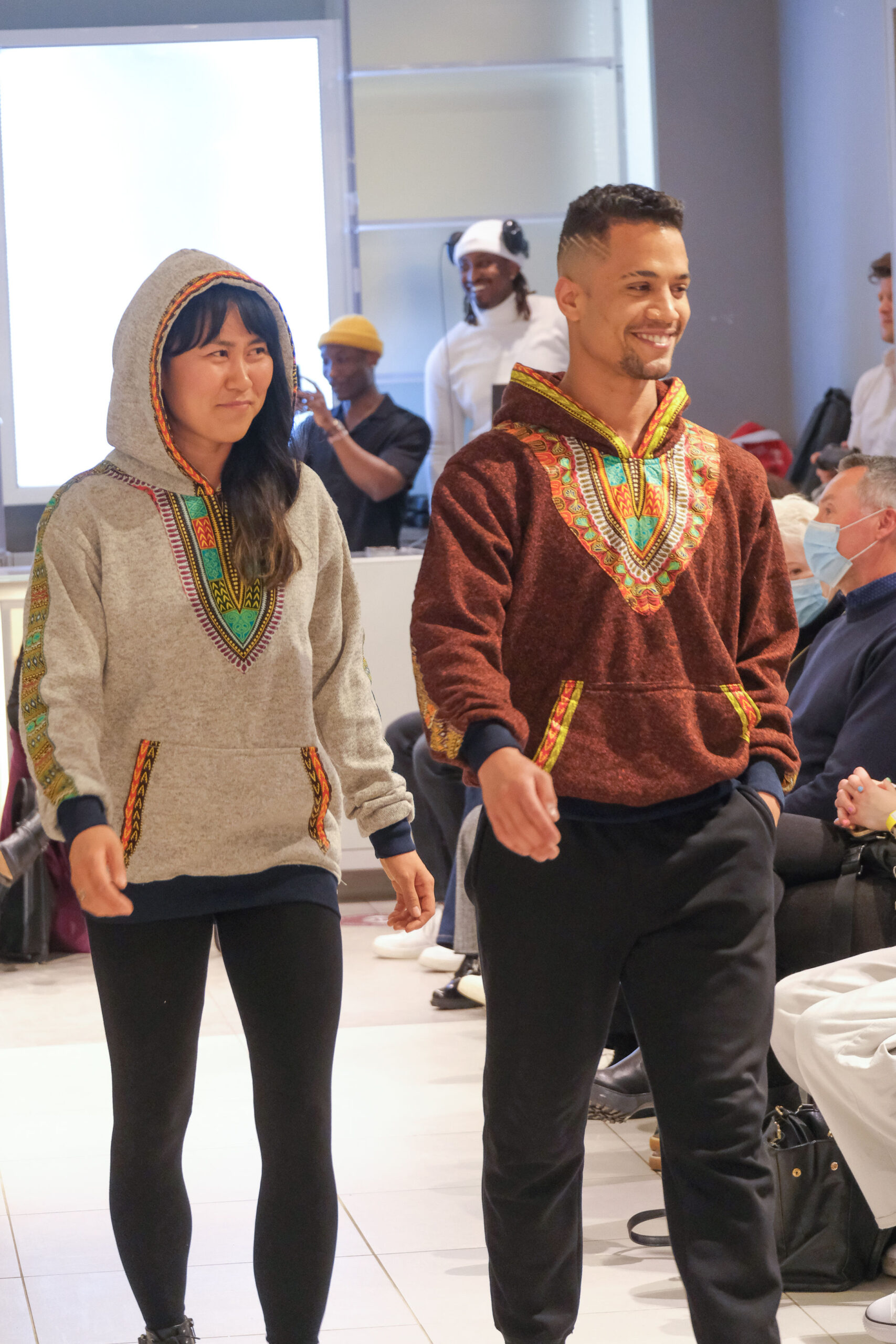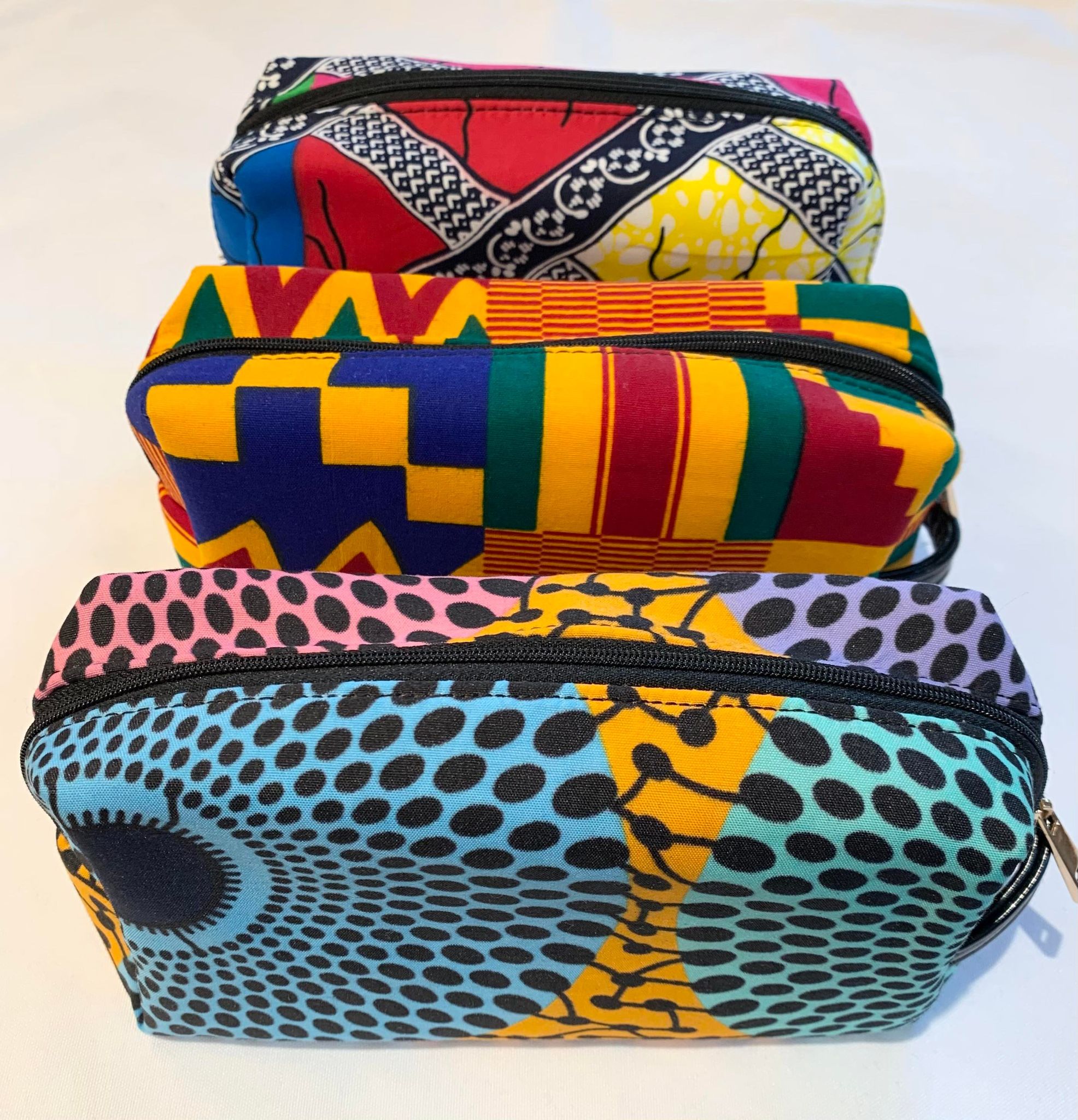 Uchi Collections – Nene Shema, Victoria BC
With her business Uchi Collections, Nene Shema is interested in exploring how the garments considered "traditional" or formal in her East-African upbringing can be fused with a sense of modernity and comfort. We are currently featuring some lovely makeup bags from Uchi Collection and recently restocked on their signature Dashiki-hoodies. Uchi Collections was one of the lines featured in the Victoria Eco Fashion Week shows during the Adorned opening. You can learn more about Nene's creations at https://uchicollections.ca/. 
Featured Image: Ay Lelum Dresses – photo credit Claire Beauchamp