By AGGV & Threshold Housing Society
Throughout December (2022) Lindsay Katsitsakatste Delaronde, an interdisciplinary artist from the Kanienkehaka nation, born and raised in Kahnawake Mohawk Territory, joined 12 participants at the AGGV for a three-part hands-on workshop series, titled Walking in the Steps of your Ancestors. Lindsay's moccasin making workshop was inspired by the Gallery's previous exhibition Adorned, and was an invitation for folks to think about their ancestors and walk with them through an art encounter.
In particular, the Gallery was thrilled to have 5 youth from Threshold Housing Society join us in learning about self exploration and ancestral ties through Indigenous beading and moccasin making. Here are some reflections from the youth and their mentors about their experiences/learnings/takeaways from the workshop: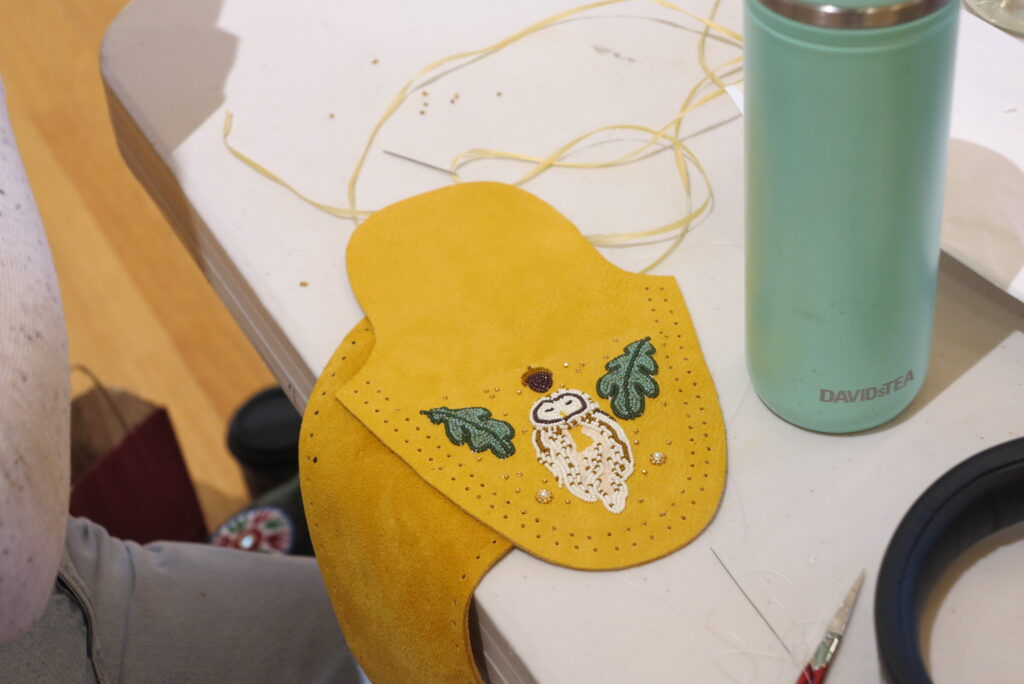 "My name is Anairen Payne and I work as a youth mentor with threshold housing society (THS). Going into the workshop a lot of us were flying blind. Thankfully, we had a teacher who brought a sense of calm, patience, and exceptional skill. Her name is Lindsay and our gratitude to her for sharing her knowledge is great indeed. I remember thinking about the people who made these shoes in the past, long before we had modern tools and equipment, how long it must have taken, the skill it requires, and the patience few of us could claim today. Lindsay's teaching approach projected a welcoming and reassuring atmosphere. Unfortunately, a lot of our youth go through struggles and trials that no one should have to experience in their life. These struggles stay with them and can make things like workshops and social activities far more challenging. The way Lindsay engaged with them was wonderful to see. A lot of us hide our pain, but I got the impression that Lindsay could see through the masks and teach in just the right way. I only finished one Moccasin, so it'll have to be a conversation piece in my home. The beading work others did was astonishingly detailed. It was a pleasure to be surrounded by so much skill, especially after I kept forgetting how to do the steps. It was a wonderful opportunity and I invite others to learn about the rich cultures of the indigenous communities around us." – Anairen Payne, THS Youth Mentor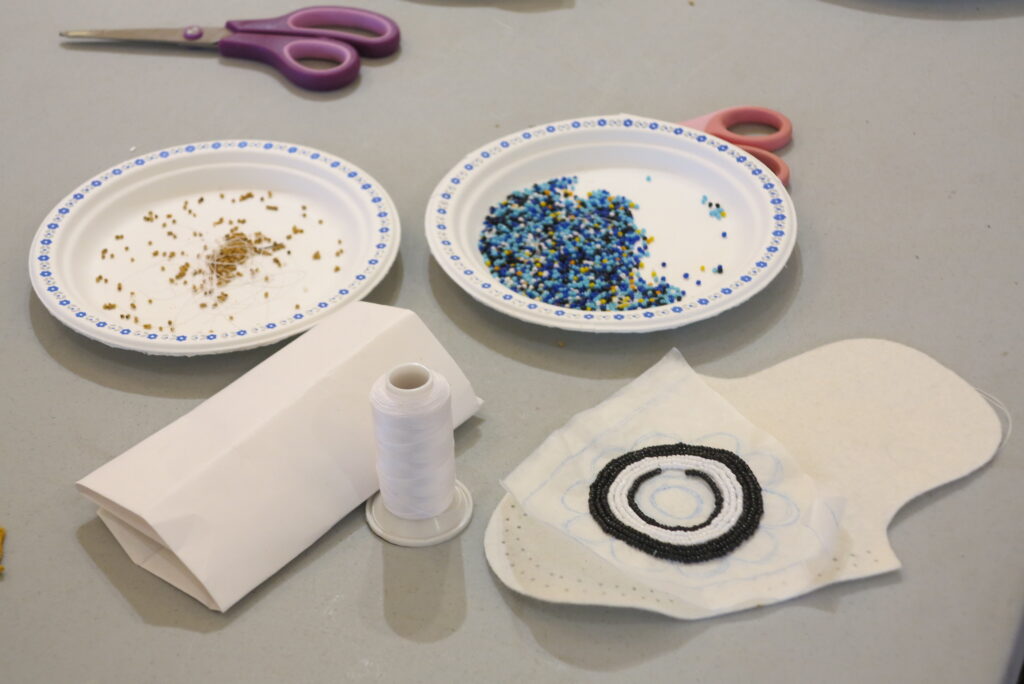 "The moccasin workshop was a wonderful, challenging process to create such a practical piece of art. Being able to wear the product you created is so impactful and creates a special connection with the art on a deeper level. The beading process allowed for everyone's style and unique designs to be displayed. You could feel how connected and proud the youth were of their creations as they moved through the steps, gained new skills, and got to the stage of completion. We were so fortunate to have such wonderful teachings by Lindsay. She had an abundance of kindness, encouragement, and patience. Lindsay met everyone at whatever level they were at and supported them on their own journey. It was truly amazing to be a part of this workshop, and witness the challenges, growth and beautiful pieces created by all who participated." – Bryanda Smith, THS Staff Member
In the words of a THS youth: "The Moccasin group was super bright and a great learning experience. The instructor was very kind and helpful. It was nice listening to her and learning how to make moccasins at my own pace. She took time with everybody there and made it an overall enjoyable time. The THS Workers there made it easy to access and made it a helpful class, so thank you to them as well. One of my favorite things was using another hobby of mine to add to my own project. All the people participating were great and overall, it was a very great course."
Check out previous issues of the AGGV Magazine to learn more about other hands-on workshops we've had the privilege of hosting at the AGGV, including The Transformation of a Bead: Reflections from Connie Paul's Beading Workshop.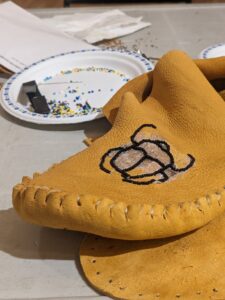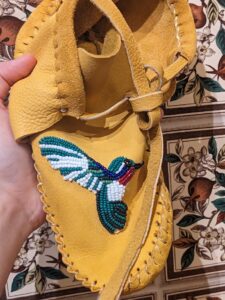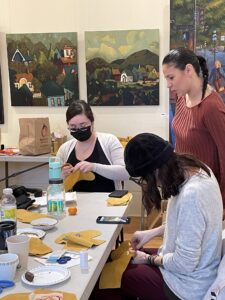 Images: Moccasins made during Lindsay Delaronde's workshop, Walking in the Steps of your Ancestors.