Have you ever heard of a stone stylist? Holly Unsworth selects special stones from the creeks, rivers, and beaches of the west coast of British Columbia, and uses them as her canvas. The stones are painstakingly styled with acrylic paint and black pen, and sealed with a protective varnish. There is a range of shapes and sizes, and depending on the stone, they can be displayed from a variety of angles. No two stones are ever the same. They are meant to be touched, to be hefted and held, to be communed with, to be taken in with more than just the eyes. These beautiful and sculptural pieces can be displayed anywhere to elevate a space.
You may recognize the piece below as it was featured in the Winter Small Works Show and Sale from Nov 17, 2022 – Jan 21, 2023. We love the juxtaposition of its form and jagged shape and the delicate composition and subdued colour palette. If you love earth tones and a natural look (and all things west coast!), what's not to love about these intricate pieces each with its own story?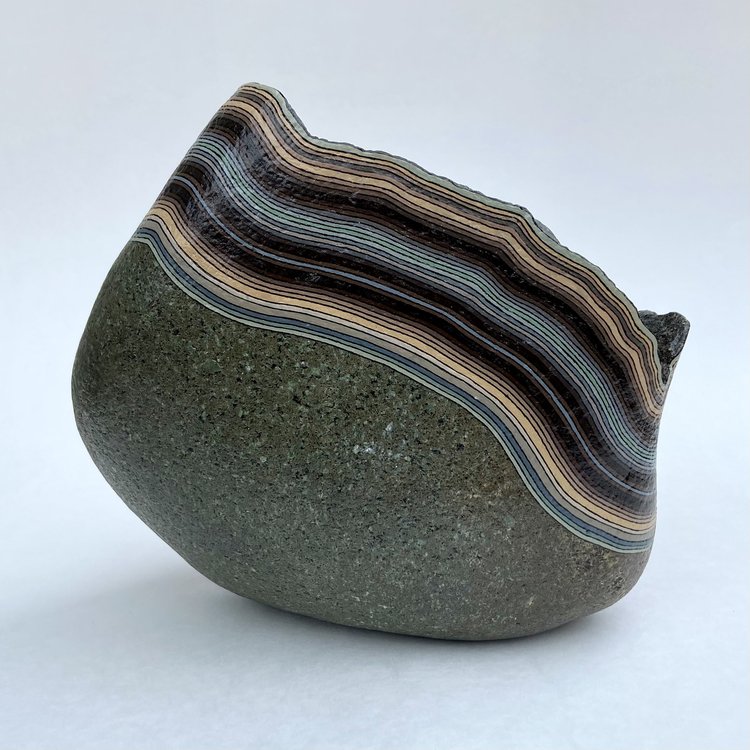 Hornby Rock, 16 lbs. 7.5" tall, 8" wide, 4" deep, Found on Hornby Island, SOLD.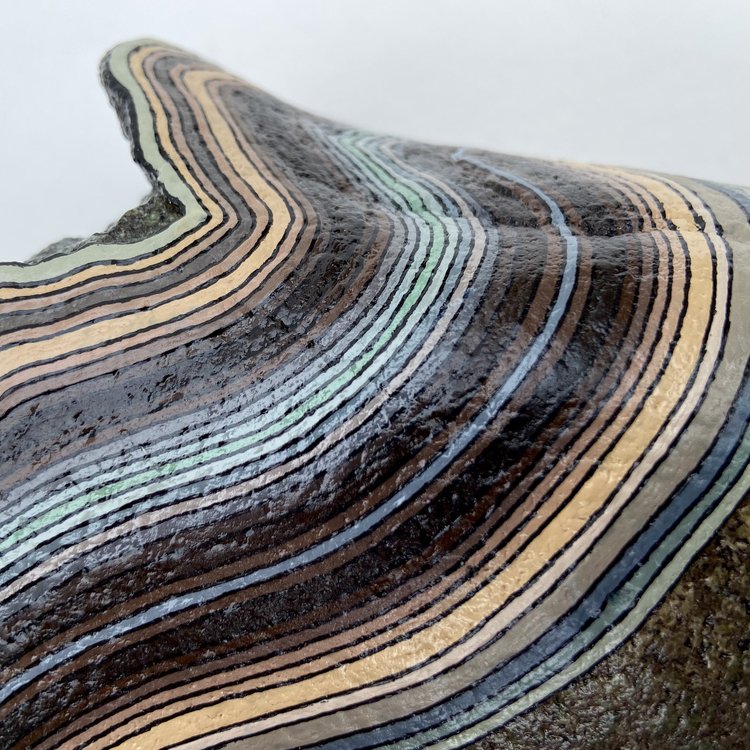 Hornby Rock (detail), 16 lbs. 7.5" tall, 8" wide, 4" deep, Found on Hornby Island, SOLD.
Interested in looking at more of these 'gems'? Book an appointment with our Art Rental and Sales team to browse more works by Holly Unsworth. Our Art Rental & Sales program presents an ever-evolving inventory of high-quality, original works by emerging and established local artists. Appointments are required: artrentalandsales@aggv.ca or 250-384-4171 ext. 222.
Feature image: Holly Unsworth, Seal Rock detail, 62lbs 6×20.5x7in, $1300