The Massey Sales Gallery is delighted to present Pop! Pop! Pop!: A Collection of Contemporary Pop Art Works by Local Artists. The vibrant, eye-catching, collection will include works by Hovey Eyres, Mike Dewitt, Jamie Joslin and Kelly Ketcheson.
The drawings included in this show by Hovey Eyres will be familiar to many viewers as they comprise of portraits of celebrities, famous not only for their work in music, film or television, but also for their big personalities amplified through social media. Her artist statement reveals the motivation behind her artworks:
"I draw to document, reflect, and examine contemporary society. My drawings are inspired by the increasingly compulsive use of social media and how this modern tool governs identity, self-portrayal, and self-worth. My reference images include Instagram Selfies, Tumblr landscapes, Snapchat filters and celebrity photos. Using ballpoint pen and coloured pencil, tools as ubiquitous as my subject matter, I transform fleeting, virtual images into permanent, physical artworks. My meticulous process mimics society's obsession with perfection. In the same way people embellish their lives on social media, I enhance the contrast, vibrancy, and sharpness [of each image], until low-resolution snapshots become highly detailed drawings. My recent work focuses on relationships between images. Specific combinations invite deeper consideration of social phenomena. Dreamy forests and flawless models emphasize society's unrealistic beauty standards and fixation with appearance. Picture-perfect beaches and pop stars highlight the fabrication of social profiles and the false depiction of reality online."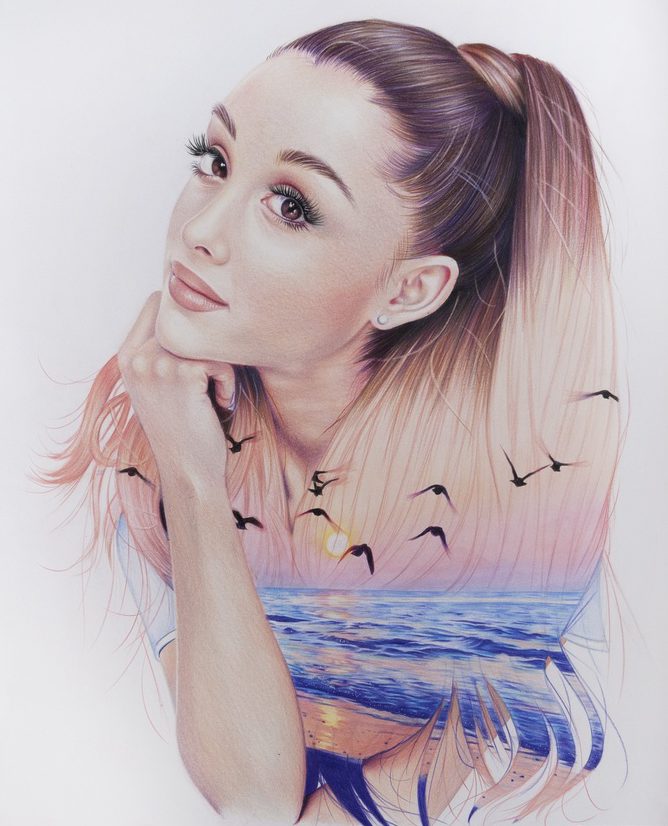 While the original form of pop art that emerged in the 1950s challenged the notion of "high art" through the use of mass culture (such as advertising and comic books) from that era, Hovey has updated perceptions of mass culture to today's standards. What she has produced is a fun, tongue-in-cheek, response to the fast changing pop culture of today.
Pop! Pop! Pop!: A Collection of Contemporary Pop Art Works by Local Artists | March 3 – April 30 2017 | Massey Sales Gallery
Preview and Sale | March 9 2017 | 6-9 PM