We thank Dr. Fuyubi Nakamura and the guests who braved Victoria's unusual winter blizzard on February 8, for coming to the AGGV's inaugural Communities + Collections lecture. The aim of this new series is two-fold: firstly, to bring fresh insight into the Gallery's permanent collection through lectures, workshops and tours by guest speakers and facilitators; and secondly, to initiate the discussion of topics that are current and meaningful to the different groups in our community. The first few sets of lectures and workshops have been planned in conjunction with the exhibition Millennia: Asian Art Through the Ages, which runs until April 2.
Featured above: Shamsia Hassani | What about the Dead Fish? |  2011 | Paint on the ruins of the Russian Cultural Centre, Kabul | Courtesy of the artist
In this first installment of the series, Dr. Nakamura, a socio-cultural anthropologist from the Museum of Anthropology at the University of British Columbia, spoke about "Asia Through Art and Anthropology", based on her 2014 publication of the same name, as well as ongoing research. Her talk questioned "how Asia has been imagined, represented and transferred both literally and visually across linguistic, geopolitical and cultural boundaries."
Dr. Nakamura's most recent research material that looks at Asian art from an anthropological point of view stems from an upcoming exhibition, Traces of Words: Art and Calligraphy from Asia at the UBC. Here, the blending of traditional calligraphy with contemporary forms of digital and mixed media, artwork with written language, creates a powerful confluence of reading and experiencing text. She explained that "Writing…represents physical traces of space, embodying what is ephemeral and what is eternal in our life. We leave traces throughout our life, whether they are visible or not visible. Words that are spoken, written, imagined or visualized are traces of humans."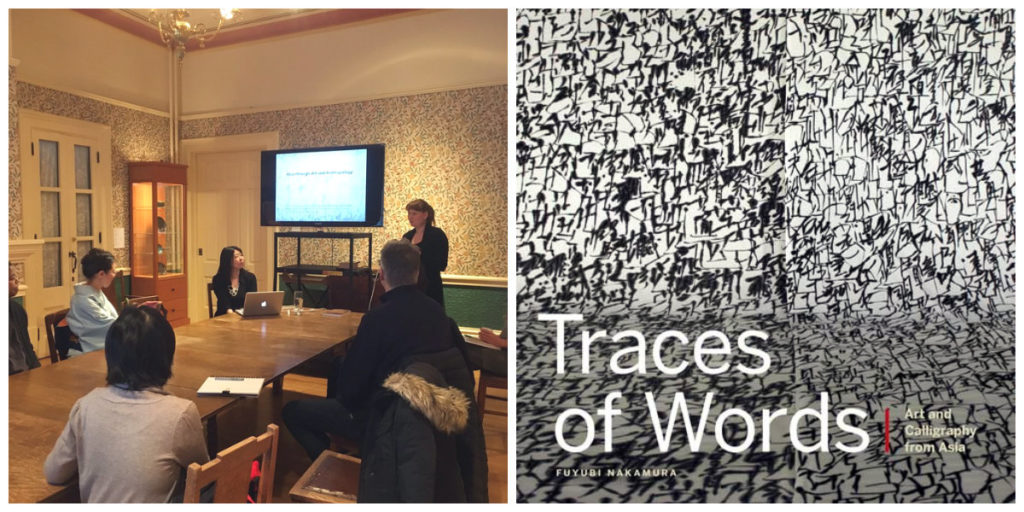 For her presentation, she drew examples of several contemporary Asian artists working in their home country and abroad, to illustrate the shifting roles of those who produce and translate creative forms and practices.
She introduced us to Shamsia Hassani, the first female street graffiti artist in Afghanistan, who is only 28 years of age, and a teacher at Kabul University. Shamsia's art often depicts women in burqas in symbolic form (pictured above).
From Tokyo, teamLab is an interdisciplinary artists' collective that uses technology, design and the natural world to create light and video installations that are interactive as a way to investigate human behaviour in the era of information technology. In the video example Dr. Nakamura showed us, Japanese text floats on the wall, but when a viewer touches a character, it transforms into the object it symbolizes. The show at UBC will be teamLab's first showing in Canada.
Dr. Nakamura also introduced us to Thai-born, Australia-based artist Phaptawan Suwannakudt, who trained in the Thai Buddhist tradition of mural painting with her father. She led a team of mural painters, working extensively in Buddhist temples in Thailand. After relocating to Australia, Phaptawan continued to create contemporary artworks that blend her traditional training with contemporary practices to highlight social, environmental, economic and political issues of the day.
We thank Dr. Fuyubi Nakamura for her insightful presentation.