After a 2-week residency at the AGGV, Montréal-based artist Karen Tam had gathered enough archival research material to follow up on her highly acclaimed installation, Flying Cormorant Studio (2014) at the Mendel Art Gallery's exhibition of works by Emily Carr. With wings like clouds hung from the sky continues on from the earlier installation in which she reimagined the art studio of Lee Nam, a Chinese immigrant to British Columbia and a friend of iconic Canadian modernist painter, Emily Carr, in the 1930s.
Image above: Karen Tam's collaborator Lui Luk Chun 呂陸川 in his Montréal studio | March 2014 | Photo credit: Karen Tam
The existence of Lee Nam, an artist and an immigrant at the turn of the 20th century, is known solely through the journals of Carr who refers to Nam as a painter, a friend, and someone she regarded as a fellow outsider in the conservative society of Victoria. In her book, The House of All Sorts, Carr, who mounted art exhibitions in her home in what she called "The People's Gallery", recalls how she met Lee:
"A young Chinese came to my door carrying a roll of painting. He had heard about the exhibition, had come to show his work to me – beautiful watercolours done in Oriental style. He was very anxious to carry his work further… I invited him to show in place of the flower painter and he hung a beautiful exhibition."
Carr recorded that Lee Nam wanted to take art lessons from her as he had a keen interest in Western culture. Yet, she saw him as a representative of Oriental art, and through him had direct access to Chinese brush painting. In observing his paintings, Carr witnessed an economy of means and spontaneity; she appreciated the life and spirit he gave to his paintings and wanted him to teach her. Carr's experiments with brush painting of the 1930s, exploring British Columbia's coastal landscapes, led her to develop a technique using oils thinned with gasoline on brown paper. Her works from the mid-1930s parallel painting formulae outlined in The Mustard Seed Garden Manual, a Qing-dynasty manual of Chinese landscape painting.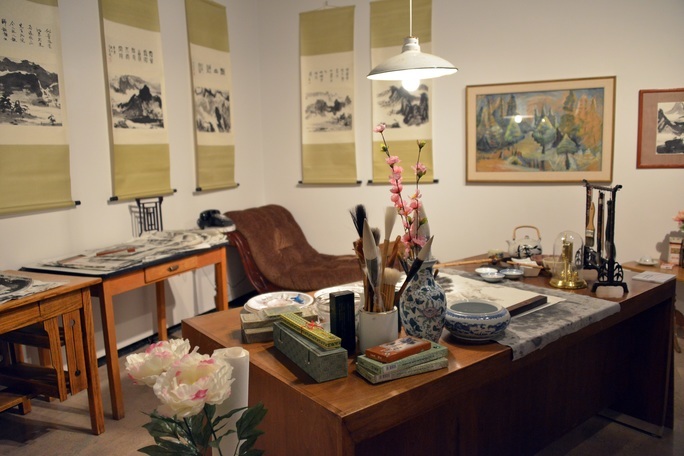 In Tam's upcoming site-specific exhibition at the AGGV, she again re-imagines Lee Nam's painting studio at 556 Cormorant Street in Victoria's Chinatown, as a means to evoke the presence of an unknown artist. The installation, at the same time, explores issues of early immigrants to Canada and their responses to the unfamiliar landscapes. Tam writes that in presenting the marginalized life and experiences of Lee, "I also examine one method of studio work where the installation becomes the studio, and the artist studio as a museum exhibition shifts slightly to become a site of production."
Lee Nam and Emily Carr apparently exchanged paintings. So, somewhere in the archives of Emily Carr are works by Lee Nam. And perhaps somewhere in China is an unknown painting by Emily Carr.
About the artist: Karen Tam is an artist whose research focuses on the various forms of constructions and imaginations of cultures through installations in which she recreates the spaces of Chinese restaurants, karaoke lounges, opium dens, curio shops and other sites of cultural encounters. Since 2000, she has exhibited her work and participated in residencies in Canada, Ireland, UK, Austria, Germany, Austria, USA, and China, in venues such as The Drawing Center (New York), Victoria & Albert Museum (London), Musée d'art contemporain de Montréal, and the Irish Museum of Modern Art. She was a finalist for the Prix en art actuel from the Musée national des beaux-arts de Montréal in 2016 and shortlisted for the Sobey Art Award 2016.
Tam holds an MFA in Sculpture from The School of the Art Institute of Chicago and a Ph.D. in Cultural Studies from Goldsmiths (University of London). Her work is in the collections of the Irish Museum of Modern Art, Collection Prêts d'oeuvre d'art du Musée national des beaux-arts, Caisse de dépôt et placement Québec, Hydro-Québec, Canada Council for the Arts Art Bank, RBC Groupe financier, and in private collections in Canada, United States, and United Kingdom. She is represented by Galerie Hugues Charbonneau.