By Audrey Wang, AGGV Volunteer
Mike Andrew McLean's photographic works in Supernatural: Art, Technology and the Forest exude a sense of mystery and eeriness. But the truth is not too far off the viewer's first impressions, because what is documented on film is essentially a ghost town. Derelict properties and crumbling infrastructure hint at a once inhabited town. The abandonment is deeply felt in McLean's survey of the transition and metamorphosis of Jordan River.

Jordan River is situated on the south-west coast of Vancouver Island, in the traditional territory of the Pacheedaht First Nation, known as Diitiida in their traditional language. What is significant about Jordan River is its geography, both natural and man-made. Sitting atop one of the major fault lines in the Cascadia Subduction zone, this small hamlet is also located 12 kilometres downstream from a large reservoir and two ageing concrete diversion dams constructed over a century ago. In 2014, BC Hydro released seismic hazard study indicating that a large-scale earthquake would result in the collapse of the dam and the inundation of the townsite within minutes. After exhausting other options, BC Hydro purchased the handful of residences in the evacuation zone, with residents gradually abandoning the affected properties. By March 2017, demolition was completed.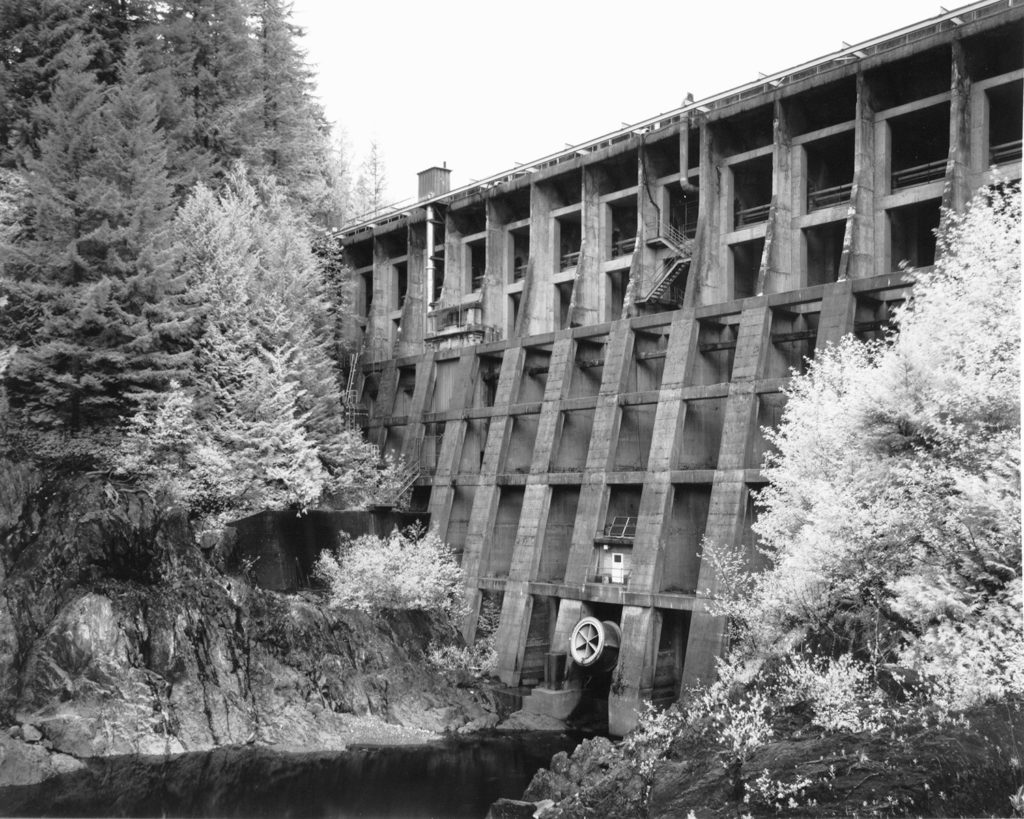 That the character of the landscape was going to be changed forever captured McLean's imagination, as well as his sympathy for the residents. He began exploring the townsite and its surrounds in early 2015, shooting on his large-format 4×5 camera.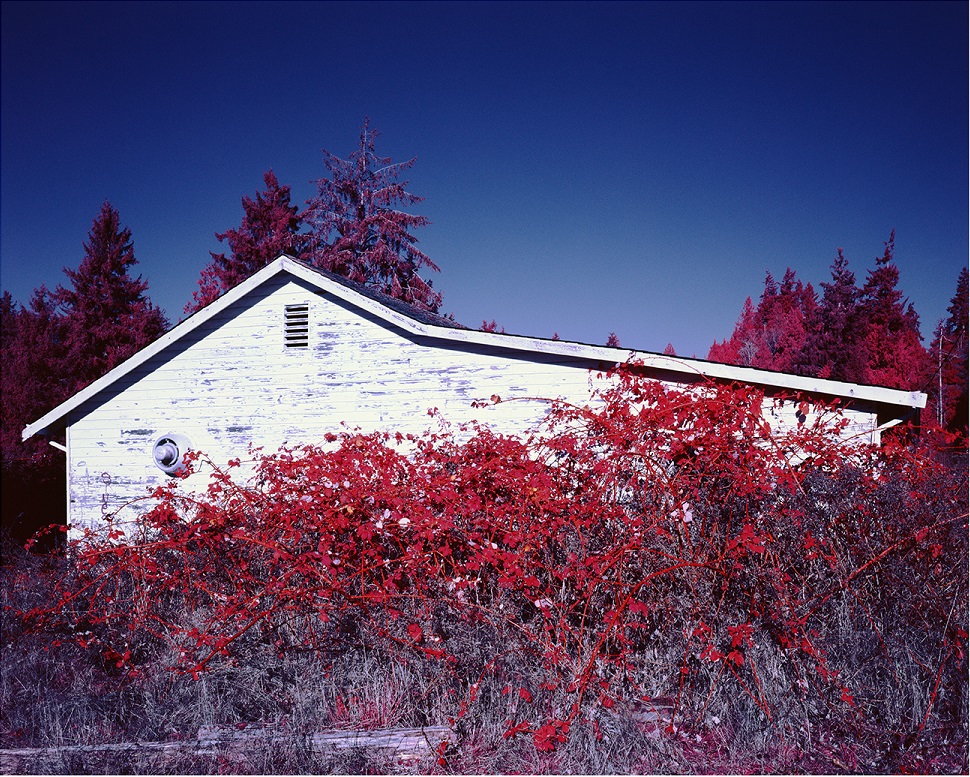 The vivid purple tone of his photographs is borne from his use of "traditional film techniques sensitive to the near-infrared section of the light spectrum – a process born by scientific, forensic and medical desires to see beyond the capabilities of human vision, and to reveal hidden details and sub-surface faults." For McLean, the visual quality of this film – which is rare and no longer in production – renders a familiar landscape unfamiliar.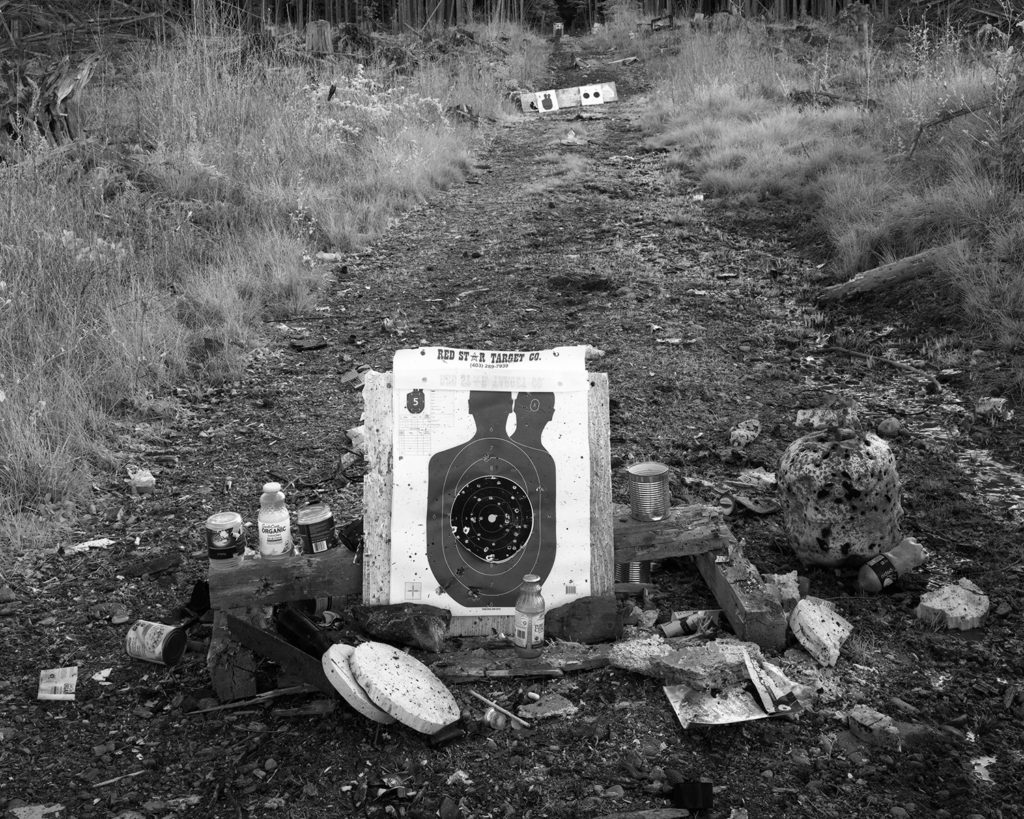 The project is ongoing, as specified on the labels in the exhibition. Even though the houses are gone and the landscape has changed, the story of the abandonment of Jordan River doesn't end there. The Pacheedaht First Nations in June this year bought back 28 hectares of traditional land from BC Hydro, and in so doing, signals a rebirth for Jordan River.
Feature image: Mike Andrew McLean | Cut Block, Looking North Below Lower Reservoir, Version Two, December 23. 2017 | 2018 From the series JR, (2015-ongoing) | Ultrachrome inkjet print | Courtesy of the Artist
Supernatural: Art Technology and the Forest | May 19, 2018 – September 3, 2018 | Curated by Haema Sivanesan | Founders, Drury, Centennial, Ker and Lab Galleries