By Audrey Wang, AGGV Volunteer
The current exhibition Celebrating the AGGV Collection highlights the diverse holdings of the Gallery, with nearly all aspects of the collection represented, be it categorized as Asian art, Canadian art, contemporary art, sculpture, painting, photography or decorative art. And while each category of art has, more or less, been displayed in its appropriate section with other works of that genre, three contemporary artworks stand out for their interconnectedness with other parts of the AGGV's collection.
Visitors of the Centennial Gallery, in the section entitled "Highlights from the Canadian Historical Collection", will encounter several important works by Emily Carr. Conspicuously absent from the selection of Carr paintings is one of her most celebrated works in the AGGV Collection, Odds and Ends (1939), as it is currently on loan to the McMichael Canadian Art Collection, to be part of the exhibition "Uninvited: Canadian Women Artists in the Modern Movement". But Odds and Ends is still represented, albeit as a small reproduction within a photograph by d. bradley muir called Hilltop (Odds and Ends), as part of a series created in an exploration of the contemporary state of the landscapes that inspired Emily Carr. The image (above) is comprised of real and simulated elements of nature. In an unusual twist, the landscape that originally inspired Carr is once again the subject of a representational piece of art, which was also inspired by the painting.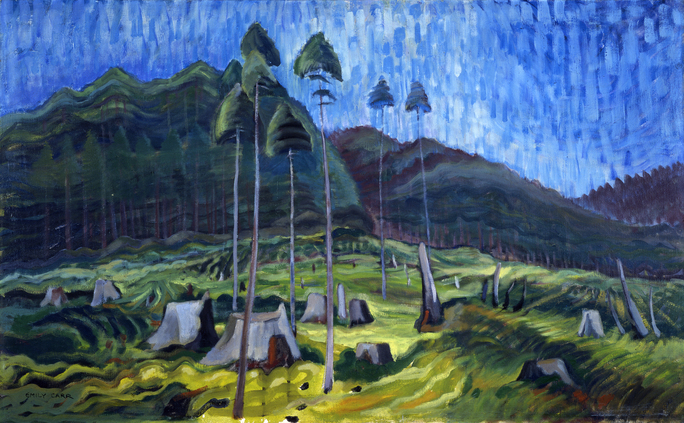 This interconnectedness between artworks and the influence of one artist over another manifest in several sets of artworks in the AGGV's collection. In the current exhibition, two more contemporary works call upon other cultures and from artworks of an earlier time to embody new meaning. Displayed in a section together are Paul Mathieu's Kiss Bowl (early 21st century) and Brendan Tang's Manga Ormolu Version 5.00.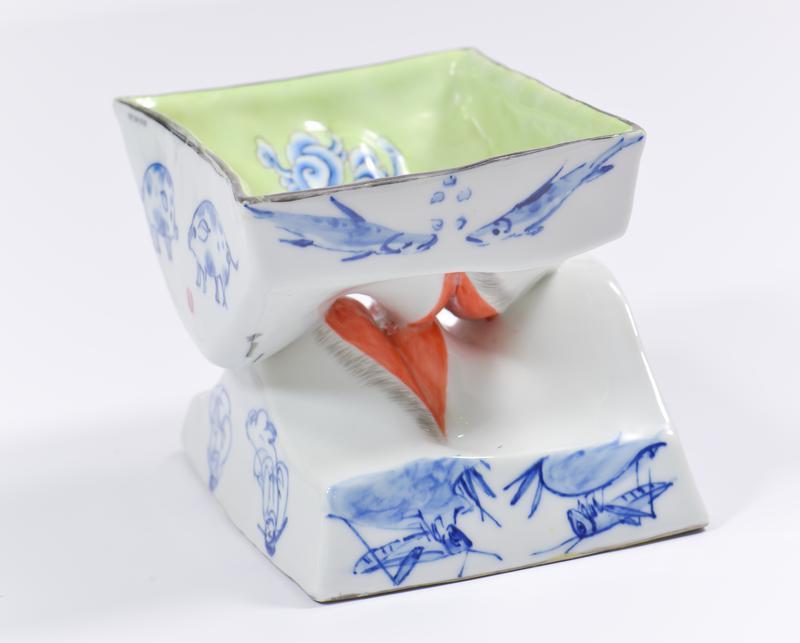 Mathieu's Kiss Bowl is meant to be held in the hand and admired from the many different angles. There is no right way up, or front and back. What's more, the juxtaposition between the eroticism of queer kissing lips and the traditional Chinese ceramic designs, calls into question issues of cultural appropriation, of provocation, and of taste. By marrying together such extreme opposites, Mathieu elicits a strong response from the viewer.
In his study of ceramics, Mathieu often draws inspiration from Chinese porcelain. In Kiss Bowl, the underglaze-blue and enamel decoration imitate Qing dynasty porcelains directly. In the current exhibition, this overt characteristic is supported by two blue and white saucers flanking Kiss Bowl in the display stand. One saucer is Chinese and the other is Wedgwood.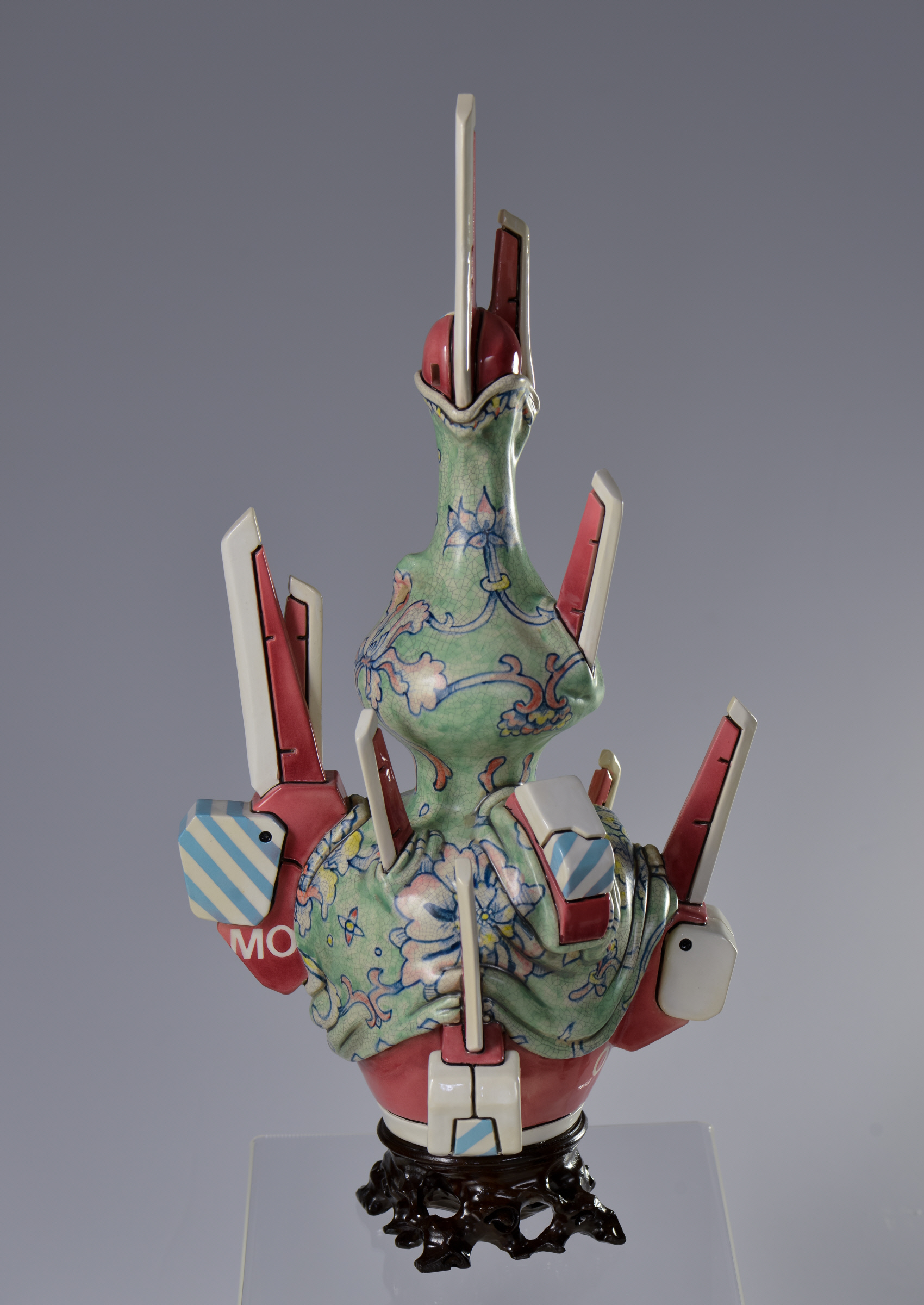 In Manga Ormolu Version 5.00, Vancouver-based artist Brendan Tang gives us a mash-up of a rendition of a Chinese Ming dynasty double-gourd vase, fused – in the 18th-century French style of ormolu – with techno-pop components inspired by Japanese anime and manga comics. The resulting complexity of multi-faceted cultural elements evoke Tang's own "ambiguous cultural identity", such that this sculpture has become a self-portrait.
Although I am considered Asian Canadian within the dominant culture's framing, my family has lost even vestiges of connectivity to Asia through several generations of intercontinental migration and ethnic intermarriage. I have used self-portraiture to explore issues of race, class and sexual identity in greater depth. – Brendan Tang
Feature image: d. bradley muir (Canadian, b. 1973) | Hilltop (Odds and Ends) | 2005 | Colour photograph | Purchased through the B.C. Art Acquisition Fund – Gift of George and Lola Kidd