By Audrey Wang, AGGV Volunteer
Family Sunday morphed into the AGGV's second Cherry Blossom Festival this March, in sync with the explosion of pink and white blossoms all over Victoria. Crowds filled the Gallery for this ever popular event, with City of Victoria Poet Laureate Yvonne Blomer taking to the Sakura Stage as emcee for the afternoon's festivities. Performances included the San Girls pop dance performance, bringing us fun dance moves to the latest J-pop hits. Wakana Takai-McLean took to the stage afterward for a round of Kamishibai storytelling, a tradition established in the early 20th century with a traveling storyteller narrating stories using illustrations placed on a wooden stage-like case.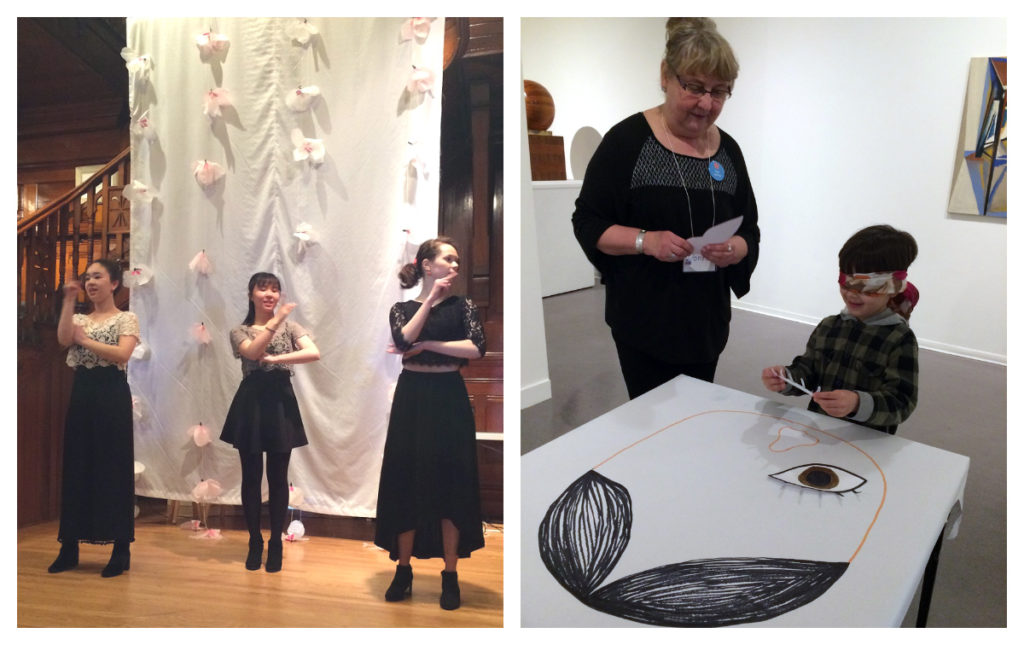 In the entrance foyer of the Gallery, Hitomi Harama of Ume Silk Kimono Couturier demonstrated the wearing of kimonos with volunteers and guests getting the opportunity to be dressed by Hitomi in some beautiful traditional silks. Haiku Arbutus was represented by poet Terry Ann Carter who conducted haiku workshops and a poetry open mike in the art galleries. Children were kept busy with arts and crafts including origami folding, calligraphy demonstrations by Mike Abe, and a fun game of Fukuwarai.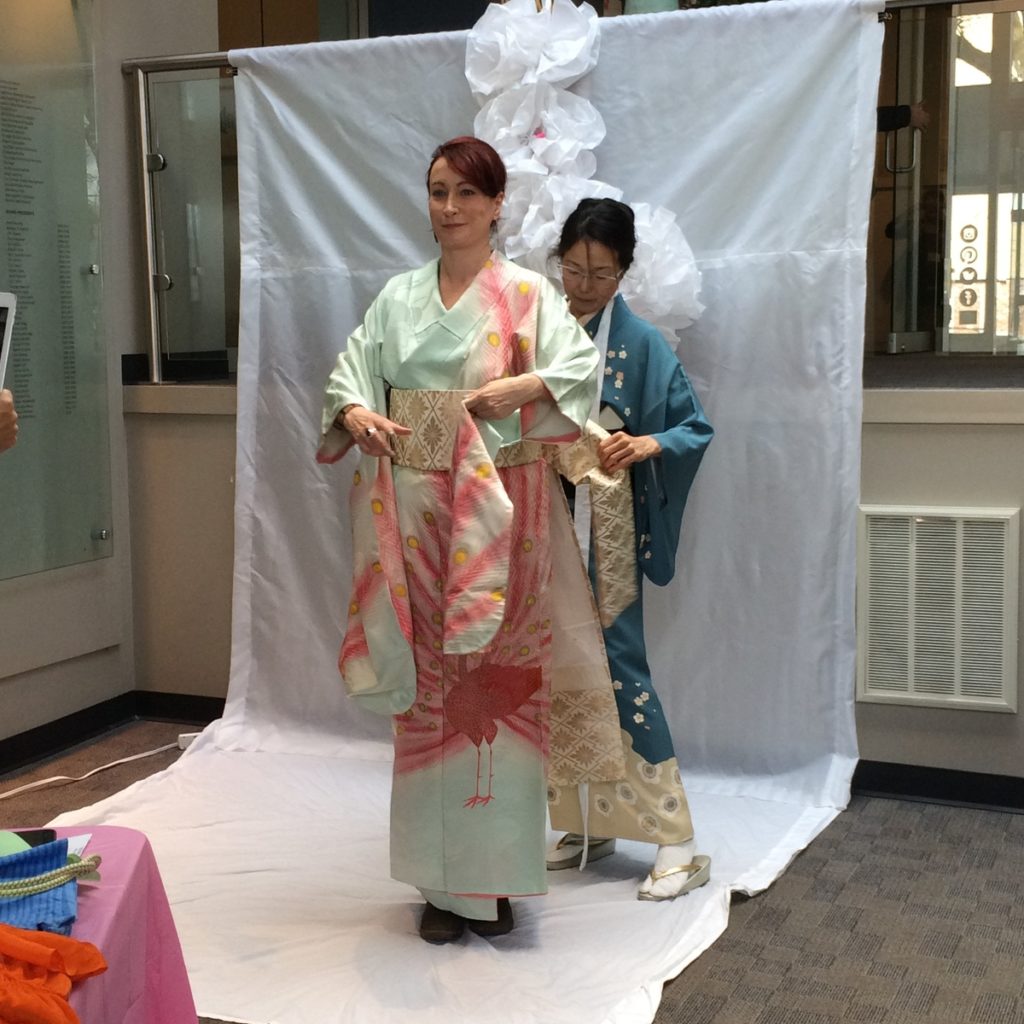 In May, the brilliant creativity of Victoria-based Monkey C Interactive brought music, bright lights and fun installations to Family Sunday in an instalment aptly named "Monkeying Around with Technology". David Parfit and Scott Amos's collaborative art and music interactive artworks proved irresistible to both children and adults, while forming a tangible link to the works on exhibit in Supernatural: Art, Technology and the Forest.
The Pythagorhythm (see feature image) was, without doubt, the highlight of the day's activities as participants young and old lived out their DJ dreams. The large triangular structure comes with lights and sensors embedded in the railings through which different musical sound parts emerge on touch. Monkey C describes it as a "multi-user illuminated remix machine".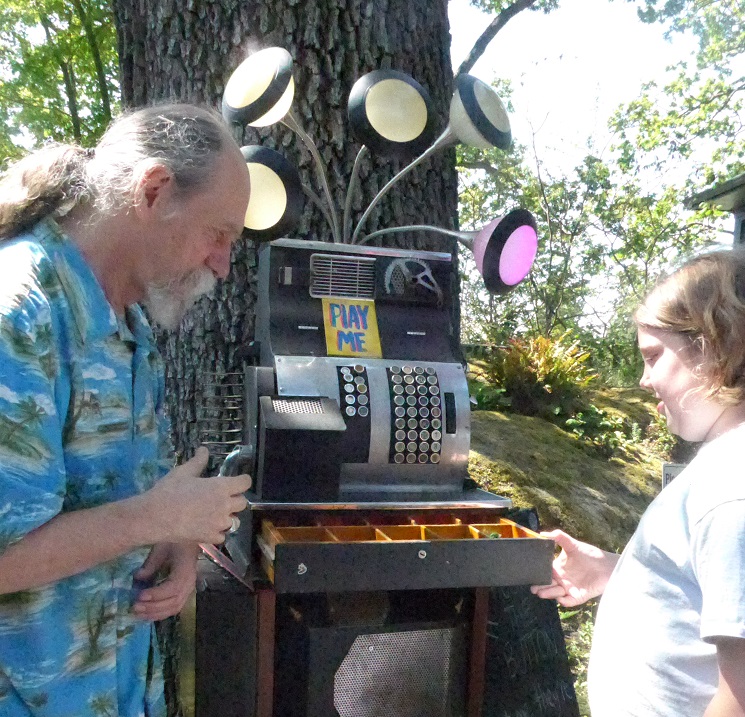 The Registroid started life as an old-fashioned cash register with chunky buttons. Retrofitted with blinking lights, the machine played electro-house beats as you tapped on the buttons, and with the right combination, the register popped open to delight with sweet treats inside. The last interactive piece was a marriage between a vintage standing radio and an old truck stereo, producing more techno beats that got the kids dancing.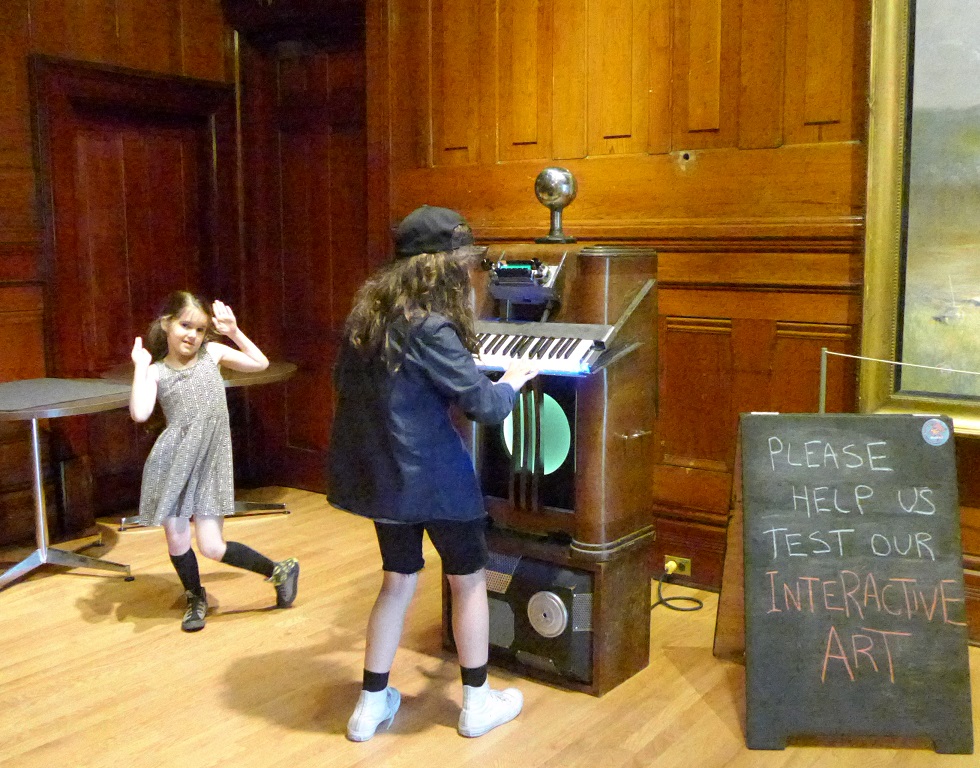 To experience more of Monkey C's interactive artworks in public spaces, check out the five-storey tall Musical Railings at the Bastion Square Parkade in downtown Victoria.
Family Sunday takes place on the third Sunday of the month. The next and final instalment of the season will be on June 17, 2-4pm, inspired by Moving Change featuring Brendan Fernandes (Think dance! And art!).