By Audrey Wang, AGGV Volunteer
Born in 1942 in the Kwakwaka'wakw community of Alert Bay at the northern tip of Vancouver Island,  Tony Hunt, Sr. (1942-2017), through his maternal line, was also a hereditary chief of the Kwakwaka'wakw. As a renowned artist, Hunt was famous for his KwaGulth style paintings and the cedar wood carvings and totem poles he created which reflected the stories, kinship and connection of his people with the land. In 2010, he was awarded the Order of British Columbia.
Hunt came from a sprawling family of renowned artists. As a youth in Victoria, where the family moved in 1954, he trained with his maternal grandfather, Chief Mungo Martin (1979-1962), an important figure in the Northwest Coast style of art. Martin was a painter, carver, singer and songwriter, with an illustrious career in the arts and a strong proponent of First Nations culture. Hunt was taught in the traditional ways that upheld his people's culture in language, dance, iconography and the practice of the potlatch. After his grandfather's death, he apprenticed with his own father, Henry Hunt (1923-1985). His two brothers – Richard Hunt (b. 1951) and Stanley C. Hunt (b. 1954) – are also professional carvers, as was his son, Tony Hunt Jr. (1961-2017).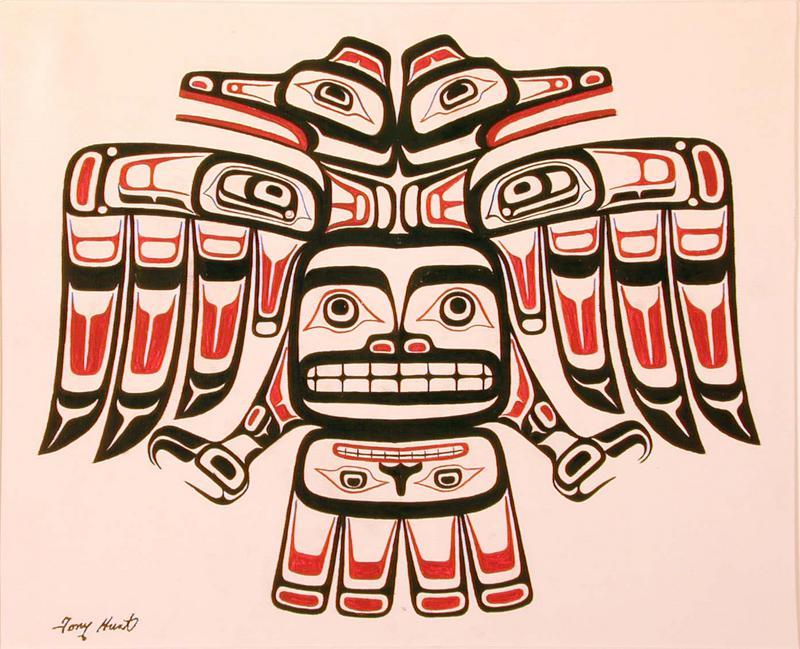 Together with his grandfather and father, Hunt designed and created hundreds of totem poles in Canada, the United States, and around the world. Locally, his work can be found at Thunderbird Park and the big house at the Royal B.C. Museum, the totem pole in the Victoria Conference Centre, and the ceremonial big house in Fort Rupert, the largest in the Pacific Northwest. In 1970, Hunt opened the Arts of the Raven Gallery in Victoria, and ran the Gallery with John Livingston until its closure twenty years later.
The AGGV collection is the repository of several of Hunt's works, including the traditional Octopus Mask (above), paintings and prints in the traditional Pacific Northwest style.
Feature image: Tony Hunt (Canadian, 1942 – 2017) | Octopus Mask | 2001 | red cedar; paint; cedar bark; horsehair | 60.3 × 38.1 × 33 cm | Bequest of Dr. Judith Patt (2019.001.099)