With travel off the table for the time being, our Art Quiz this quarter brings you on a journey to Europe to whet your appetite for when we can once again travel for leisure, to expand our education and to broaden our experiences.
1. Between 1962 and 1963, Canadian artist Herbert Siebner (1925-2003) spent a year in Europe on a travel grant he received, culminating in an exhibition at the Art Gallery of Greater Victoria called 'Fruits of a "Wander Year" – Impressions of Europe By Herbert Siebner'. The painting above is one executed during the trip. We're starting easy – what city is this, and what is the name of the buildings in the background?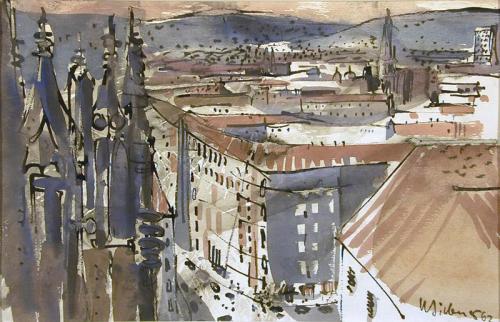 2. Here is another watercolour from Siebner's European tour of 1962/63. This view of Vienna is seen from the South Tower of the main cathedral. In the foreground is the smaller North Tower. What is the name of this cathedral?
3. Italy was one of the main stops in a typical Grand Tour undertaken by upper-class young European men in the 17th and 18th centuries. Here, they would expand on their Classical education as part of their visit. The Roman Forum – a large complex of ruins of temples, basilicas and arches – was one of the sights not to be missed. The Classical period is often broken up into separate periods based on architectural design, and in particular, the style of columns. What style of columns is represented in the drawing by Canadian artist Eric William Drury (1895-1943) – Doric, Ionic or Corinthian?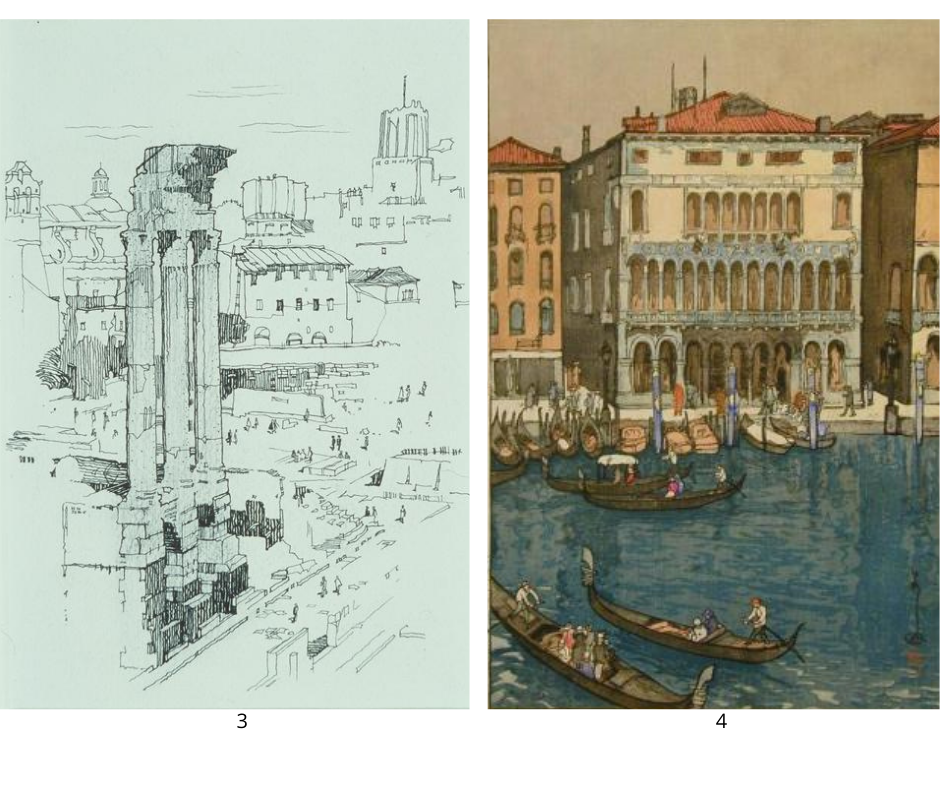 4. Venice's famous gondolas are invariably painted black. Why?
a. To protect the boats from the corrosive salt in the canals.
b. To honour plague victims.
c. To prohibit competition for the fanciest boat.
d. To match the gondoliers' uniforms.
5. Another Italian must-see, this famous bridge is the setting for countless paintings, songs, novels and poems. Name the bridge and the city where it is found.
6. This stone bridge spanning over a rocky gorge is part of a palace and fortress complex in Granada, Spain. The complex is famous for its transformative architecture through the ages, from Roman to Islamic to European Renaissance. What is the name of this complex?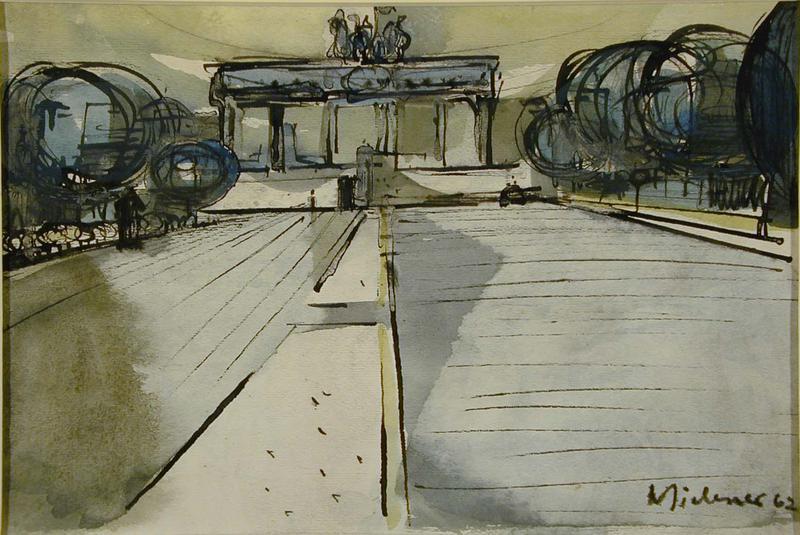 7. Lastly, to round off Siebner's European tour, name this famous gate in Berlin, Germany.
Answers:
1. The city is London, and the Parliament Buildings are in the background.
Feature image: Herbert Siebner (Canadian, 1925-2003) | London, Parliament Buildings | 1962 | watercolour | 16.6 x 23.3 cm | Gift of the Victoria Times (1965.177.004)
2. Stephansdom or St. Stephen's Cathedral.
Herbert Siebner (Canadian, 1925-2003) | Vienna, Steps of the Stephansdom | 1962 | watercolour, ink | 16.8 x 24.4 cm | Gift of the Victoria Times (1965.177.021)
3. Corinthian.
Eric William Drury (Canadian, 1895-1943) | Rome | 1921 | ink, pencil | 19.3 × 14.8 cm | Gift of Mr. Kenneth Drury (1969.038.001)
4. C – a 17th-century law was enacted to prohibit competition among Venice's nobles for having the fanciest boat.
Hiroshi Yoshida (Japanese, 1876-1950) | A Canal in Venice | 1925 | woodcut | 37.2 x 25 cm | Gift of George and Lola Kidd (1996.020.003)
5. Ponte Vecchio, Florence.
Kathleen Frances Daly (Canadian, 1898-1994) | Ponte Vecchio | 1925 | etching, aquatint | 25.3 x 20.3 cm | Harold & Vera Mortimer-Lamb Purchase Fund (1981.105.001)
6. Alhambra.
Joseph Pennell (American, 1860-1926) | The Alhambra Bridge, Spain | not dated | drypoint | 32.5 x 28 cm | Gift of George & Lola Kidd (2008.003.065)
7. The Brandenburg Gate
Herbert Siebner (Canadian, 1925-2003) | Berlin, Brandenburg Gate | 1962 | watercolour | 16 x 23 cm | Gift of the Victoria Times (1965.177.012)